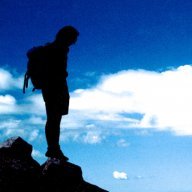 Joined

Jun 25, 2012
Messages

4,427
Yuk. This is the least snow I can ever remember for this time of the year in the snow season. December! That is accounting for 35 years of living at 7K' in snow country. We used to average 225"/yr at my house. So far this year we have had 14" which has mostly sublimated away. We don't have to think about an early opening to the backpacking season this spring - you can go right now!
The Worldview pic of the state from a couple of days ago. Literally no snow except for up high in the Uintas and on the north facing slopes above 9,500'.
The same Worldview pic from last December when big snow came in December but just put us up to average.
The next pic is a zoomed-in pic of the northern part of the state from today. The big white patch over the lake and the capital city is our lovely pollution-laden inversion layer. Nick's house is just barely out of the yucky stuff and his surreal picture of the smog from his deck made the local KSL news weather last night. Care to share,
@Nick
?
This screen is from the snow model today showing the departure from normal. Yellows, orange and reds are a little less, less and a great deal less snow on the ground than average for this date. Blue and green are above average. The first red is 2'+ less than average. Colorado is not much better and the Tetons and much of the Winds are suffering.
Sorry for the Utah-centric post - it's just that it is my backyard. You should take a look the same way at your mountains (I can assist if you ask).
Added after prompting by
@slc_dan
(thanks Danny Boy):
Discussion of the tools illustrated above.
https://backcountrypost.com/threads/winds-snow-conditions.6944/#post-82542
In short, WorldView and the NOAA Interactive Snow Model are two sites I visit every day for trip planning and weather observation.
The climate is not normal....
Last edited: