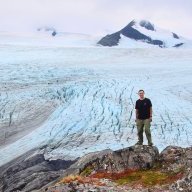 Joined

Apr 21, 2017
Messages

120
Last May, my wife and I flew out to Las Vegas, and got out of there as soon as possible (not helped by Sixt Rent-a-car -- we were waiting in line for two hours). We had two weeks, and I had most every day planned out. My goal was to spend our time away from the crowds, so we did not go to Moab, the Grand Canyon, or Zion. I didn't originally plan on going to Bryce Canyon either, but my wife saw pictures of it on our trip and that was that -- we ended up spending an afternoon there (no regrets).
**Disclaimer: I'm still new on here -- I posted 58 photos with this. If that is too many, please let me know. I was selecting from several hundred.**
We began by hiking the Red Mountain Trail at Snow Canyon. Or should I say, we began by driving to the Red Mountain Trail -- the beauty along the way begged me to stop and snap a few photos.
While climbing up a steep hill along the road to take the preceding photo, a hawk was flying overhead and screaming at me. I'm fairly certain there was a nest on top of the cliffs nearby. A few times the bird landed and continued voicing its protest...
We finally did make it to the Red Mountain Trail. It was a great hike, and though there were several cars in the parking lot, we were by ourselves for almost the entire time.
It pained me to be so close to Zion and not visit. However, I had tried to get a permit for backpacking on the West Rim Trail, as well as hiking the Subway, and had failed in both cases, so I decided that we'd have to visit another time. From St. George, we drove to Capitol Reef. I was planning for us to hike up to Ferns Nipple out of the Grand Wash, but we couldn't find the route so we ended up hiking to the Cassidy Arch instead.
The next day, we drove out to Caineville and explored the Factory Butte Wilderness a bit. I know some people find that area to be ugly, but I found it fascinating!
Next up, it was time to test the GMC Acadia that we had rented on the Cathedral Valley loop. I didn't want to pay a fortune to rent a Jeep (which came back to haunt me later) so I went with the one available 4WD/AWD from Sixt. I didn't have any problems driving the loop and crossing the Fremont River was easy.
The Bentonite Hills
We camped at Cathedral Valley Campground and enjoyed sunset at the Upper Cathedral Valley overlook.
After completing the loop the next day, we headed south on the Notom-Bullfrog Rd along Strike Valley under darkening skies.
As we neared the Burr Trail switchbacks, it began to rain. Fortunately, I didn't have any problem with traction on the road, and enjoyed a nice view of the road and the valley from the top.
After passing through the Waterpocket Fold, my wife and I were amazed to see snow on the ground. Upon closer inspection, we found that it wasn't snow, but hail.
Throughout the night and for the whole morning of the next day, it rained, so we just enjoyed resting and reading in the car. Once the rain had stopped, we headed back to Upper Muley Twist.
We thought about driving the rough road to Strike Valley Overlook, but decided not to risk messing up the car, especially since we had time and the hike looked like it would be nice.
About a mile in, we had a mini flash flood flow down the trail and felt even more confident that leaving the car behind was the right call.
We passed a nice arch along the way, high up along the cliffs.
We spent about an hour enjoying the views at Strike Valley Overlook. I had never been there and was still awed by it, even though I had seen many photos.
On the way back, we spotted an alcove up fairly high and went up to see how deep it was. It wasn't particularly deep, but it still had a nice view and I like the texture of the ceiling.
We camped at Calf Creek Campground that night and hit the trail to Lower Calf Creek Falls just before sunrise. We got there in about an hour and had the place to ourselves. What a beautiful and peaceful spot! I certainly would not have been peaceful if we had left later in the day; on the way back, we passed 10-20 people.
Earlier in the trip, my wife had seen a photo of Bryce Canyon. I hadn't originally planned on going there, but we were so close, I decided to surprise her and stop there as well. We hiked down the Navajo Trail and up the Queens Garden Trail and then stayed along the rim until sunset.
Right after watching a video at the Visitor Center and hearing about the endangered Utah Prairie Dog, we saw a couple of them licking salt (I guess?) off of the road. (If these aren't Utah Prairie Dogs, feel free to tell me.)
This tree must be in so many photographs, but it deserves it!
Sunset at Bryce Point
The next day, we headed down the Hole in the Rock Road (after stopping by the Escalante BLM center to get backcountry permits) and hiked to Coyote Gulch. We entered through the Crack in the Wall, camped overnight near the Jacob Hamblin Arch, and exited the Gulch near the arch.
After Coyote Gulch, we headed back up Hole in the Rock Road to Escalante. I asked about road conditions at the BLM station. I wanted to head down to Alstrom Point, and it looked like Smoky Mountain Road would be a nice way to get there. The ranger told me that she wasn't sure about the road condition of that road, but suggested another route on the map. Perhaps I misunderstood what she said, but I ended up taking the Croton Road. Terrible decision! The road was super narrow (not totally surprising) and crossed several creekbeds. In two places, my wife and I had to find stones and construct tracks in the dry creek for us to cross -- we just didn't have the necessary ground clearance and kept hitting the bumper onto the banks of the creek. Thankfully we made it through, but didn't arrive at Alstrom Point until after dark.
View from the Croton Road
Sunrise from Alstrom Point.
We enjoyed sunrise at Alstrom Point, and then drove to House Rock Valley Road. We found the Maze Petroglyph -- without the signs that apparently have been placed since we were there. Very cool, though my wife was sure that it wasn't a real petroglyph.
We returned to Lake Powell and camped at the Lone Rock Campground. It was a beautiful night with countless stars and a number of campfires all along the shore.
The next day, we hiked to the Wahweap Hoodoos. While planning the trip, I had tried to keep my wife in the dark as to where we'd be going -- hoping that she would enjoy the experience more if she didn't know what to expect. However she had caught sight of the Wahweap Hoodoos while I was planning and exclaimed "What is that???"
Later in the day, I drove along Cottonwood Canyon Road to a point just south of Hackberry Canyon. I climbed up the ridge to the west and enjoyed a view of the canyon and the Cockscomb. Red Top and Yellow Rock were easily visible as well.
The next day, my wife took a nap, and I hiked across open land to the base of the Vermillion Cliffs.
The following day, we drove to Cottonwood Cove. I had failed to get a permit for Coyote Buttes North, but I was able to get one for Coyote Buttes South. The day started off beautiful, but it began rain on us in the afternoon and we finally headed back to the car when it started to pour.
This should be named "Horse Rock", or "Knight Rock", if it isn't already.
The upper part of this photo doesn't look real!
I didn't find the "Half & Half" rock that I always see, but here is its cousin "Quarter/Quarter/Quarter/Quarter".
Probably my favorite photo from our day at South Coyote Buttes.
From Cottonwood Cove, we headed to White Pocket. Driving the road was tough; I was constantly slowing down for rocks and speeding up for deep sand. We made it there okay. There was a parking area and the road continued on. I made the mistake of continuing and went down a sand hill to the end of the road. As soon as I went down that hill, I knew that I could be in trouble. I decided that I had better drive back up the hill now while the sand was still damp. However, all I did was get stuck part of the way up the hill. My wife and I tried to dig ourselves out but failed. Desperate, I walked back to the upper parking area and knocked on the door of a pickup truck camper. They answered and I asked if they had a tow rope. They did and were kind enough to pull us back up the hill, even though it took an hour or two. Then they invited us over for coffee the next morning!
We had a gorgeous day to explore White Pocket. I found this area to be every bit as incredible as South Coyote Buttes; I wish I was a geologist and then maybe I'd have a clue as to what happened there!
The kind folks who helped us out.
After exploring White Pocket, we headed back towards House Rock Valley Road. After going a few miles, the "Check Gauges" light came on and I saw that the engine was overheating. Apparently I had busted the radiator. Initially I thought that I must have caught a rock or something on the road, but I think that I probably busted it when I slammed into the sand, trying to climb the hill the day before. It was fairly cold (40s) and that probably allowed me to go a few miles before overheating. I had no cell reception, but someone with On Star called the sheriff to get a tow truck for me and then waited with us until they arrived. (People are much nicer in Utah than in Maryland!) We got towed back to Kanab (at the cost of $600!).
This happened Thursday night. We were supposed to fly out of Las Vegas on Sunday morning. Rather than tell Sixt that we had driven the vehicle off road and then have to pay for a new radiator anyway (with a probable mark-up), we had the car fixed in Kanab. Unfortunately, the mechanic was not able to get the radiator until Monday, so we had to move back our flight and take off a few extra days of work. We spent several days in Kanab, staying at the Cowboy Bunkhouse. It was a relaxing end to the trip, but very expensive.
The huge cat at the Cowboy Bunkhouse.
Last edited: