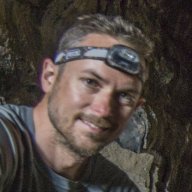 Joined

Jun 18, 2015
Messages

102
Howdy folks, I want to introduce you to a new 1090 mile thru hike route across central Nevada called the Basin and Range Trail. Nevada is the most mountainous state in the lower 48, with over 310 named mountain ranges. The BRT strings together some of the more spectacular ranges in the state, including some pretty obscure ones in-between. Why did I choose to do a long hike Nevada? Because the topography looks amazing and it gets close to zero visitation. It's the perfect recipe for adventure, if you're looking for that kind of thing.
Goshute Range
Where:
Central Nevada
When
: June 1st 2020 – August 6th 2020
Distance:
950 miles (1090 for the full route)
Conditions:
Varied. June was mild, and sometimes downright cold. Two storms brought a dusting of snow to high elevations in June. After 4th of July, it was much warmer. Low to mid 90s daily from mid July on, and 100 degrees in early August.
Lighterpack:
https://lighterpack.com/r/4aj6eq
Website:
https://basinandrangetrail.com/
(I built a dedicated website for this trail and its planning resources)
Route Map:
https://basinandrangetrail.com/the-trail/
Photo Album:
https://basinandrangetrail.com/discover
(organized by section, 1-10)
60-Minute Documentary Movie:
11+ Hour Vlog Series:
https://www.youtube.com/playlist?list=PL8GyPZecZZYjl9ircZWaYGZwOaojotA-3
Overview:
The route I planned to hike was close around 1100 miles. The route I actually ended up hiking was around 950 miles. I completed the hike in 67 days, but 17 were zero days. I filmed the hike and had to spend a lot of time in town dumping media from my cameras, charging electronics, replacing gear lost in bushwhacks etc. I've revised the route since returning home, and have laid out a 1090 mile route moving forward.
The route is broken up into 10 sections, and is best hiked clockwise. I started the hike in Ely and ended in Baker. You could hike a true loop if desired, but there isn't much of a logistical advantage to that. Ending in Baker, you can bag Wheeler Peak (2nd tallest in Nevada at 13,063') on your last or second to last day, which has great symbolic meaning for the end of a thru hike IMO. End on a high note, literally.
The route hits 22 mountain ranges (and the high point of 13 of these ranges), 11 wilderness areas, 5 wilderness study areas, and 1 National Park. It's almost entirely on BLM and National Forest land, and there are no permits required… not even in Great Basin National Park, because the visitation is so low!
The good is that it's very beautiful, and the variety of hidden gems never ceases to impress. I can't think of anywhere else that compares in terms of remoteness and the overall feeling of desolation. It's just so empty! There is practically no information out there on most of these mountain ranges, so it's an adventure around every turn. Sometimes in a good way, sometimes, not so much. The bad is that the bushwhacking can be extremely bad at times. Like, the worst of your life, and plan to redefine that definition every couple of days. This route definitely isn't for everyone, but if you are willing to put up with this level of suck, man does it pay off.
I started June 1st because of my personal schedule. Ideally, I think early to mid May would have been better, at least for last year. Most years, you can start on the early side (possibly mid April), but when looking at historical snow pack levels, about 30% of the years past, deep snowpack lingers in the Toiyabes, Rubies, Schell Creek and Snake Ranges into June or even July. .
Probably on the tip of everyone's mind when you mention thru hiking Nevada is water. Honestly, it's not that bad. The longest water carry for me was 25 miles or so, but could potentially be up to 38 miles depending on your route. Water can be found in most ranges in the major drainages, many times in the form of flowing creeks. Even in 2020, a very dry year in the driest state in the country, in the middle of a hot summer, water sources were almost never dry. In fact, only two of my planned water sources along the entire route were dry. Some of the ridgeline traverses can be challenging though, as these are typically dry. An earlier start would give you more access to snow melt on these otherwise dry ridgelines. Also helpful are guzzlers. If you aren't familiar with these, they are rain collection structures that hold water for wildlife. And you're an animal too, right? Some of these guzzlers provide that critical water source along otherwise dry stretches. Water quality is pretty good overall. There is a lot of cow and sheep grazing in certain areas, but rarely was the water fouled to the point I wouldn't drink it.
Why the name Basin and Range Trail? Yes, this area is more commonly known as the Great Basin. But most of Nevada also sits within the northern Basin and Range Province, which is a term used to describe the unique topography here… a parallel series of tall, narrow faulted mountain ranges separated by vast flat, arid valleys, or basins. This topography can easily be observed from any satellite or terrain map, and is highly representative of the hiker's view along the entire route. And so, the name Basin and Range Trail was chosen, for the stunning topography of central Nevada.
There are few hiking trails here, so it's mostly cross country hiking and old 4x4 roads. There's some pretty intense bushwhacking, but you'll have the chance to walk places that few ever bother to visit. The goal is typically to walk the crest of a mountain range, if possible. This is easier on the north-south running sections, the direction the mountains run. The east-west sections are up-and-overs, but can incorporate some length of ridgewalking too. Some of the lower ranges are thick and wooded on the crest, which is extremely challenging to work through.
Usually, crossing the basins (valleys) is a 10-20 mile hike, with water on both sides along the base of the mountains or up a drainage. So this is quite manageable. The longest desert section is about 65 miles along the southern portion of the route, in between the Grant Range and the Hot Creek Range. Technically, the Pancake Range (and the awesome Lunar Crater volcanic field) is in-between, but this is a low, dry volcanic range, and more desert than mountains.
Resupply was initially a challenge to plan for. Half of the towns are walk in, half are hitches. You will need to send a food box to 3 of the towns. It's incredible how remote and isolated some of these small towns are, and how little they have to offer. It's not uncommon for locals in multiple towns along the BRT to drive 4 hours each way to Vegas for groceries. THAT is remote!
I could go on about how great Nevada is, but I'll stop here. Feel free to ask any questions if you're interested in learning more about the route.
Goshute Range
Snake Range ridgewalk, Great Basin National Park
Hot Creek Spring
Lunar Crater - nearly 4000ft across and 430ft deep
Cowboy camping with Hot Creek Range/Morey Peak backdrop
Descending Pearl Peak in Ruby Mountains
Hendry's Creek, Mt. Moriah Wilderness, Snake Range
Crest of the Monitor Range, Table Mountain Wilderness
Morey Peak, Hot Creek Range
Snake Valley
Johnson Lake, Great Basin National Park
Last edited: