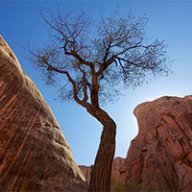 Joined

Aug 9, 2007
Messages

12,940
I just realized something. Today is the 5-year anniversary of Backcountry Post becoming the community/forum format that it is now where people can post their trips and interact. And later this year is the 10-year anniversary of when I first bought the domain and created the first site. I'm a little behind in planning, but that seems like we should celebrate somehow. Maybe a new design this year, maybe some giveaways from sponsors. Either way, thanks for making this place wonderful, everyone. It would really suck and would probably have been dead years ago without all of you coming on and posting your experiences.
For old time's sake, here's mostly what the site looked like back in May 2008, courtesy of the Wayback Machine internet archives. It's a little broken - missing header links, missing an image and a box around the logo, but you get the idea.
https://web.archive.org/web/20080501165354/http://www.backcountrypost.com/
As ugly as that is, I was proud to have hand-coded the whole thing from scratch back in 2007. It was my first big project after a web design program I took at the University of Utah. Nowadays we get to rely on much better programmers to make the foundation of the site so all I have to do is pretty it up a bit and maintain it. "Ah, technology", indeed!