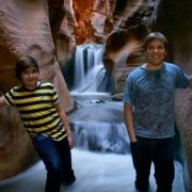 Joined

Jun 2, 2012
Messages

161
So last week was looking to be really slow at work, with little to do. So I asked for 3 days off and took off on Friday after work, with the plan to arrive home 5 days later on Wednesday.
At about 7PM I left Salt Lake with the goal of reaching Kanab. That drive seemed to go by fairly quick and I was in Kanab before midnight. I couldn't figure out where to camp so I went to the Rimrocks and slept in my car with the hope of walking to the toadstools before sunrise. Unfortunately, I hit the trail just as the best light was dying out but I still had a great time hiking around this awesome spot. There are so many intriguing little areas, and to the west of the famous toadstool hoodoo is a white sandstone area that circles around quite a few classy white hoodoos.
Toadstool Hoodoo Sunrise
Near the Toadstool
Hoodoo Garden West of the Toadstool
Swoopy waves near the rimrocks
After that, I headed down to the Glen Canyon dam visitors center and drove the very short distance to the hanging garden trail, just across the bridge. This is a very short little trail and the garden looked much less vibrant and alive than I'd seen in pictures. Perhaps I'd arrived a little too early in the year to see the little seep at it's most lush, but it was still an enjoyable jaunt.
Next, I headed over to Page and took a look at Horseshoe bend. It looks way bigger in real life than in photos. The little boat in the picture is a full size motorboat.
Then it was down the road to pay the exorbitant $31.00 to experience the obscenely crowded Upper Antelope Canyon. Taking a picture with any thought behind the composition was essentially impossible due to the hundreds of tourists with point and shoots coursing through the narrow passages. I overheard not one but two people ask the native guides what they meant by "Zoom in" and the natives explaining how to zoom in a camera, which was obviously a mind expanding experience for the unlearned tourists as they shrieked with delight about their newly acquired skills. I should also mention that there were scores of Japanese tourists wearing surgical masks. I was unaware the desert was so filthy and contaminated, but I will be sure to bring my doctor mask next time I hit the trail, as should everyone else. I heard from someone there that Lower Antelope is more interesting and less crowded, but I didn't have the time (or money) to hit a second canyon that day. I only managed to shoot a few shots before the guide rushed us out of there in less time then he promised.
Looking up
Heading out
Anyway, I next drove to Tuba City in the hopes of going to Blue Canyon, Ha-Ho-No-Geh, and Coalmine Canyon, but the Hopi Guide was unavailable to do the $65.00, four hour tour out to those areas, and he told me not to go as he is the only guide that does the tours and it is against Navajo Nation law to visit alone.
Next, I headed to Sedona Arizona and slept in my car again.
I went to Sedona to meet a friend and possibly hike there, but we ended up heading straight to the south rim of the Grand Canyon. I'd never seen the Grand Canyon before but it was well worth the hundreds of miles of extra driving.
After that, I headed back to Tuba City and you guessed it, slept in my car, like a true outdoorsman.
I woke up and drove up to Monument Valley. It's a great place although I don't know how I feel about the Hotel that is perched right on the edge of the valley. You have to pay a guide if you want to do any hiking, so I just drove the loop road. There was impressively strong wind blowing throughout the area, so there were these cool sandstorm atmospherics going on and cloaking the distant buttes and mesas. From Monument Valley I had intended to go up to the Goosenecks to camp, but halfway up the road I encountered a road blockade because of a
bomb threat.
They said the road would open up in 3 hours, so I went back into Monument Valley, did the loop again for sunset.
Totem Poles and Yei Bi Chei
Mittens Sunset from Artists Point
Totem Poles under the Moon
Then after 4 hours I tried to head back up to the Goosenecks, but the road was still closed, so I had to go all the way back down to Kayenta, Arizona, through Mexican Water, up towards Bluff, through the Comb Ridge, and I ended up stopping at Valley of the Gods.
This turned what would have been a 12 mile drive into a 115 mile drive, which was contrary to what the police officer who told me to take the detour said. He said maybe 45 miles.
Now that I had a chance to, I decided to sleep in the tent, but the crazy high winds in the area made that a fruitless endeavor, as the tent was trying to pull me over while I was trying to hold it down and get it staked in. I put a boulder and a lug wrench in it and it still got picked up enough that the boulder was dragging along and the tent flattened. I have a really crappy tent but even a good one wouldn't have fared well in that weather. So once again, it was back to the car to sleep. At this point, I realized that sleeping in the car is awesome because you can get up and go super early and for some reason it was very comfortable and I slept great!
These are the sort of winds that will keep your tent from standing up
Anyway, I woke up at 6:30 and drove the loop through Valley of the Gods, which is a great place and almost as cool as Monument Valley. I continued on to the Goosenecks, which is a really stunning place and worth stopping at if you are in the area.
Goosenecks
Next, it was up the Moki Dugway road and into Natural Bridges. It was at this point that I realized I would be cutting it close on gas going to Blanding considering the giant bomb threat detour. It turns out that you can get 2 gallons of emergency gas from the Natural Bridges Ranger and they legally aren't allowed to charge you for it. I made sure to buy a bunch of stuff from the gift shop in order to make up for being such a mooch. I went to Blanding so I could get some food, and on the way stopped at the Mule Canyon Ruin, the Butler Wash Ruins, and while in Blanding stopped at Edge of the Cedars State Park and Museum. The ruin at Edge of the Cedars is cool enough, but sadly is surrounded on all sides by suburban houses and farms. The museum has some awesome pottery collections and a new exhibit on petroglyph documentation that includes making a record of bullet scars and graffiti in order to assess future degradation of the sites as compared to now.
Butler Wash
A crazy petrified aligator rock thing
Mule Canyon
Edge of the Cedars Kiva
I then headed back to Natural Bridges and along the way stopped by Salvation Knoll and hiked around the base of it to check out the huge balanced rock. A distance back amongst the Cedars I found this huge hoodoo, which I named the Madsen Mushroom in the hope that I discovered it.
The Balanced Rock visible from the Road
The Madsen Mushroom ( Takes a bit of a walk through the Cedar woods to get find)
I slept in my car again and woke up at the crack of dawn to go do the hike from Sipapu Bridge to Kachina bridge. It's a really great hike and there's a lot to see, although I made the apparently common mistake of walking right under the well preserved Horse Collar Ruin, but I did come across these cool ancient handprints along the way.
Sipapu
Kachina reflecting in April Ice
Ancient Handprints
The hike takes quite a while, since you have to walk back to the parking lot after you get up out of the canyon. All told I believe I walked just under 5 miles. I then drove down to Owachomo bridge and did the tiny little .2 mile hike down to that bridge, and especially enjoyed the reflecting pools at the bottom. The whole Natural Bridges area is great because not too many people show up.
Owachomo Bridge
A neat and weird arch
At this point it was Wednesday afternoon, so I wanted to do one last little hike before I went home. I drove up to the south entrance of Canyonlands and did the Cave spring hike and part of the Elephant Hill Hike to Chesler Park, although I only made it about a mile and a half before it was too dark and time to head back to the car. My tripod fell apart in a heap just as a great sunset went off over Canyonlands, so I took some soft blurry pictures before tossing my tripod in the garbage at the trailhead and making my way home.
Hoodoo near the Cave Spring area in Canyonlands
Petroglyphs that look really old in Cave Spring
Awesome Sunset views from Elephant Hill
I ended up sleeping in my car yet again at a rest stop halfway between Price and Green River and got up at 6:30 the next morning. I was able to walk into work right on time Thursday morning. All in all it was a great trip, and it was really fun being alone for so long. I also should mention that since it was national park week, I didn't have to pay to get into Natural Bridges or Canyonlands. Hope you enjoyed reading this long thing.
Featured image for home page: