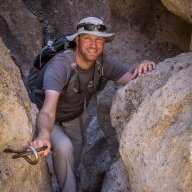 Joined

Jan 17, 2012
Messages

3,474
I have a few trips scheduled later this year that I think I'm going to need a bag rated down to colder temperatures than my 25 degree bag. I'm a cold sleeper, so I'm looking at getting a 0 degree bag. Preferably, I would like something similar to my Western Mountaineering Sycamore MF bag, since I absolutely love that bag. Of course I looked at WM for a new bag, but I'm not ready to drop $500-700 on a bag that I may only use a handful of times (Not sure how much cold weather camping I may do in the future, if it turns out to be a lot, I may eventually get the WM bag). I do not like mummy bags and am looking for a semi-rectangular bag with a hood...also I would prefer down...and it needs to come in long.
After some searching, the only other bag I have come across that meets these requirements is the Kelty Coromell 0 Degree:
http://www.kelty.com/p-451-coromell-0.aspx
Anyone have any experience with Kelty bags? It looks like I can find this one for just under $200, which would be more in my current price range that I'm willing to spend.
Anyone know of any other bags that might meet my requirements? Preferably under $250ish