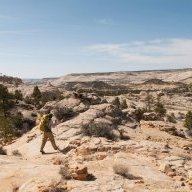 Joined

Mar 4, 2012
Messages

100
On the way home from a great Death Valley frontcountry trip with the kiddos, I tagged on a little Zion backcountry. My wife shuttled me up to Lava Point (as far as the road was clear of show) and then she headed into town to relax poolside a couple of days while I hiked.
Still too snowy to drive all the way into Lava Point, but at most it only adds about 2 miles of road walking. Trees are mostly still bare of leaves. A few more weeks and I'm sure the route would have been much more green, but down in the canyon, the flowers are going. Lovely.
I pulled a permit for Site 2. Only a few hundred yards from West Rim (Cabin) Spring. Had a nice clear trickle.
Site 2 has great views to the south and west. Fine place to watch a sunset from camp.
A bunch of these guys showed up for breakfast. They hung around for a while as I moved around and packed up camp and then headed over to the spring.
Big views all the way down.
Detoured up onto Angel's Landing on the way down. Wasn't too crowded.
Flowers! Lots.
Featured image for home page: