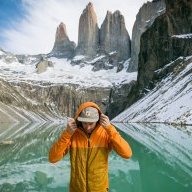 Joined

Jan 21, 2012
Messages

19
After having our plans cancelled last year because of the government lockdown, my brother and I with a couple of friends managed to book permits for the Zion traverse for late April and this time it was a go! Starting Wednesday, April 23 in Kolob Canyon we planned to finish at the east entrance of the park on Sunday morning. However things would soon change.
Night one was La Verkin Creek camp 11 just past the intersection for Hop Valley after a quick detour to Kolob Arch. This was my first time into that area and it was love at first sight, (there are now plans brewing for a return trip to camp at #11, one of the best camp spots I've ever had, to just explore further up canyon and back into Hop Valley again).
After pumping water from the creek the next morning, (we expected a long, dry day), we climbed the steeper-than-expected hill over into Hop Valley but were rewarded with that stunning view from the top. What a lovely hidden gem that place is, despite the cow-polluted water.
It was a bit of a sandy slog through the valley but the views made it all worth while. Then up the long and steady climb out at the south end before we took a lunch rest beneath a tree close to the trailhead.
Here we declined an offer for a ride to Wildcat Canyon and continued on the 4-5 miles of connector trail, stopping once we arrived in the Wildcat area to look for a marked spring with no luck, (we'd been told in the ranger station that most were not running due to the dry winter).
We pushed as far into Wildcat as we could before dark, (to shorten a long day on Friday), and made camp in a nice clearing as the sun set. The next morning we were up early and on the trail where, soon after, we found a wonderfully clear spring flowing from a rock where we happily filled up.
At Lava Point were my folks who brought a resupply of food, clothing and a change of footwear for me, (as I was suffering with bad blisters on day one from newer shoes). They also brought a change in the weather report saying that we'd be greeted by high winds on the West Rim and a 80% chance of rain and snow that night.
And the wind did blow, blasting us from the south west as we walked the rim, dark clouds gathering overhead. Upon arriving at our camp, #4, we took a vote and decided to descend lower to the shelter of the area of camps 1 and 2. By 3am it was raining steadily and by 5am it turned to heavy snow.
I was a little nervous about the next couple of miles of trial cut into the cliff below us, but as the weather wasn't showing any sign of letting up, we packed up our soggy tents and pushed on. The rocky trail was covered with snow, slush and running water and my replacement footwear, being my older, worn out hiking shoes, offered little traction on the treacherous trail. I'm not exaggerating when I say my trekking poles saved my life a few times that morning.
As we leveled out several hundred feet below our last camp I gave a sigh of relief and we moved on through constant snow and rain to Scout Lookout. Come noon at the Grotto we were once again met by our support team, my parents, and there decided to push on and finish that night. Better that than spending a damp night in similar, cold weather on the East Rim.
So we unloaded some of our gear with my folks, walked the two miles or so up the paved road to the Weeping Wall trailhead and started up to Echo Canyon. At first we enjoyed a little warmth as the sun broke through the clouds, but above Echo Canyon we were once again hiking in the wind and snow. In the end we made much better time than I expected, despite being slowed by heavy mud that weighed down our feet with each step across the top of the East Rim.
Thankfully we didn't have to find our way out in the dark as we finished at the east entrance by 7:20pm. Then onto Springdale for Mexican food and a warm hotel bed in Hurricane.
It was a wonderful farewell trip to Utah as my wife and I are leaving to travel the world for a year on May 26! Not sure how much backpacking we'll get in abroad, but I'm sure little will compare to this last trip in one of my favorite places, (despite blistered toes). Please follow along with our travels as we share stories and photographs at
www.OneWorldOneYear.com
, on Instagram, Twitter @OneWorldOneYear and on Facebook.
Thanks.
Featured image for home page: