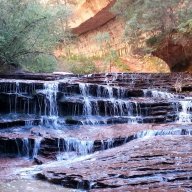 Joined

Dec 23, 2018
Messages

698
With South Guardian out of the picture for another year, I had to make other plans for my final day in Zion. It was another beautiful day so I headed back to one of my favorites spots in the upper east canyon. I parked just off the main road and slipped up the wash of Cock-eye Falls. Arriving at the head of the wash dividing Lost Peak and the Triplets, I broke right and climbed the north ridge of Lost Peak. It was mostly class 3 with one spot just below the summit that required a mini – ledge leap and short climb up a very exposed slope.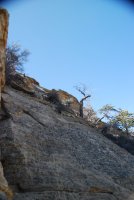 The views on top were terrific.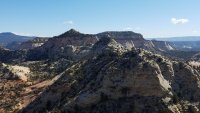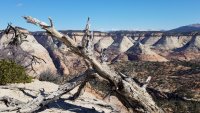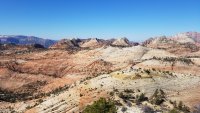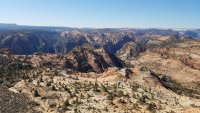 Found the summit register.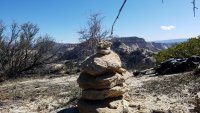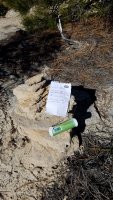 I came down the same way and traversed westward to quickly bag the class 2 summit of Lost Teton.
Following the drainage behind Lost Peak toward the Crawford wash, I cut east and traversed thru lots of sand and scrub bush behind the Triplets over to Point of Compassion.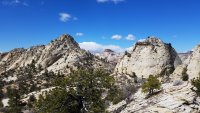 From there, I headed back thru the saddle between the Triplets and the Fin. During my hike up from the road, I spied what looked to be a doable class III route up between the 3rd & 4th Triplet. I made it up to within 100' of the summit but the rock was very loose and there too much exposure for my comfort so I turned around and spared my wife the embarrassment of having to tell our friends I died falling off a mountain.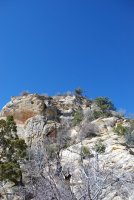 I had also read about summit route on the east side of the 4th Triplet. I took a brief look and I did find what appeared to be a class ¾ route on that side but I didn't have enough gas in the tank to try. Gotta leave something for next year. Last views of the upper east for 2019.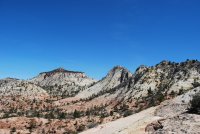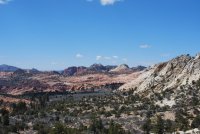 See ya in 2020!