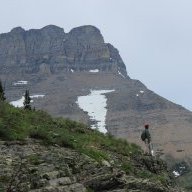 Joined

Aug 31, 2015
Messages

229
This trip was meant to be a solo backpacking trip along the La Verkin creek trail all the way to the park border then down through Hop Valley. This was not the case because apparently in Zion the permit holder must be 18 years or older, and must be on the trip. This was baffling because in Glacier National Park, a supervisor at a backcountry permit desk said that in Glacier "we have no regulation on whether you can go or not. We assume that if your parent is there and is willing to let you go, that they are just fine and we can't do anything about it". Plus , Glacier is BEAR COUNTRY, Zion just has the occasional flood and mountain lion. At the last second my dad decided "what the heck" and we had a permit drawn for campsite 10 for two nights for two people (my dad and me) and my dad (from here on out will be referenced as The Ghost) would be "cowboy camping" because I only have a one man tent and The Ghost has zero gear.
The trip was to go down and camp in La Verkin creek right near the trail junction to Kolob Arch, visit the arch, then the next day go out to the northern border of Zion National Park via the Willis Creek "trail". I was to exit through Hop Valley while The Ghost would exit through Lee's Pass to pick up the car. It was a very nice backpack, the only issue was that there was some drama and it was incredibly hot; after all, it is July.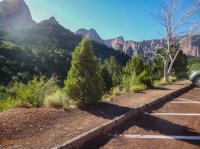 Off we go from Lee's Pass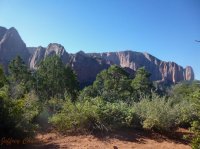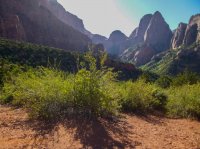 Looking up towards the entrance for Icebox Canyon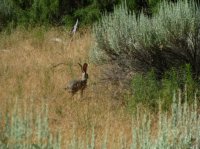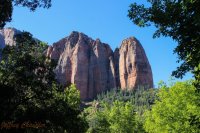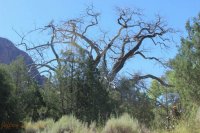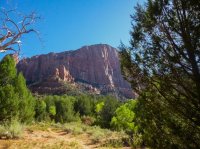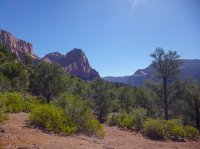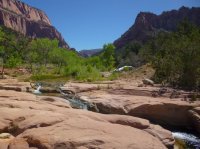 La Verkin Creek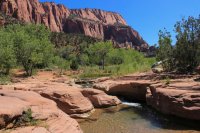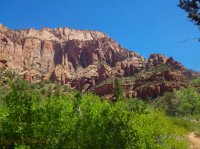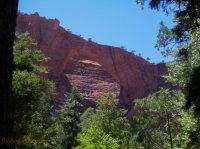 Kolob Arch. We went up to a perch where we could see sky behind the arch.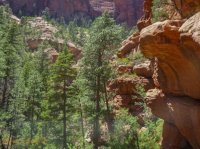 The perch had a nice spring coming off of the rocks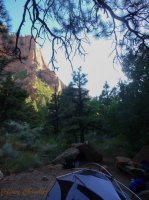 Campsite 10 was really nice except for persistent as all get out gnats, wasps (friendly-ish, no stings at least) and ants.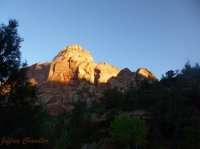 Morning sun while the ghost was at Kolob Arch getting pictures of the arch in sunrise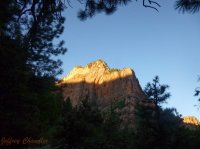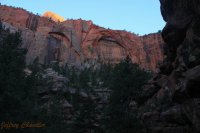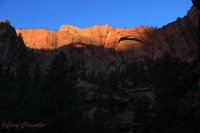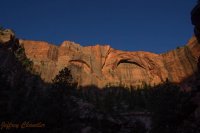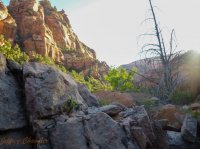 On the way towards the border!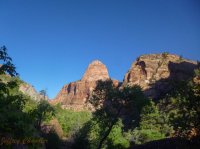 Gregory Butte (which apparently got a first ascent only a week prior to us visiting)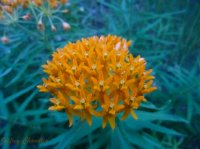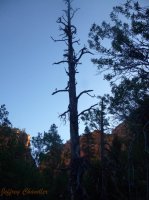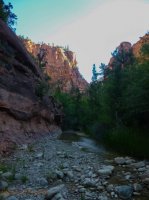 The canyon started to get really wilderness-y and cool once we got past campsite 11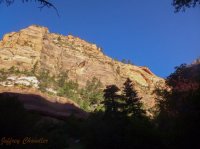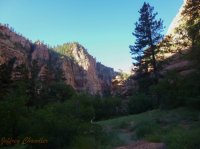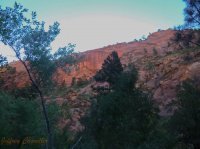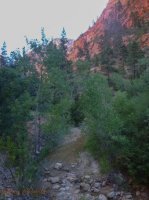 The lighting was wonderful the whole way through La Verkin creek this day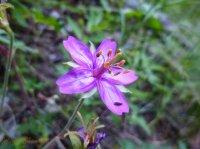 One of my best flower pictures ever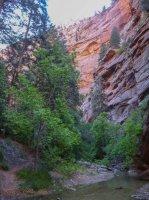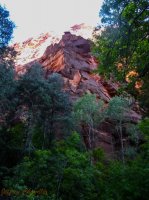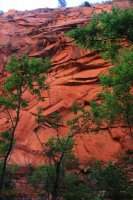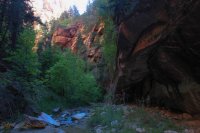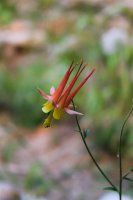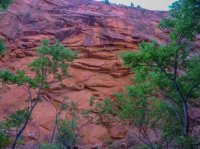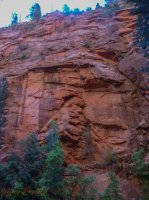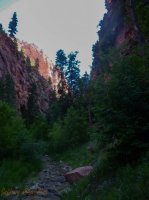 Lots of people say this, but there are sections going to and even past Bear Trap Canyon that resembles the narrows.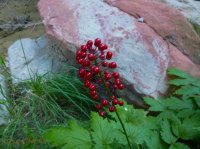 I had never know that baneberries, of all plants, grew in the desert southwest of Utah. I felt they were predominately a mountainous and cold climate plant.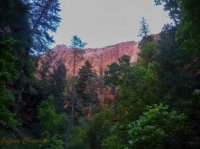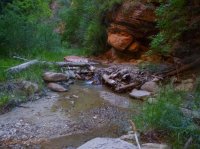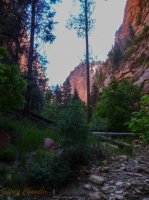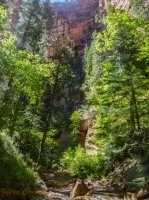 This is where the drama begins. Willis creek was how we were going to get to the border area of the park, and we assumed there would at least be some resemblance of a trail. This was not the case. The Ghost made an analogy that we put Willis creek under the category of "trail" instead of "wash/drainage" which made the walk through it more grueling and mentally a pain in the tuchas. We kept trying to avoid tree fall and brushy areas by finding "game" trails, but most of them ended randomly in the middle of HUGE thickets of wild raspberries. On the way back we just plowed down the wash.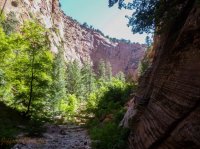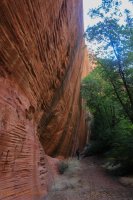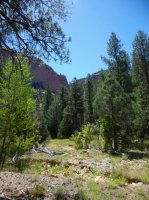 We eventually made it to the "pine-clad basin" that Erik Molvar mentions in his book, but at this point we had no clue where the "trail" was (there was absolutely nothing that remotely looked like a trail). We decided to just walk by the wash and hope we saw some kind of breakage or anything that looked like something to go to.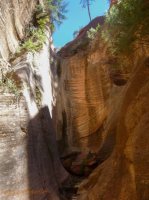 Then we hit a huge dry fall that blocked all progress within the wash itself. We went backwards along the bank of the wash just hoping to find anything that looked like a breakage that a trail might go up to. Plus in Molvars book, he mentions that to get up to the sign and gate that marks the border, it is a "vigorous ascent".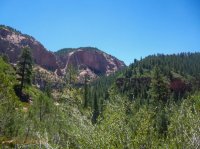 After searching around for a few minutes we found a slight depression that looked to us like a "vigorous ascent" this was an understatement for the ages. It was a good 60 degrees slope of incredibly loose sand, dirt, and rock with some pine needles thrown in to make it even worse. We at least got this killer view south towards the only permanent lake in Zion, Chasm Lake.
I got in contact with Joe Braun (the photographer guy) because I knew he had gone up this way before, and I wanted to know what happened that made getting to that sign such an ordeal and why we ended up not finding the sign and gate. From what we discussed and from the pictures he sent from the sign and gate, we should've gone up right when the canyon slotted up and looked for a "trail" (more like slightly flatter spot). This picture validates that because that canyon in the background is in Joe's picture of the dilapidated gate. As a side note, I believe that absolutely nobody goes this way because there is just no sign of anyone or even living thing was there, and if bigfoot were to live anywhere in the US, it would be in this place.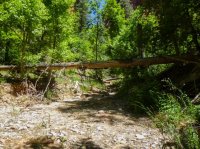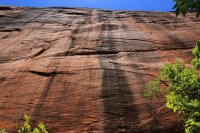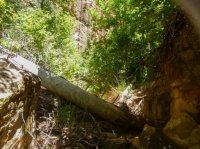 We were constantly negotiating stuff like this.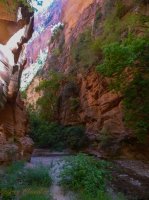 After plowing down the "trail" we eventually got back to Bear Trap Canyon, and this canyon was definitely amazing.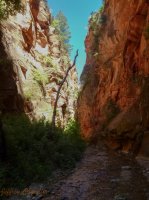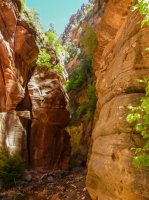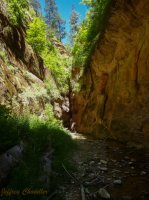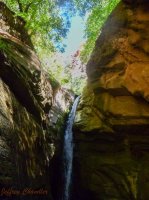 Bear Trap Falls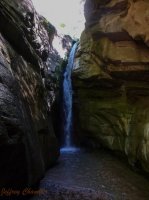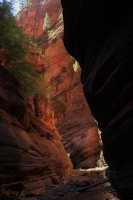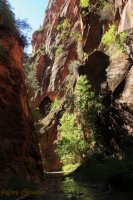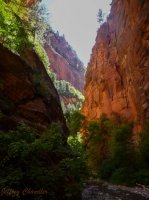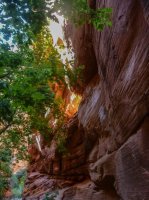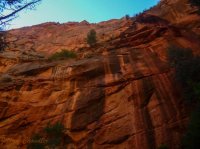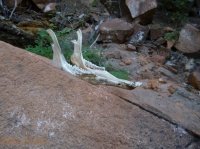 Found half of a skull, I think it's coyote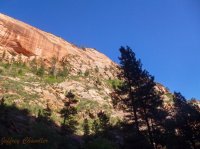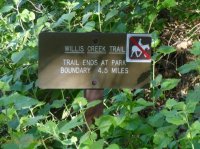 The really nice sign that made it sound like getting to Willis creek was a nice trail. Absolutely not, there is ZERO indication of a trail.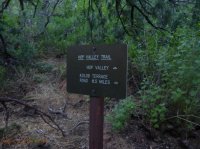 I got up really early in the morning to beat the heat and to hike up Hop Valley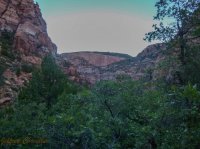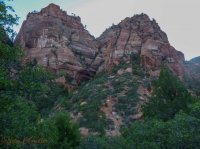 The climb up was quite brutal with a pack on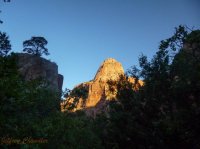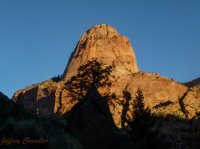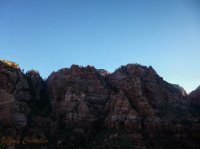 That grassy high point in the middle is the home to a long forgotten (due to private property) trail with its namesake, Death Point. Supposedly has a unique and killer view of Kolob Arch.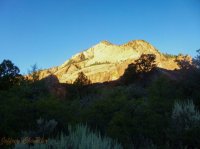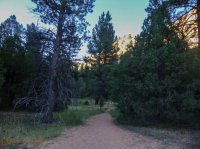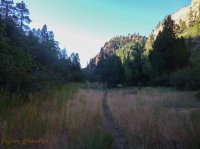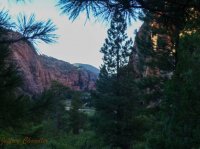 Looking up Hop Valley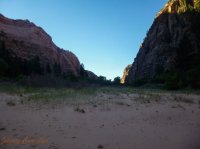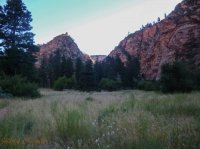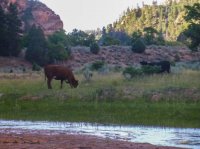 Nice to have the requisite cows in Hop Valley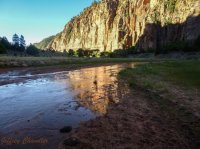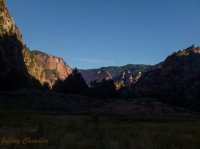 Looking back down Hop Valley to where I came from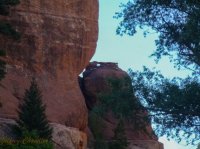 Found this cute little baby arch (I checked, those rocks are connected)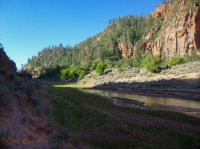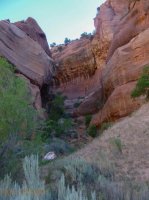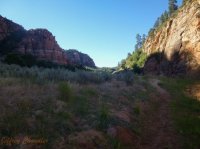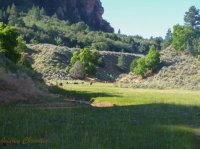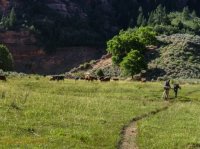 other groups getting in the way of my majestic cow shot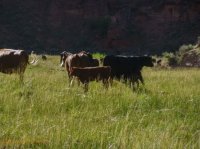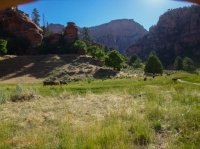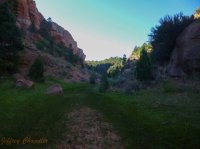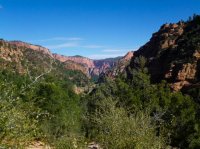 Looking down the canyon after the grueling climb out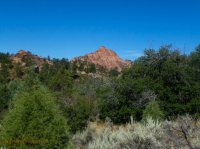 Home to its namesake wilderness area "Red Butte".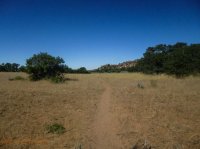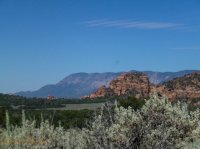 Signal Peak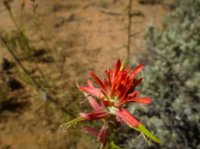 In summary the trip was great, except that there was some heat, and that we didn't make it to "the border sign". I have no problems though because I feel like that basin back up by Chasm lake is one of the most unique places in Zion; the only thing similar is the Wildcat Canyon area, but that doesn't have big towering cliffs, and it isn't in the middle of nowhere. I just need to find a great excuse to go out there again, just with in a cooler time and with a different mindset. The fact that any info on the area labeled it as a trail screwed with us because it should be in the drainage/wash category.
Hope you guys enjoyed my first trip report on this site, and looking forward to more!