Joined

Jul 23, 2013
Messages

1,650
With some other threads going on about gear evolution and discussions like
Dumbest thing taken on a backpacking trip
I thought it would be fun to see what everyone's first gear items were, whether purchased on your own, inherited, borrowed, or whatever, if you can remember back that far, and where was your first trip and experience with the gear. Also, if you'd like, what have each of those items, if any, been upgraded and replaced with or just plain forsaken in your current setup.
I started gearing myself up for some actual backpacking my senior year of high school when a high school buddy and I decided to take a "senior trip" overnighter up to Silver Lake up in American Fork Canyon the week after graduating. This was to be what I would call my first really backpacking experience due to the fact that my local scout trip I had grown up with was never tough enough to do any actual backpacking. That, and the scoutmaster we had was well into his 70's and didn't have the stamina to do anything beyond car camping and organized scout camps. Neither of my parents were into backpacking either, so I felt deprived.
Of course, since I was only a high school student with a minimum wage job I had to get what budget items I could find. Since I was living in American Fork, only blocks away from Recreation Outlet and a Walmart on 5th East at the time, these two placed were where I purchased most of my gear.
Here's The Big 3 I started with:
Pack: Rokk Talkeetna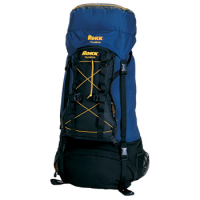 I think this was something like 70 liters. I thought it was awesome because it's lid detached to become a waist pack and the front pouch detached to become a little backpack for holding a hydration bladder. It was used on a couple other trips and was eventually sold.
Current packs: REI Crestrail 48, Teton Sports Summit 2800 (w/ frame removed for short ultralight trips)
Tent/Shelter: Walrus Terramoto 2.0
I thought it was very versatile in that it was a 4 season 2 man tent. Of course, with a 4 season setup comes extra weight but the fly can be left home when no big chance of rain is forecasted but still have fully enclosed walls on the tent body for privacy. I still have it and use it on occasion, such as last year when my wife and I took the kids up to Ruth Lake for a little backpacking excursion and had to split the family up.
Current shelters: REI Half Dome 2 (won from an REI photo contest), DIY hammock system, Equinox Tarp
Sleeping Bag + Pad: Coleman 0 Mummy Bag + Insul-Tec Inflatable Pad
Bought the Coleman at Walmart. My first experience with a Klondike Derby as a younger scout, newly moved to Utah from Florida, turned out to be a miserable and horrible experience and so I was still paranoid about Utah cold, hence the desire for a 0 bag at the time. It is warm, but it is also huge, heavy, and hard to pack. Still have it, but after having it take up the majority of my pack's space up to 5th Water Springs this past winter, I have now relegated it to winter car camping trips only.
Current bags: Hi Tec Elevation 15, Teton Sports Trailhead 20, Ledge Sports Scorpion 45.
Still all synthetic budget bags, but all much more packable and lighter in weight. Until I can afford to get a proper down bag for winter trips, I will probably pair the 45 with the 15 or 20 bag when extreme cold is expected. Eventually I hope to also get a down quilt suitable for spring to fall use.
The Insul-Tec pad, contrary to the brand's name, really has no insulation to it, so it doesn't do much on colder nights. I now have a few different pads I will take on their own or combine with another depending on the trip type, season, elevation, etc.
Current pads: Thermarest Z-lite, Klymit X Frame, ultralight windshield reflector (mainly for use w/ hammock) , Thermarest X-Therm (wife's, but will be used on colder trips she is not present on)
Other Firsts:
Cookware: Texsport stainless steel & copper mess kit
Still have it, but it's kept in emergency supply storage. I thought the mess kit would be good for making pancakes and the like in the morning, but I never could keep the pancakes from sticking and burning and soon concluded it wasn't worth the weight and cleanup effort to take along a whole mess kit. Now, I typically only boil water for rehydrating dried meals and beverages when backpacking.
Current Cookware: GSI Kettle, GSI Minimalist, GSI Dualist
Stove: Stansport (canister)
Still have this, but usually only get it out for family car camping trips when I plan to boil more water in bigger containers due to it having a wider base. It is also fed through a hose, so I can take it and invert a canister with it on any extreme cold trips. Otherwise it is bulkier and heavier than other options I now have and now resides with emergency storage.
Current Stoves: SnowPeak Gigapower (canister), DIY alcohol stove
Flashlight: Energizer ?
This was a nifty flashlight by Energizer with LED when LED was just hitting the market and had a long bulb down the side that allowed the light to switch to a lantern mode. Still have it, but it too is now part of emergency storage.
Current Flashlight: Black Diamond Spot headlamp
Multi tool/Knife: Swiss Tech? Multi tool
Another item that was way too big and heavy than necessary. Was later traded out for Gerber Suspension, but that too was too heavy.
Current multi tool: Gerber Dime
Hydration System: budget brand bladder w/ hose + Katadyn Hiker filter
I'm done with hoses. Too much effort to maintain and I hate the first few sips of warm water in warm weather and the freezing problems in colder weather.
Current hydration system: Smart Water bottles & Sawyer Mini filter (for warmer weather), Nalgene Bottle + tablets for colder weather
I won't go into clothing, footwear, toiletries, luxury/accessories, etc, since that is all so variable and too numerous to list in detail. For that, I will just say that since that first backpacking trip, I've traded out cotton jeans and t-shirts for all synthetics. I've also stopped carrying an actual camp stool and now just take a simple little sit pad.
Lessons learned from that first trip and the gear taken and reaffirmed with other trips:
1. Backpacking is awesome! It can connect you with nature in a way few other activities can.
2. There's a fine balance between comfort and weight. You can choose to be super comfortable while in camp or you can choose to be super comfortable while hiking the trail, or so it used to be. This decision isn't as much of a decision anymore with all the new high tech fabrics and materials out there now and so many cottage vendors and other manufacturers alike specializing in lightweight yet very functional gear.
3. You often still get what you pay for.