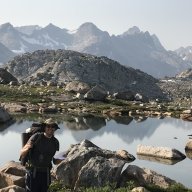 Joined

Mar 1, 2015
Messages

399
I have a couple of questions about the Young's/Lean-To route in DC for anyone here who has done that:
How hard is the route overall in terms of scrambling difficulty, exposure, and overall sketchiness? I'm not as worried about things like navigation (I'll give myself plenty of time, and I've never yet had significant issues in this regard) or water availability (if/when I do this trip, I'll do it when water availability is good and I'll err on the side of caution w.r.t how much water I carry); it's the scrambling/exposure that worries me most.
If the road is dry and in good shape, how close to the trailhead (on Sweet Alice Rd) would I make it in my Subaru Outback? It's a newer outback (which has more clearance than the old ones) with A/T tires and skid plates, but obviously it's still not a true 4WD vehicle. If I can get reasonably close to the trailhead, I could ride my old mountain bike the rest of the way. Otherwise, I would need to come in at Sundance instead.
Thanks!
Ryan
Last edited: