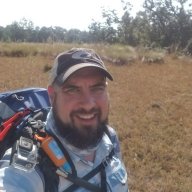 Joined

Jul 3, 2019
Messages

26
Hello All,
I am going to head to Yellowstone for the first time to hike with my son for 8 days in the backcountry. I would love some feedback, things to look out for, etc.
Here is our route in Gaia:
Gaia Route Map
The game plan is as follows:
8/30: Land in Bozeman around 11am, pick up bear spray, head to the Mammoth backcountry office to pick up our permits, then head to Pahaska Tepee Resort to eat and get our gear in order.
8/31: Leave our car at the Nine Mile TH and get shuttled over to the Heartlake TH. Hike down to Heart Lake and camp at 8J4 (Heart River) - ~12 miles
9/1: Hike down the Heart River and the Fox Creek Trail to 8C9 (Crooked Creek) - ~11.5 miles
9/2: Head down to the South Boundary trail and head east to Mariposa Lake and do some catch and release fishing, camping at 6M3 - ~6.5 miles
9/3: Continue East on SBT to the Thorofare and camp at 6T1 (South Thorofare) - ~9.3 miles
9/4: Join the Thorofare Trail at the ranger station and start heading north to 6D2 (Mountain Creek Ford) - ~8 miles
9/5: Continue north stopping at 6B1 (Lower Ford) for the night - ~6.5 miles
9/6: Head up the eastern shore of the lake to 5E8 (Park Point South) - ~13 miles
9/7: Finish up with ~6 miles to the Nine Mile TH and go get a beer and a shower.
So that's the plan currently. Originally I wanted to head south down the Thorofare and West down SBT to South Entrance but the sites were not available. The backcountry office reversed the route but once I looked into the climb heading west to east over Big Game Ridge at ~10,000 after only acclimating for a day and a half (I live at sea level), I thought it best to take the current route which skirts around that climb (much to my son's dismay at my pansyness).
I feel like we are prepared, I have a lot of backcountry hiking experience on the Florida Trail and a couple hundred AT miles. I just got trained in basic life support including tourniquet, splinting, chest decompression, CPR etc and we will also have an inReach mini with us. We'll each have bear spray. Biggest concerns for me are how much more strenuous hiking in the mountain west is than hiking in Florida (I'm about 50 pounds overweight). I'll do 90-100 mile stretches of the FT without a problem but that is flat and at sea level. My son is 20 and in great shape so he'll be fine. Only other concern is my shoe situation. As I mentioned on the Gear forum, hiking in hilly terrain has shown me that my shoes don't actually fit correctly as my feet slide forward so I'm working on that with some advice from folks here.
It sounds like the father/son trip of a lifetime and I can't wait to be deep in the wilderness surrounded by so much beauty.