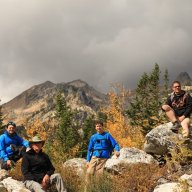 Joined

Aug 21, 2018
Messages

247
How does WA1 on Gneiss Creek fit into all of this?
I want to say the "W" designates the "Western" side of the park -- most if not all of the W campgrounds seem to be more towards US-191 on the Western side of most of the major mountain passes. The second letter seems to start at "A" in the South and works thru B, C, D, etc. as you work North. The last numbers may or may not be in some sort of sequential order as the campsites are along the trail.
Not saying its fact. . . just the ideas that swirl around in my head.