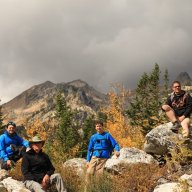 Joined

Aug 21, 2018
Messages

527
To cap off a mid-September 2021 visit to Yellowstone
@scatman
,
@wsp_scott
, and I challenged ourselves with a 20ish mile hike thru the Heart of Yellowstone's Hayden Valley.
Hugh and I started the week with a hike to Aster Lake and the upper reaches of Witch Creek. A day later Scott joined us for several backcountry nights near Shoshone Lake and Three River Junction. Hayden Valley would be the way we would finish off the week. In original planning a shuttle hike across the Mary Mountain Trail was proposed, but that quickly evolved into an off-trail loop that followed old stagecoach routes, passed several thermal areas, and invaded several bison herds.
Our day required an early start; we made the pre-dawn drive from the Old Faithful area to a turnout looking over Trout Creek. We were treated to a nice sunrise over Yellowstone Lake along the way.

The temperature this morning was cold -- so cold that Hugh decided to eat his pre-hike Pop Tarts in the car. I believe he noted it was a balmy 17 degrees (F) outside.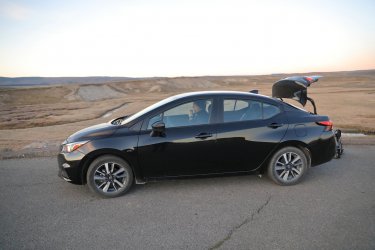 I demanded a pre-hike picture. Usually I try to take two pics via the camera timer but didn't think I'd get the guys to stand still for more than one due to the cold. Who wouldn't want to go hiking with these guys?

Hugh had a series of GPS waypoints for us to follow. Our "trail" started along the old dump road looking over Trout Creek.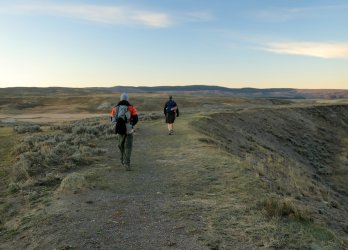 Looking back towards the road and mist over the Yellowstone River.

Perhaps a half hour into the hike the sun began to peep over the Eastern Horizon. It cast a pleasant golden hue across the landscape. Is that the lookout tower atop Mt Washburn I see?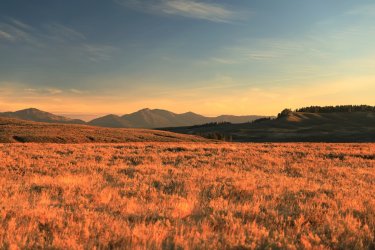 Shadows grow long in the early morning sun.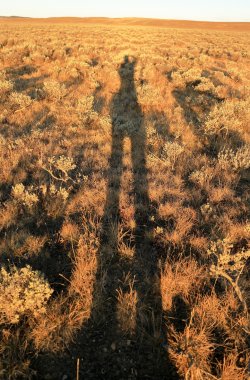 The dump road soon gave way to ruts from the old Stagecoach route across the valley. The low hung sun allowed good visibility.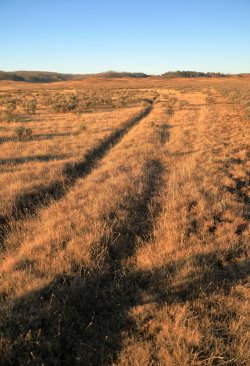 The ruts became our trail as we headed West.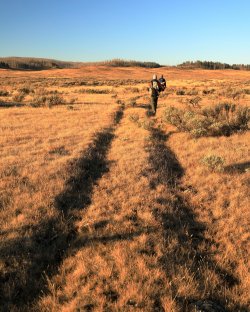 We would encounter the remains of many "victims of the valley" along the way. This bison skull was the first. Would we be next?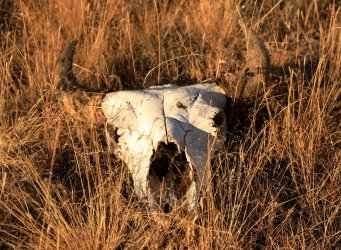 Hugh's route took us across mostly flat and open sage/grassland before reaching our first rest stop. This view looks back at Scott with what I suspect is the Mud Volcano area in the background. Mount Washburn is still back there too.

Our first snack break would occur in the hilly area at center left.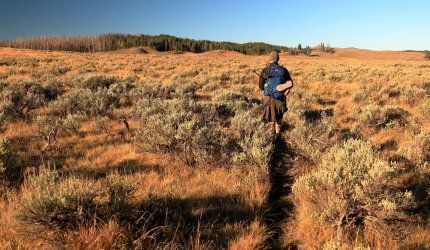 Getting Closer!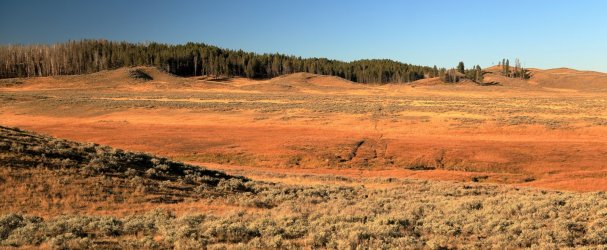 It was still quite cold at this point. Glancing down at one's feet finds some frosty boots. Luckily my feet were happy and warm in their wool socks.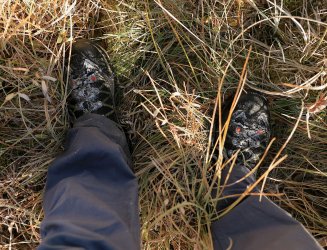 Scott finds what was left of victim #2 (after Hugh was done gnawing on it
).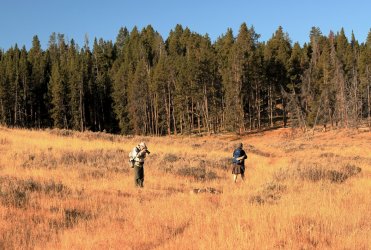 Little left except some hide and bones.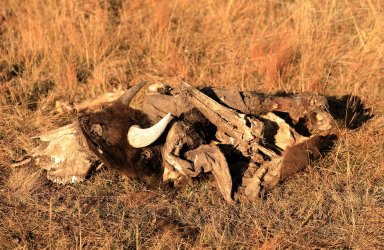 We had been scanning the horizon for any signs of wildlife. One of the day's goals was to prove to Scott that bears really do exist in the park. He would have to be content knowing there are Bison out here for the time being.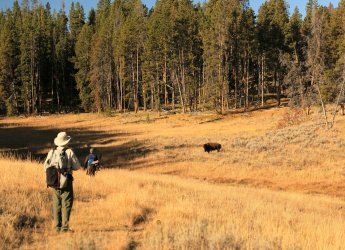 An encounter with the old bridge abutments from the Trout Creek Stagecoach crossing. A lot of the old hardware was still fastened to the wood.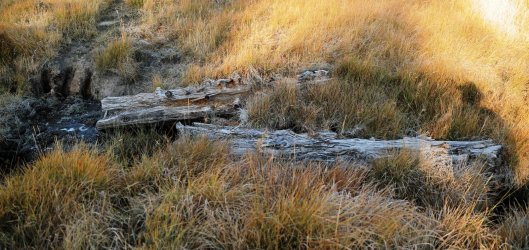 At our first rest stop we were treated with a visit from another of Hayden Valley's inhabitants.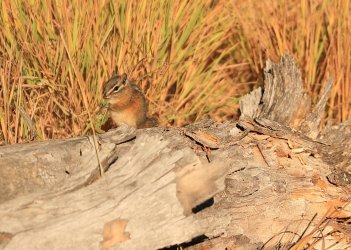 Normally I'd have taken a group photo of us as we sat on a log eating a mid-morning snack, but I think the guys were onto my ways as they did not sit still for very long. We were starting to warm up a little by this time and I remember shedding a layer or two before moving on.
The stagecoach road continued thru the trees.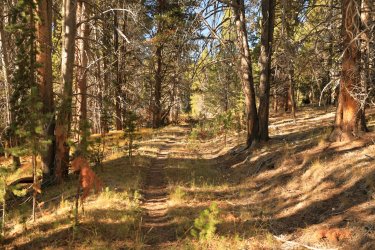 Another local was keeping his eye on us.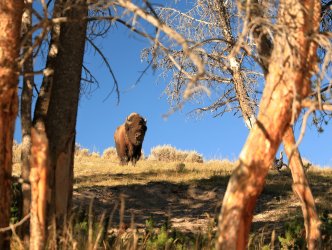 Hugh led us down what he called one of his favorite parts of the stagecoach road as it curved down the hillside.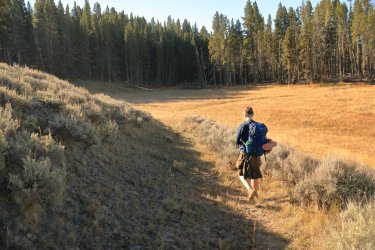 Looking back you can still clearly see the road thru the sagebrush.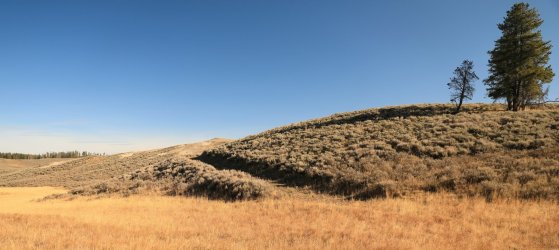 Looking North into the depths of Hayden Valley. Sometimes the thermals, rivers, and mountains makes us forget how much of Yellowstone is open grassland.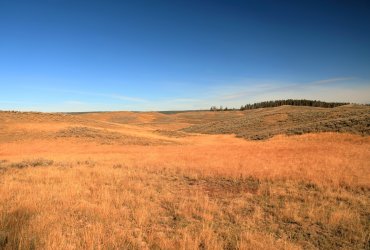 If one did not know any better you'd think that Hugh has worn his own set of ruts in all his travels across the valley.

Hugh was documenting much of the stagecoach route along the way.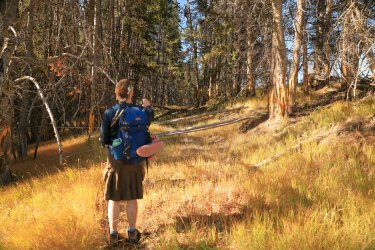 He also took time to document other features in Hayden that you won't find on any maps.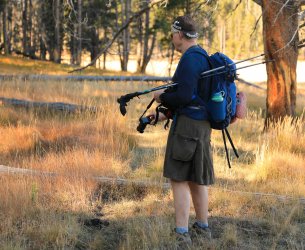 Our path would take us towards and to the left of the burned stand of trees.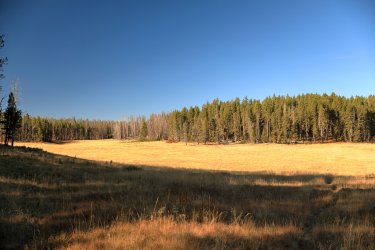 A nice view Northeast towards Mount Washburn.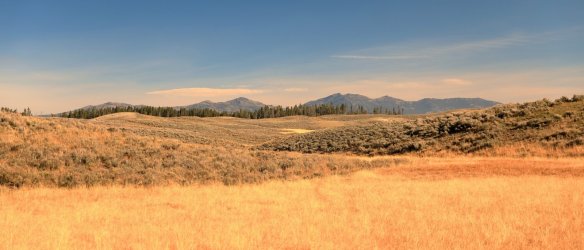 Where the buffalo roam. . .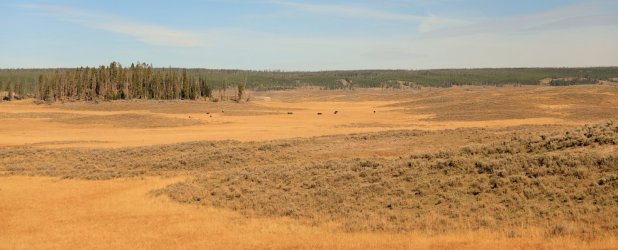 This fella stood up to get a better look at us. Luckily he only raised his tail to relieve himself before walking away.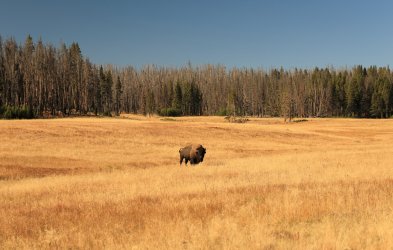 Somewhere in this stand of trees sits a large winged bird -- probably an owl. As we walked closer it took flight but I was not quick enough to take a picture of it.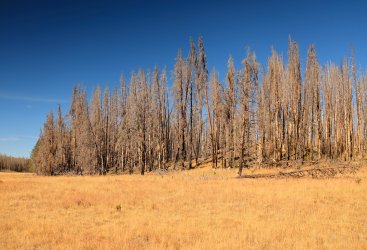 If one did not know any better you'd think we were on an official NPS trail at times.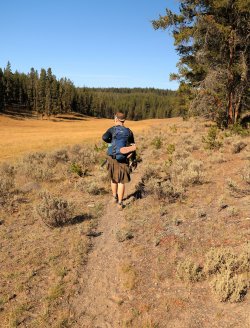 Around mid-day we arrived at the Stagecoach crossing of Alum Creek. The old earth bridge abutments could still be seen.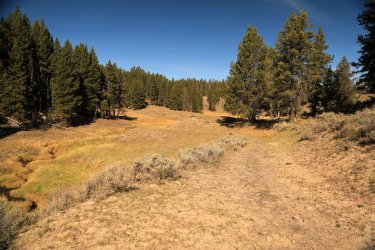 Hugh was very excited to point out the sights. Larry's Lunch Counter was nearby -- a rest stop where stagecoach passengers could experience fine backcountry cusine. Glen Africa Basin sits up the little valley at center left.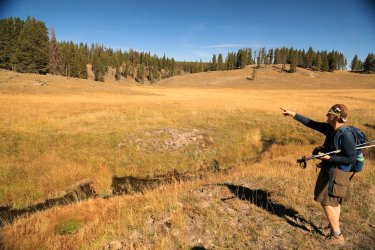 The approximate location of Larry's Lunch Counter. We would take advantage of this spot to eat lunch ourselves, enjoying the same view as those that dined before us many decades ago.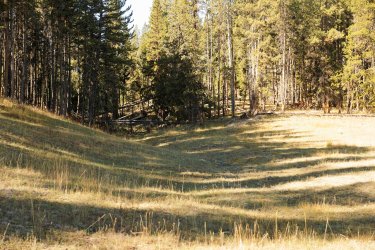 The view that we enjoyed. We were even treated to several bison running by. . . unfortunately there was no wolf or bear chasing them.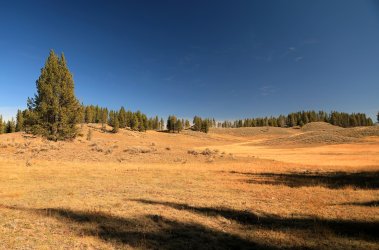 What was on the menu? Only the finest assortments of Moon Cheese and Smoked Mussels. I thought the mussels might help to attract the bear that Scott wanted to see, but neither they nor Hugh's tuna fish did the trick.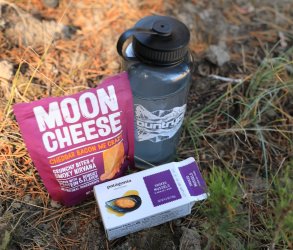 When one inspects the ground in the area evidence of visitors past and present can be seen. Colorful glass, barrel hoops, and fancy dish shards were highlights. All we left were our footprints.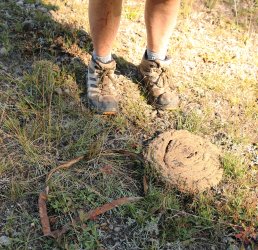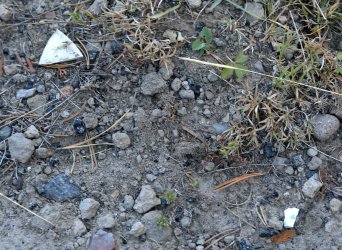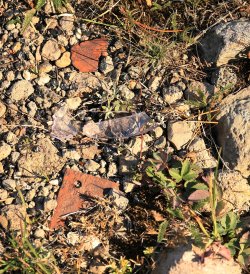 Larry's Lunch Counter would more or less be the farthest West we would go. Our new route would leave the old stagecoach road and take us up thru Glen Africa Basin, then continue Northeast to eventually meet up with the Mary Mountain Trail.
However, before heading off that direction we did some backcountry exploring in search of an old snowshoe cabin used in the early days of the park. Without giving too much away I'll say we searched the general area based on some details that we found on the web.
Beginning the search for the old cabin.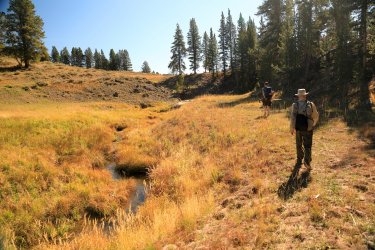 Our path looked something like this.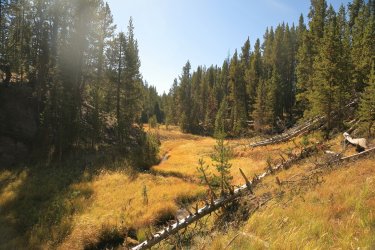 It did not take long before we had our goal in sight. You get bonus points if you can tell where the old cabin is in this picture.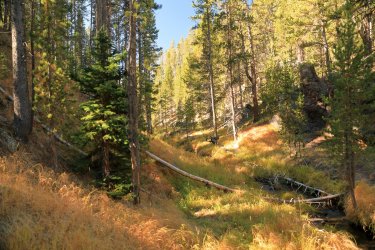 It should be more obvious now.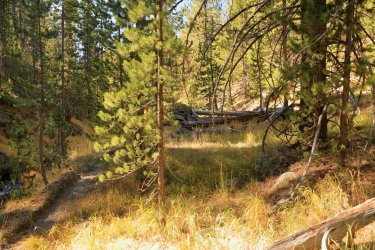 A couple different cabin viewpoints.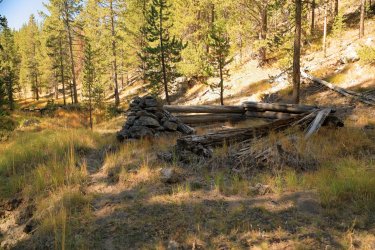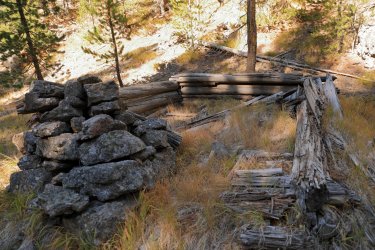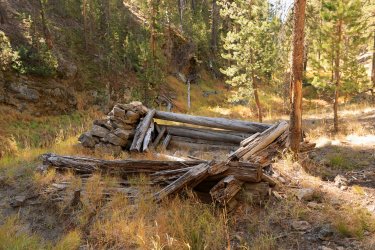 Axe hewn logs.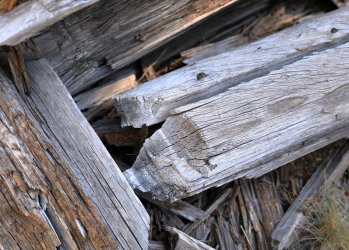 Interestingly there were more modern forms of hardware on various areas of the logs including nails and staples. I half wondered if someone stapled a tarp over the top of the logs sometime in the past.
In planning we were not sure how long it would take to find the cabin (or if we would even be able to do so). It was a highlight of the trip for me to actually see it in person.
The guys allowed a group photo for this occasion. Looks like someone is a BCP fanboy. . . perhaps
@Nick
could use such a photo to promote his website.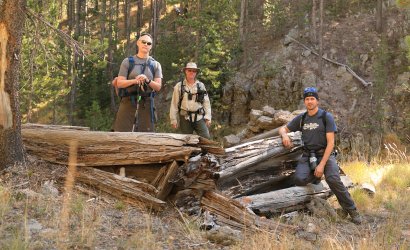 Leaving things as we found them.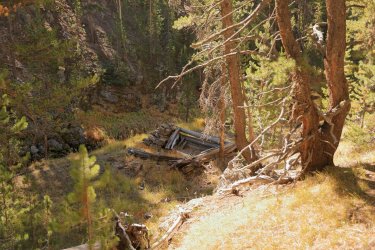 Now we could move on to exploring the wonders of Glen Africa Basin -- a small nearby thermal area. On the way I thought this tree looked interesting against a Polarized Sky. . . Hugh thought that would be another good username for the BCP website. (You may remember "Horizontal Lumber" from the Aster Lake hike).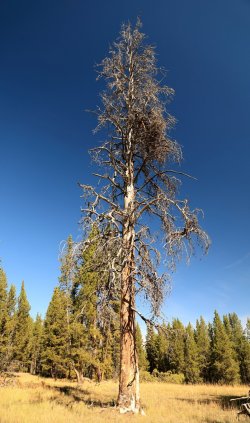 The approach to Glen Africa looks easy enough. . . it is between the wooded hillside to the left and the barren one on the right.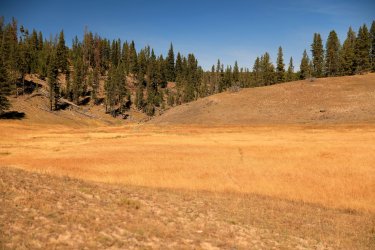 You have to be careful on the approach though as there are many random hot springs that appear out of nowhere below your feet.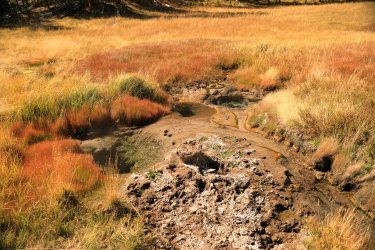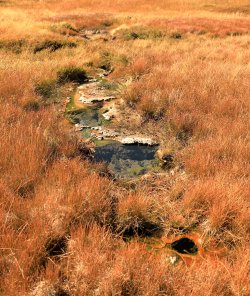 Navigate thru the low-lying hazards and you find yourself in an interesting little valley with rock walls rising on both sides and Alum Creek flowing down the middle.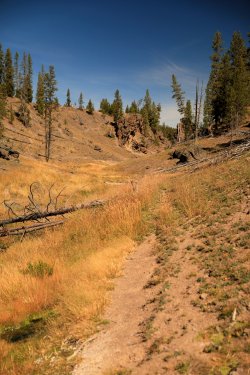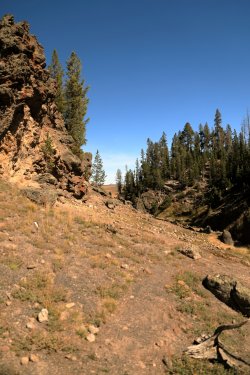 Many of Glen Africa Basin's thermal features are creek side bubblers that gurgle up from the ground and flow almost immediately into the creek.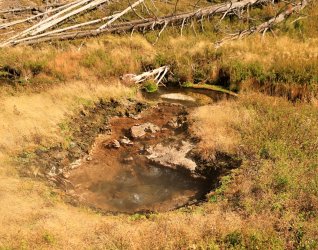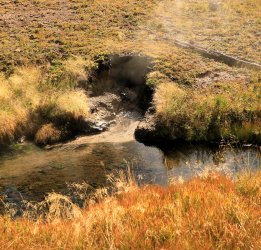 I found that standing above and looking down at the thermal features made if difficult to give a good perspective of them. . . but I kept taking pictures anyway.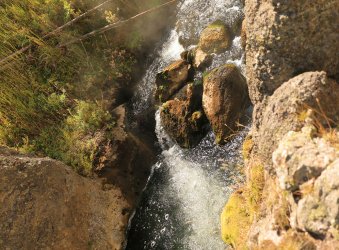 Hugh and Scott as they worked their way thru the basin.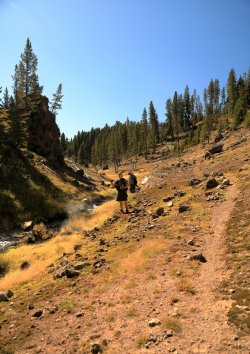 The volume of Alum creek increases considerably as the numerous hot springs flow into it.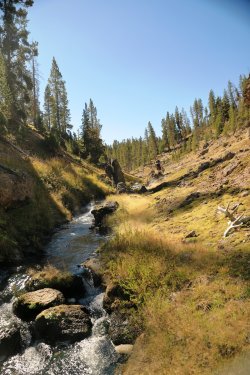 As someone that really likes thermal features I fount Glen Africa Basin fascinating. I was also intrigued by the number of bones that were located in the little valley. . . there were A LOT! It was almost as if this was some sort of Yellowstone Backcountry Ambush Zone. I cannot speak for Scott and Hugh but I kept my head on a swivel the entire time we were walking thru.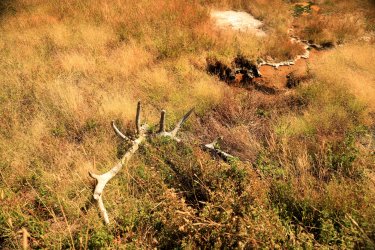 More bubbly thermaly stuff.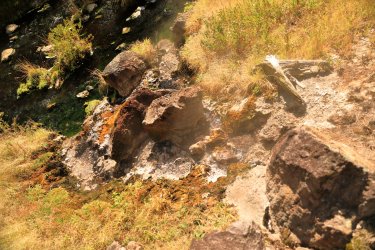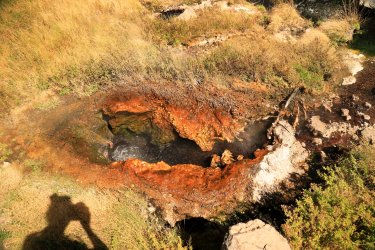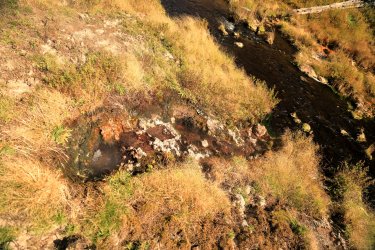 Another look back down the valley towards Hugh and Scott.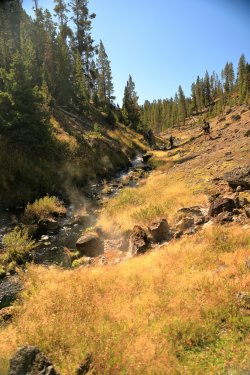 Towards the Northern end of Glen Africa Basin are two of the more active thermal features. I cannot produce specific names, but Hugh called one of the features "Bomber" and I remember reading about one named "The Black Torch" in the geyser book.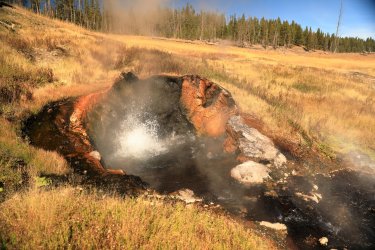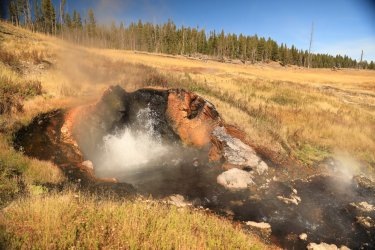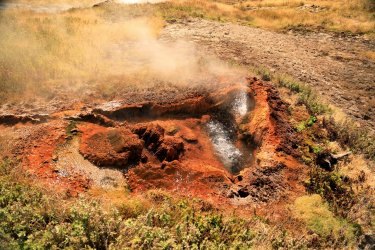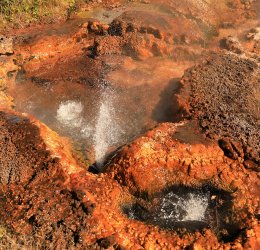 We found ourselves heading out of the Northern end of the valley and entering another area dotted with random hot springs among the tall grasses.
Looking back South towards the valley and Alum Creek flowing thru it.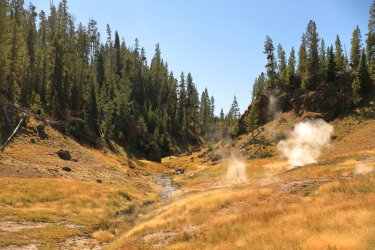 Heading into the open prairie of Hayden Valley.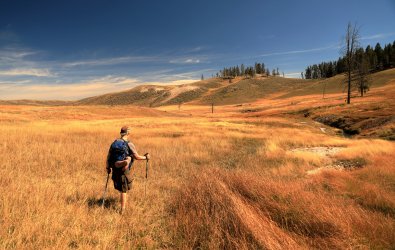 One still best watch their step!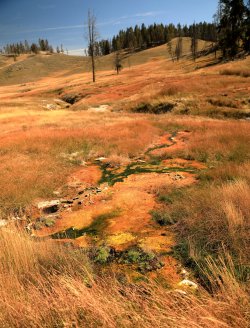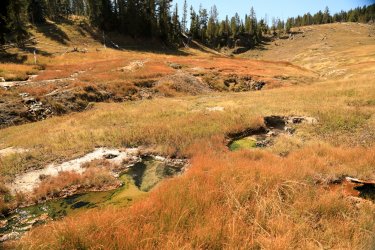 Still quite a few hot springs feeding into Alum Creek North of the little valley.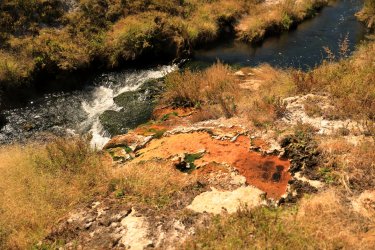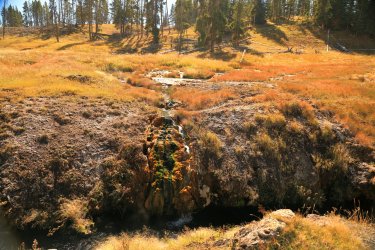 We would now follow the meanderings of Alum Creek as it would wind its way Northeast thru Hayden.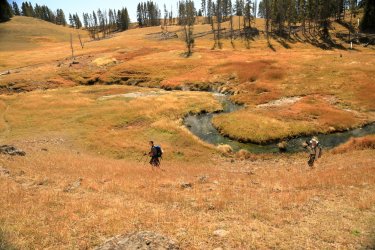 I'm not sure how long we'd been hiking by this time, but I know it had been long enough for Hugh's afternoon shadow to grow in.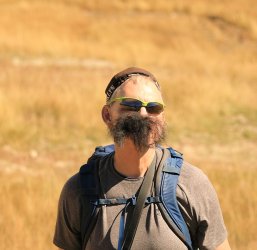 Crossing a small tributary flowing into Alum Creek. Note the hot spring runoff over Hugh's left trekking pole.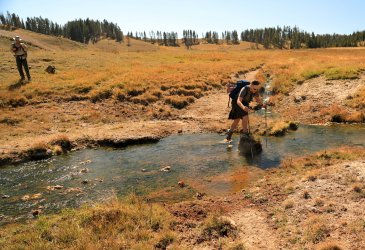 Hayden Valley presents good opportunities for panoramic type photos. North end of Glen Africa Basin Valley is to the far left.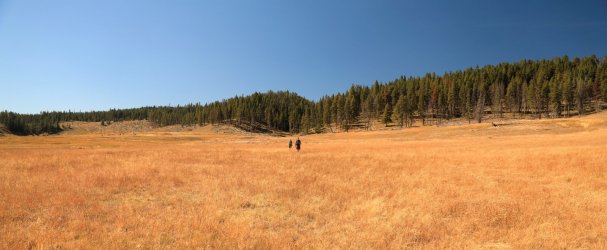 Some critter was enjoying a delicious leg in this spot as suggested by this femur and tibia.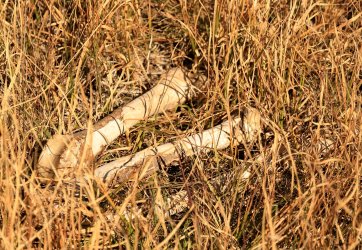 Walking Northeast Hugh, Scott, and I were treated to views like this. We would be wandering in no-mans land along Alum Creek for quite awhile. Eventually I chose to climb the ridge up ahead to the left.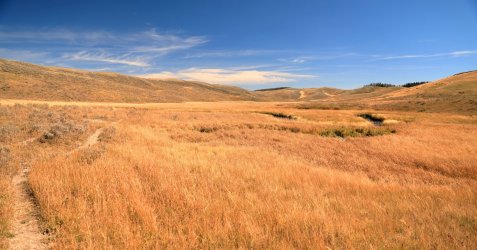 Hugh and Scott followed my lead as we climbed the ridge.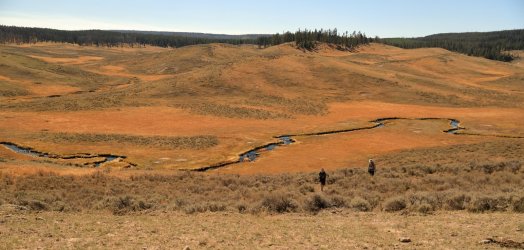 We saw the valley open up below us once we reached the top. We also encountered some intense wind that savaged my already chapped lips.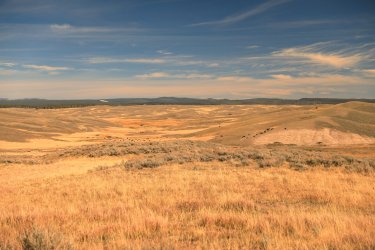 Scott and Hugh surveying the scene and choosing our route.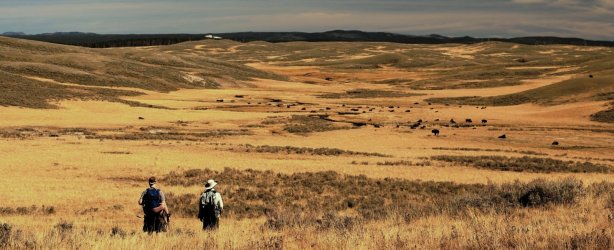 Hugh would choose to lead us thru this first of what would be three large bison herds. Our arrival resulted in a mini-stampede.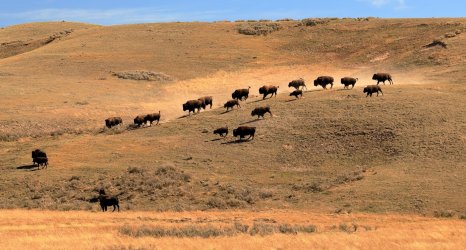 Scatman has no fear of these large, furry beasts and his route from point A to point B took us right thru the herd. For better or worse Scott and I followed. I thought best case scenario I could at least outrun Hugh. . . worst case scenario I meet my demise in Hayden Valley. Could be worse ways to go.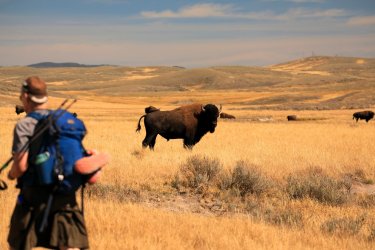 Still see the occasional Red Dog this late in September. Hope he/she is making it thru the winter.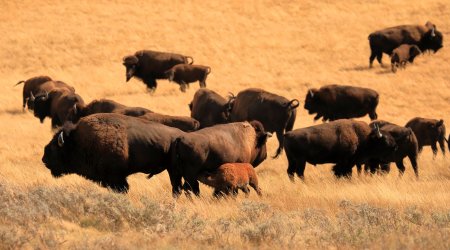 We safely navigated thru the first Bison herd and continued our path following Alum Creek. The creek still finds spots to fall victim to gravity and form a pleasant waterfall in the valley.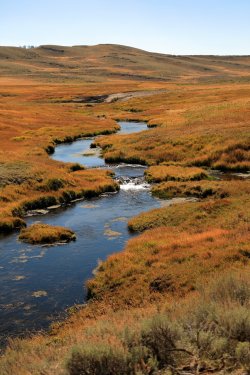 Bison Herd #2 comes into view. I continued to follow Hugh's lead. I believe the parched ground at top center is the Violet Springs thermal area. I'll have to return there for a future visit.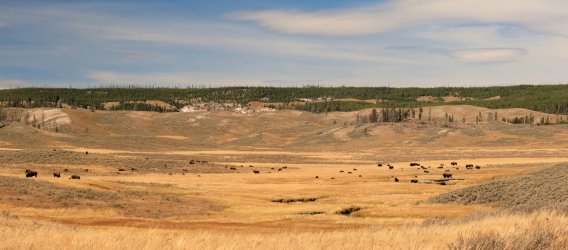 Bison family keeping tabs on us as we walk by. For the record I had swapped out to my 70-300mm telephoto lens so many of these critters were much farther away than they appear.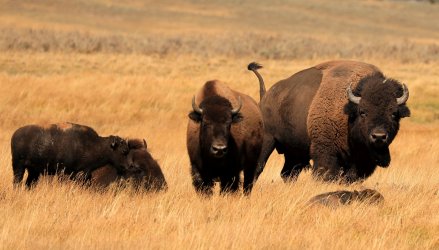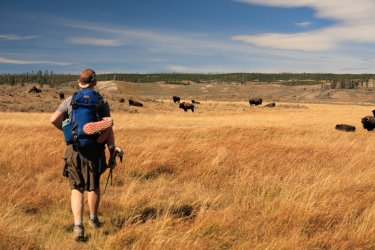 This lady bison is rocking a necklace. I wonder if the other girls are jealous?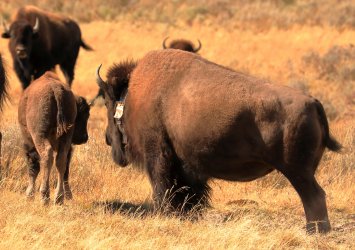 Big fella just walking by.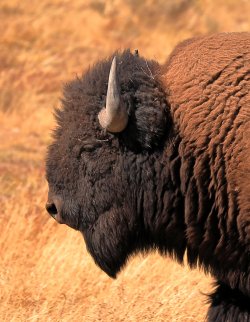 Everyone just minding their own business.

Yet another Hayden Valley victim.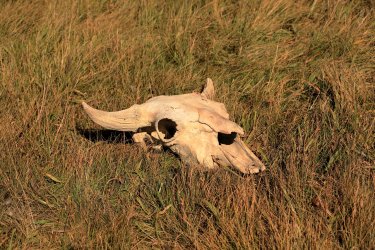 Third Herd of the Day. We were able to skirt around the outside edge of this one.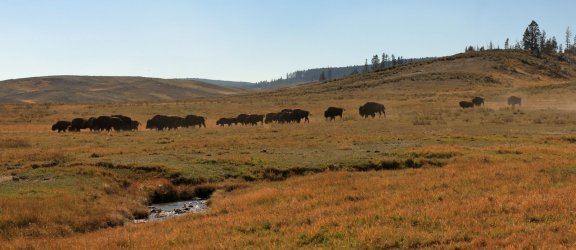 Some Canada Geese were hanging out as we approached the official Mary Mountain Trail. I made Scott run ahead and chase them so I could get pictures of a fly by. (Just kidding, the geese flew away on their own free will!)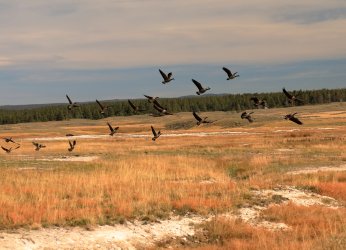 I'd be lying if I said I was not starting to feel a little tired by the time we hit the official Mary Mountain Trail and followed it East. I had to keep my strength up though as there was still one highlight for me to look forward to before returning to the car.
Back on official NPS trail: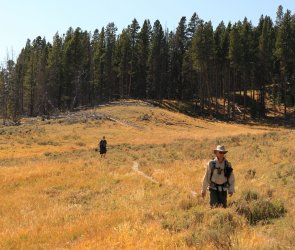 Looking East. Our path would take us thru the little break in the trees at center left.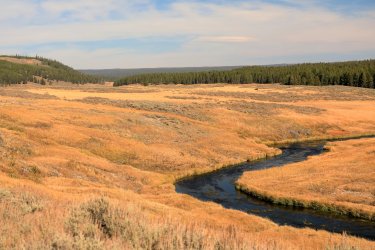 Yet more Hayden Valley Wildlife! I believe this is a Boreal Toad. He hopped off before I could snap a good profile picture.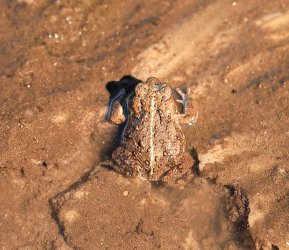 Scott takes the lead.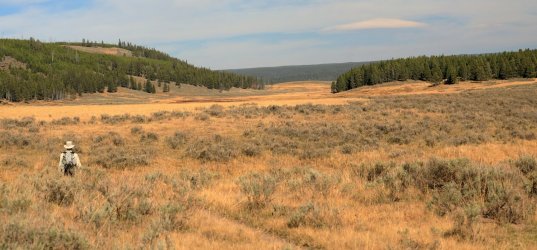 The Grand Loop Road comes into view below Mount Washburn.

The road, however, would not be our destination. Instead we once again left the trail in a Southeast direction. This would take us toward our car, but more excitingly for me we would be passing thru the Crater Hills Thermal area.
Before we could reach Crater Hills we first had to make a final crossing of Alum Creek. Alum Creek was large enough by now that it warranted swapping shoes for crocs to walk across. I took the lead and navigated a path thru the shin high water to the other side. When I attempted to step up onto the bank my foot dropped down into a hole and I spent the next 15-20 seconds half falling/half stumbling my way onto solid ground. I was not able to use my arms for support as I was holding the camera in one hand and my boots in the other. When I finally stabilized I turned to see Hugh and Scott laughing at me. At least they were not taking pictures!
Swapping out our footwear once we crossed Alum Creek.

I took a straight path toward Crater Hills. Scott and Hugh followed another Stagecoach route that approached the area.
Crater Hills in the distance.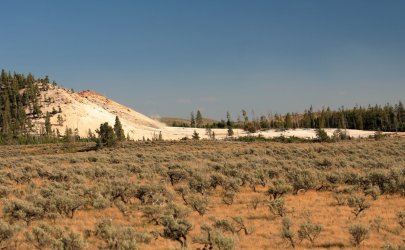 Picture taken on arrival with the GoPro.

Crater Hills holds a number of mudpots and fumaroles, the most active feature is Sulfur Spring at the base of Sulfur Mountain.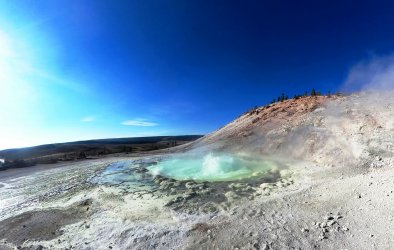 This was one of those areas that I really wanted to see but didn't want to hike to solo due to the high level of bear activity in the area. Could have fooled us as we did not see a one while we were there.
Up on top of Sulfur Mountain stood this lone tree trunk. Hugh actually found his way to the top; Scott and I nearly left him there as he disappeared for awhile and we thought he may have headed towards the highway.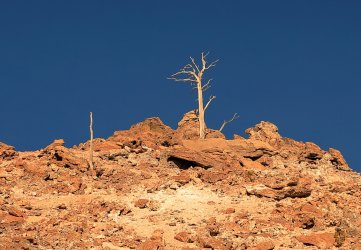 Eventually it was time to head back towards the car, leaving Crater Hills behind us.

The hike back to the car was uneventful. I felt bad for Scott because we had not seen a bear. . . I couldn't even give him false hope because I left my bear suit back in the cabin with my luggage. Had I brought it I could have darted thru the bushes in front of him. That is a picture I would like to see him take.
From of distance we could see the makings of a bison jam around our parking area but luckily it had cleared by the time we made it there.

We drove back to the Old Faithful area for a supper under the stars.
This hike was a great way to cap off a great week in Yellowstone. I once again want to thank Hugh and Scott for being such good travel mates and letting me tag along. I was able to cross a couple things off the Yellowstone bucket list with this one.
I left Yellowstone the following morning to fly home. . . before doing so I watched Old Faithful erupt at sunrise and took one of my better pictures of it.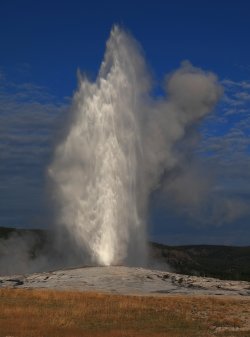 Thanks for reading. . . and hopefully I don't cook the server with all the picture uploads!