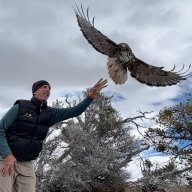 Joined

Sep 10, 2021
Messages

15
One plus of the Yellowstone online backcountry permits is you can use your imagination to link a few sites together to make a last minute trip work. My wife was recovering from a knee replacement and had not been on the trail much last year. We were looking for a bit flatter route for a long holiday weekend. The temperatures were a bit seansonally warm, close to 90 deg F, so large wildlife was a bit scarce. We crossed the Snake River many times, making the crossings a bit more enjoyable at those temperatures. I particularly enjoyed the Heart Lake Trail to and including the Basin Creek Cutoff Trail. The trail had been nicely placed with respect to the topography and flowed very well. The intersection for the Basin Creek Cutoff Trail to the Heart Lake Trail had been moved which made us and a few other hikers check our maps.
Red Creek provided water for a nice wetland next to the trail. Red Tails, Swainsons and a Kestrel were the raptors in this area. Sandhills and numerous waterfowl were also present. We camped at 8B2 our first night, which had a nice location next to Basin Creek Lake. The evening soundtrack was filled with the Sandhill Cranes Greatest Hits.
My wife Barbara at the South Entrance Kiosk and initial Snake River Crossing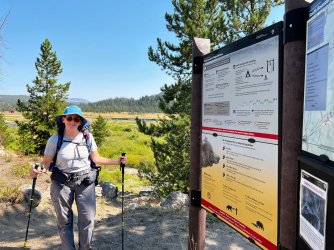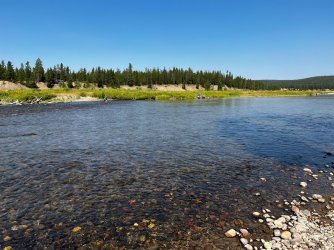 View up the Snake River, the Heart Lake Trail would connect at the low point in the left center of the photo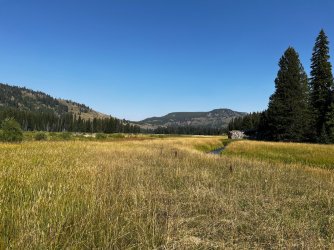 Looking back at the SR from the HLT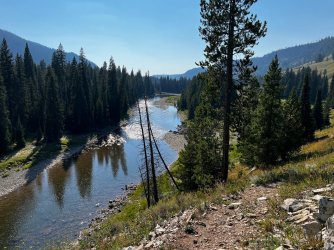 Always yield the trail to a porcupine......common courtesy and common sense.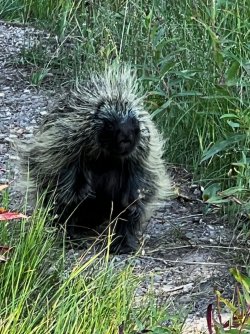 Red Creek Meadow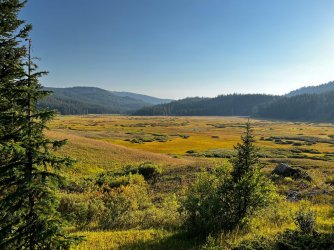 Basin Creek Lake, 8B2 is to my back as I took the photo.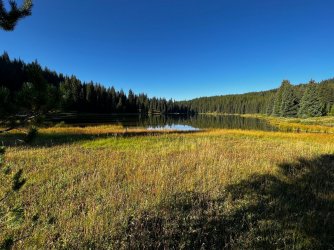 On Day 2 we took the Basin Creek Cutoff Trail to the Heart River Trail to gain access to the Fox Creek Trail. Great meadows and wetlands in these drainages and along the river. The Fox Creek Trail starts out flat but soon climbs a bit side hilling above the snake river on a south exposure. It was quite warm on these shade less hills on a sunny warm day. We crossed paths with 3 CDT SOBO hikers on this section of trail. I thought the last 2.4 miles of the Fox Creek Trail were awesome as we approached the south boundary. I would like to have had time to explore Fox Park to Hawks Rest next time in this area. We camped at 6M7, Fox Creek on the second night. This was a nice campsite next to a small meadow only a hundreds+ yards from the Fox Patrol Cabin.
View of the SR from Fox Creek Trail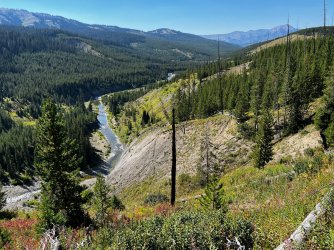 Upper SR near park Boundary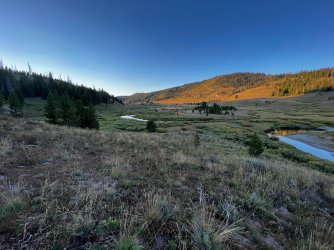 Trail to 6M7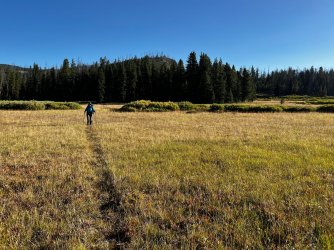 This was an out an back trip with the only variation being our 3rd campsite was at 8B5. This a private site tucked in the trees on Basin Creek.
Basin Creek next to 8B5, which was a nice place for a private splash.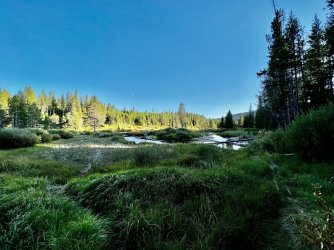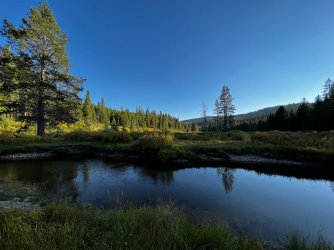 THANKs for Reading my Trip Report.