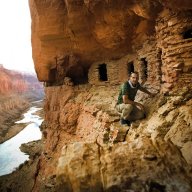 Joined

Feb 5, 2021
Messages

134
First off, I've never been there and I know it's something that I
should
want to see. I know I'd enjoy the animals, the waterfalls, and the geothermal features. I've been talking about doing a Fall trip for a couple of years now. Trouble is I just can't seem to generate enough enthusiasm to actually plan anything. I've come to the realization that I'm a desert/Southwest person...it's the ruins, rock art, arches, and slot canyons that grab my attention. The other factor is I really like to avoid crowds and traffic, so if I do go to a "touristy" spot I either go off-season or as early in the morning as possible. Going to the popular spots in Yellowstone isn't going to be the backcountry experience I tend to seek out.
So as you can probably tell I'm on the fence about making this trip. Part of me is saying "wait 10 or 15 years and maybe you'll have grandkids you can take". Then again I might not live that long and as they say, "there's no time like the present".
With time getting somewhat short I went online today and found a 3-day itinerary that loops around the Park and covers most of the highlights a first time visitor would enjoy seeing (see below). Can anyone suggest any changes of substitutions that I might find more appealing? My wife (visited Park as a child) doesn't backpack but is game for challenging day hikes. What will crowds be like in late Sept? We have a truck camper and can boondock outside the Park if it helps.
All feedback is welcome!