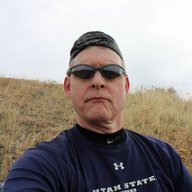 Joined

Dec 23, 2013
Messages

3,434
After receiving my permit yesterday from the Backcountry Office in Yellowstone for my canoe trip this summer, I sat down last night and started looking at what the paddle trip looked like and here is what I came up with. My daughter and I will be starting at Grant Village by West Thumb and finishing up fourteen days later at Sedge Bay, located on the northeast side of the lake. Along our route, we will be staying two nights at some campsites with day hikes planned on the second day at the site. They moved some campsites on us from what we had originally asked for, so that increased our paddle mileage for a couple days and made really short paddle days on our itinerary too. Oh well, that is the luck of the draw I guess.
Our day hikes will include:
1. From campsite 7L2 to the east side of Delusion Lake
2. Meadows on the west side of Flat Mountain Arm
3. From campsite 7L9 to a couple of ponds on the north side of Flat Mountain
4. From campsite 5L5 to Alder Lake
5. From campsite 6A3 to Chipmunk Creek along Two Ocean Plateau
6. From campsite 5E3 to the top of Langford Cairn to get a good view of the Yellowstone River Delta and a look south into the Thorofare.
@Artemus
, I'll knock the cairn over for you when I get to the top.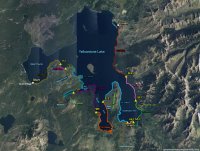 Our paddling days are color coded along the shore of the lake with the day hikes to various locations colored in brown. Campsites are in yellow.
After completing the canoe trip, we are planning to do a twenty mile day hike the next day, along the Mary Mountain Trail. We will be starting on the northeast side of Hayden Valley at the Mary Mountain Trailhead, stopping for lunch at Mary Lake (the halfway point), then heading west and out at the Nez Perce Trailhead in Lower Geyser Basin. I might take my daughter a little ways up the old trail to Cygnet Lakes if we have time.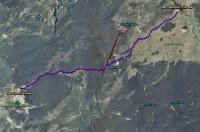 The blue line represents the Mary Mountain Trail, the red one represents the old trail north to Cygnet Lakes.
Anything I'm overlooking?