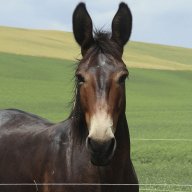 Joined

Jun 11, 2017
Messages

4,180
Most of the roads opened the 19th. I've been limited to Mammoth and the Lamar Valley until now, but I still have two weeks here, so hope to get into the park a bunch.
In the meantime, I've been reading some of the reviews on social media (Trip Advisor, Yelp, etc.). Some are pretty funny.

Warning: the trails are not flat. They're more uphill than downhill.

It is a bunch of hot acidic water that shoots out of the ground some several feet in the air every 90 minutes or so. The tourists all stand and clap at the geyser as if the geyser has feelings or needs to be reminded it is doing a good job.

An erupting waterflow that's probably faked at this point.

I couldn't wait to get back to New York from this uncivilized wilderness. It's like a bigger version of Central Park, only with bears.

If you've never been to a national park before, come at your own risk.

Triple-parked tourists (who we watched drinking tea from their parked car where they had boxed in another), hand-feeding the wild moose, to whole families drinking water straight from a bubbling stream.

Stayed at the historic Old Faithful Inn. Avoid this place. Old, well-worn, and spiders too.

In the end, it's all just rocks and water. (Call me ignorant if you must.)

I think I saw the same views I got from Google Images, to be honest.
There are lots more. Something to do on a snowy day, I guess.