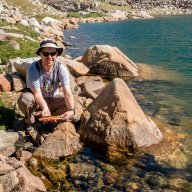 Joined

Jan 19, 2012
Messages

1,199
This year for our Yellowstone trip we decided to switch things up a bit and do a bikepacking/backpacking trip! There's an old paved road that you can no longer drive that leads to Lone Star Geyser that you can bike. We decided to ride (2.7 miles) in with out packs to the end of this road and then hike the last 1/2 mile to our campsite. Each day we would ride out and go to different areas of the park, this way we didn't have to pay the $20/night to sleep next to 400+ people in the campgrounds! It worked out very nice! We kept our food in coolers in the truck and would take in that nights dinner and the next mornings breakfast with us on our way back to camp each evening!!
Wednesday:
We drove up to Jackson and had lunch and then headed up to the park. I learned that the South Entrance has a backcountry permit office so we picked up our backcountry permits then and didn't have to rush up to Grant's Village to get our permit before they closed.
We stopped at Lewis Falls and took a few photos. I had always wanted to stop and photograph the falls, but we always seemed to much in a hurry to get somewhere to stop. The sun was at a bad angle so it's not the greatest shot.
Lewis Falls
After Lewis Falls we drove over to the Lone Star Trailhead and loaded up. Unfortunately no one got a photo of one of us on our bikes with our packs. It was a little wobbly and scarey at first trying to bike with a loaded pack on, but we soon got the hang of it! We flew down the mostly flat road and where at Lone Star Geyser in no time! We locked up our bikes and headed in to our camp.
Lone Star Geyser - It seemed to be erupting every time we went by it! (It erupts about every 3 hours)
Crossing the Firehole River
After setting up our tents we found we had forgotten a few food items so my two friends hiked/biked back to the truck and grab the stuff we left. I stayed at camp and hung our food, filtered/filled our water pouch, sawed/gathered firewood (I packed in my Gerber bow saw) and then I started a fire to get a coal base going for our tinfoil dinners for that night! They soon got back and we started cooking our dinners! Nothing like tinfoil dinners in the backcountry! :twothumbs:
That evening there wasn't much of a sunset. This was the best photo I took of it.
Thursday:
The next morning we got up, ate breakfast. We then hiked over to Shoshone Geyser Basin. We had been there in the past and always like it so we went back. It's a pretty easy hike (not much elevation gain/loss), but a little long at 12 miles round trip.
Boardwalk through a swampy area
Shoshone Creek
Shoshone Creek
Shoshone Creek
Shoshone Creek
Shoshone Creek
Once at Shoshone Geyser Basin we checked out the geysers for a bit and then stopped for a small lunch. After that we went down to the "swimming hole" and took a dip. The water level of the creek was much lower than past times we'd been there and the water temperature fluctuated a lot more depending on how much water was coming into the creek from the geyser. It was like being in the shower with someone turning on the hot water, then cold water.
Shoshone Geyser Basin
Shoshone Geyser Basin
Shoshone Geyser Basin
Shoshone Geyser Basin
This geyser runs into the creek and people have lined the creek with rocks to make a nice little sitting pool!
Minute Man Geyser - We FINALLY got to see this geyser erupt!!! We had waited and waited for it in past trips and never got to see it erupt. It just happened to be erupting as we walked by heading back to camp!
About 1 mile from camp, I was in the lead and came around a up rooted tree to see a Bison rolling in the dirt, about 10 ahead, just off to the side of the trail!!!
I jumped back and we quickly back peddled and went around him! He was a younger bull, but he sure did startle us good!
Bison that scared the
outta us!
Later that day, back at camp. My buddy was cooking dinner and had a big bison walk within about 15 feet of him, at which point my friend got up slowly and walked back to a safe distance and waited until the bison moved on. The bison stuck around out camp for the rest of the evening. I got a few shots of him in the sunset!
Bison - sunset
Sunset reflection in geyser
Friday:
Since you are only allowed to stay 3 consecutive nights in a backcountry campsite and we were camping 4 nights we would have to move. We decided to split it up evenly between two campsites (2 at one, 2 at the other). Friday morning we had to get up, eat, tear down camp, move, and setup camp. It was a bit of a pain and took a lot of time.
After moving camp, we hiked/biked out to the truck and headed over to Lamar Valley, which was a long drive from the southwest side to the northwest side of the park. By the time we made it to Canyon it was already 1pm so we stopped for a bite and then continued on. We drove up the Lamar valley and it was packed with fishermen along the river by the road. We had planned to hike up the Lamar river and fish, but with it being late afternoon by the time we got there, we decided go to to Mammoth and take a dip in the boiling river hot springs on the Garner River. We should have planned the Lamar Valley another day. After the hot springs we drove down to Old Faithful and ate dinner at the Snow Lodge restaurant (we had planned one dinner out). It was very good, but a little pricey. By the time dinner was over it was already dark and Erik and I had left our headlamps back at camp. Luckily Rob had his. It was a little scary riding down the trail in the dark with only one headlamp, but we made it back to camp (I remembered mine the next day!).
On the way back from Lamar Valley we stopped at Gibbon Falls! I had left my tripod at camp and had the rest it on the rock railing to take this shot.
Saturday:
After breakfast and checking out a few things we drove over to Canyon to hike the seven mile hole trail (which is only 5+ miles). The first 1.25 miles the trail follows the rim of the canyon and offers great views down into "The Grand Canyon of the Yellowstone".
Trailhead
Views down into the "Grand Canyon" of the Yellowstone!
The trail then cuts back into the trees and it is uneventful for another 2 or so miles. We had been on high alert for bears as the Canyon area is a common place for sightings (the first half of the trail is the same trail that goes to Mt Washburn from Canyon). Along this thickly wooded stretch we met an older couple from Alaska who said there was a bear on the trail at the switchbacks ahead. So we started asking them questions about where and what type of bear, etc. They said it was a "small brown bear", which is basically a grizzly, or that "it was a very large black bear", but they thought it was a brown bear. So we headed on and soon got to the switchbacks where we slowed down and took our time, making lots of noise, not wanting to have a run in with a grizz! It was a little unnerving as the forest was so thick with trees, bushes, logs, and under growth. We made noise (lots of noise) and moved quite slow. After a couple of switchbacks I spotted where the hikers had gone off trail to bypass the bear and I hollered to Rob to hold up. Just then he spotted the bear about 30 yards ahead. It was a black bear! And a small one at that! It probably was only 2.5 feet tall, maybe 3, standing on all fours! I was really surprised that someone from Alaska wouldn't know their bears! LOL! We hollered at it and it wouldn't even acknowledge we were there... It was more interested in finding food in the rotten logs it was tearing apart. After taking some pictures (can't hardly tell what it is in my photos) we hiked down around it and then re-joined the trail. I made a rock cairn to mark the bears location for on the way back and we headed on down to the river.
Billy the bear!
Here's some really shaky video of the bear. My parents said that the camera moved more than the bear... I think they're right.
The trail just kept dropping (it drops 1400' in about 1.5 miles). It does go past some cool geothermal places.
Small creek dropping into the Yellowstone River
First view of the river since leaving the rim. The smoke from all the fires was bad this day.
Eventually we made it down to one of the backcountry camps along the river (camp 2). We both decided we didn't want to ever backpack seven mile hole as it would hell both getting down and back up the steep trail! After passing the camp we came to a very pretty opal colored stream that ran into the Yellowstone. I felt the water and it was semi-warm, but left a slimy film on my hand.
Cool opal colored creek that was semi warm!
We then went down to the river and decided to quickly down some food, filter up some water and head out so we wouldn't be hiking out in the dark! We had no idea how long it was going to take us to climb back up the 1400' we had descended and wasn't to keen on being caught out in that thick forest in the dark with the bears!! We ended up making pretty good time back up. On the way back we didn't find the bear around anymore. We stopped and checked out the logs he had been tearing apart for food and then continued on. Later that evening I kicked myself for not taking a picture of the logs.
Sunday:
We packed up and headed home. It was really smoky this day and also overcast, which was too bad as the leaves along Jackson Lake were the prettiest I'd ever seen them.... We didn't even stop to take any photos.
Featured image for home page: