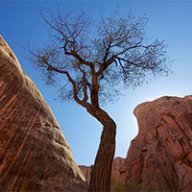 Joined

Aug 9, 2007
Messages

12,938
A great article from Outside online.
http://www.outsideonline.com/outdoor-adventure/natural-intelligence/the-grizzly-truth.html
An excerpt:
WHEN THEY DROVE through the entrance to Yellowstone National Park on July 5, 2011, Brian and Marylyn Matayoshi, of Torrance, California, were handed a newspaper—just like the other 3.4 million people who entered the park last year. The paper included, among other things, advice about what to do in the event of an encounter with a grizzly bear.
The following day, when the couple decided to hike a portion of the popular 16-mile Wapiti Lake Trail in the park's Hayden Valley, they would have walked right by two wooden signboards. One, in large, bold letters, read WARNING: BEAR FREQUENTING AREA. The other read DANGER: YOU ARE ENTERING BEAR COUNTRY and displayed information about how visitors should react if they come upon a bear. The recommendations included "If a bear charges, stand still, do not run" and "Bear pepper spray is a good last defense." The Matayoshis were making their fifth visit to Yellowstone; they'd never seen a grizzly in the park.
Despite the recommendation, neither Brian, 58, a retired pharmacist, nor Marylyn, also 58, carried pepper spray when they started hiking the Wapiti Lake Trail around 10 a.m. on that bright 70-degree morning. About a mile into their walk, a hiker coming toward them pointed out what looked to Marylyn like brown boulders about a quarter-mile in the distance. These were, it turned out, a grizzly sow and its two cubs. The Matayoshis stopped to watch the bears for a few minutes. Marylyn even took some photos: three brown dots on a vast green landscape.
The couple continued up the trail, hiking onto higher benches through scattered lodgepole forest. But another half-mile in, Yellowstone's brawny mosquito population descended with virulence, and the couple decided to turn back. Unbeknownst to them, while they were hiking, the grizzlies they had seen earlier had moved closer to the trail and were heading right toward them.
When Brian spotted the bears again, only about 100 yards and a thin band of trees separated them. The Matayoshis did an about-face and started back up the trail, away from the grizzlies, glancing back over their shoulders. Marylyn saw "the bear's head pop up" and alerted Brian.
The sow "started coming toward us," Marylyn later told National Park Service investigators, "and Brian said, 'Run!' We were running down the trail."
Keep reading on Outside Online