This trip took place six years ago, but I just recently discovered this website. Hopefully, folks won't mind a report from an old trip.
In 2010, my friend John and I decided we would take a one week trip to Yellowstone. It would be a mix of backpacking, day hiking, and sightseeing. Many months prior to the trip, which would be in August, I sent a letter to the Yellowstone backcountry office asking for suggestions on backpacking trips with lots of potential for great scenery and wildlife. The ranger who replied suggested Heart Lake and Shelf Lake. Sounded good to us. So I applied for the permits and was pleasantly surprised when we got both of them.
Fast forward to the Shelf Lake trip. Shelf Lake is located in the northwest corner of YNP.
The day before the Shelf Lake hike, we went to the Mammoth backcountry office to trade in our permit letter for the actual permit. We watched the bear safety video, and then the ranger helped us out with a great suggestion. Rather than do an up-and-back to Shelf Lake on the same trail (Specimen Creek Trail), he suggested going up Specimen Creek, then across Sky Rim to Big Horn Peak, then down Black Butte Trail. Weather permitting of course...he stressed the fact that getting caught on the Sky Rim during an afternoon thunderstorm would be less than optimal. From the Black Butte Trailhead, it would then be a couple of miles on Rt 191 back to our car. A loop with lots of hiking above treeline with long distance views sounded much better than an up-and-back to the lake. Permits in hand, we spent the rest of the pre-hike day on the west side of the park soaking in the scenery, visiting the geysers, etc. Our final stop that day was the Old Faithful Lodge, where we were shocked to see Christmas being celebrated. Christmas on August 25th. Who knew.
Here are some photos from the hike. I always tell John that he's in WAY too many of my hiking photos.
GPS track of our hike viewed on Google Earth.
Hiking along Specimen Creek
Not sure what animal these come from
Lots of creeking, swaying trees at this part of the trail. Strangely beautiful burned area.
A few miles before we got to our campsite, we passed campsite WE4. I was surprised to find a campsite right on the main trail. As I approached the food pole, I noticed a 20 foot piece of yellow nylon rope hanging over the pole. Pure speculation on my part, but I didn't think a backpacker forgot his rope. Rather I thought it was left by the rangers to ensure any campers staying here would hang their food properly. Because of this, I figured this site might be a problem area for bears. As soon as I thought that, we saw this tree adjacent to the food pole. Seeing how deep the claw marks were on this tree, it wasn't hard to imagine what those claws could do to my (or preferably John's) skin. Just to the right of John's hand, you can see the yellow rope hanging in the blurry distance.
Another view with better contrast and texture
After hiking about six miles with minimal elevation gain, we began the steady two mile climb toward Shelf Lake.
Shelf Lake. Elevation 9200 feet
Not sure what kind of animal these vertebrae came from. They were about the size of my fist.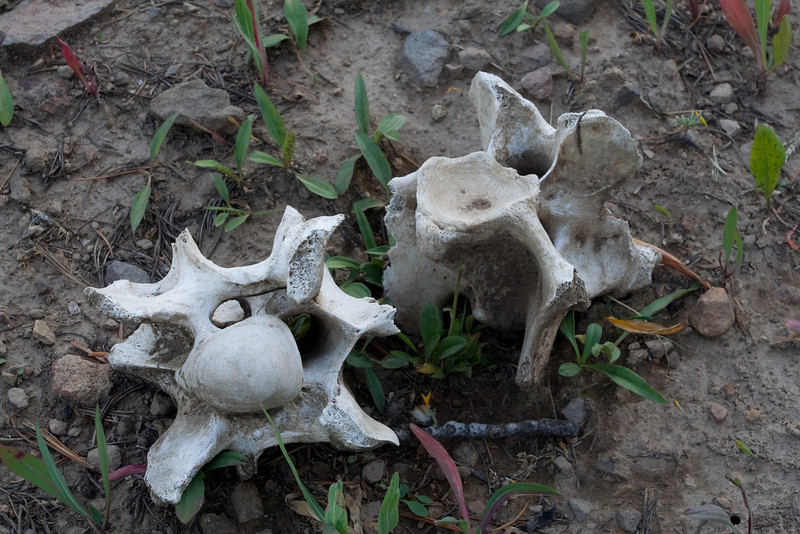 Barely enough light for one final shot before trying to go to sleep. No fires allowed on our trip to Shelf Lake. So there would be no extending the night sitting by a fire.
At about 2am, I woke up. I had a pee bottle just outside my tent door in the vestibule, so I didn't really need to leave the tent. But for some reason, I wanted to step out into the darkness. I'm a born and raised city boy, and I don't pretend for a second to have an abundance of wilderness bravery. But at that moment I wanted to leave the "safety" of the tent, even if just for a minute. So I got out of the tent and walked about 30 feet away and stopped. I stood motionless and just listened. Except for the slightest wisp of a breeze on the slopes of Sheep Mountain, what I heard was dead silence. Very cool. After a few minutes, I returned to the tent.
Dawn breaks on Shelf Lake. That tiny blue tent hardly looks big enough for two people...and, in fact, it really isn't.
Starting the climb up to Sky Rim Trail
The ridge walk on Sky Rim did not disappoint. Thanks again to the ranger who suggested this hike.
We topped out on Big Horn Peak, and then began one last short descent on the Sky Rim before turning onto Black Butte Trail. This photo is looking back at the dome of Big Horn Peak, with Sheep Mountain in the distance. Our campsite at Shelf Lake was at the foot of Sheep Mountain.
A few final shots from the ridgeline before starting down Black Butte Trail.
The upper portion of Black Butte Trail has lots of switchbacks with nice views.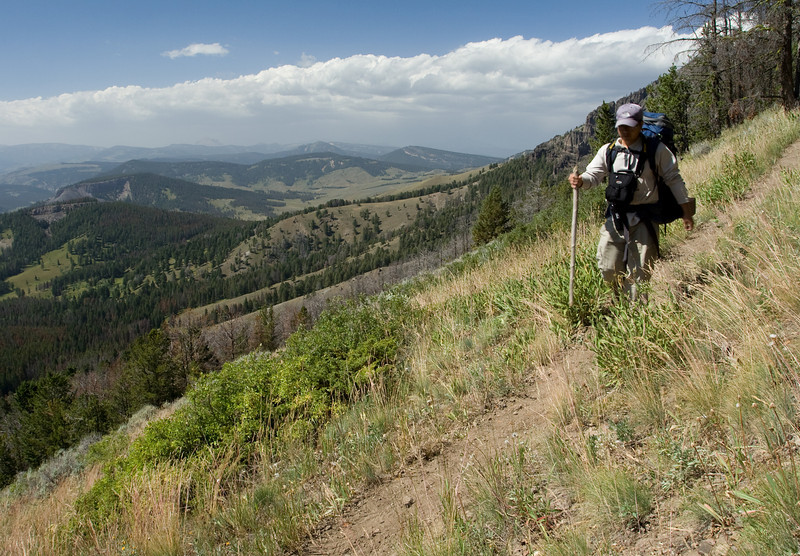 In some sections along the bottom of the Black Butte Trail, it's not really a trail, it's more of a vague suggestion.
When we hit the trailhead at Rt 191, I left my pack with John and started jogging the few miles back to the car at Specimen Creek. Whenever I heard a car coming, I would stop running, turn around, put on a sad face, and stick out my thumb. No success until a woman picked me up about a half mile from the car. Overall a great trip. Didn't see any wildlife, except bones, but the landscape scenery was outstanding. In those two days, we saw one other hiker on the trail. And the people who camped on the other side of Shelf Lake at site WE5 were super quiet. A great trip trip with a great friend.
--------------------------------------------