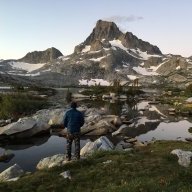 Joined

Feb 9, 2017
Messages

219
I've got my heart set on Yellowstone for my next trip out west and I've been going through trip reports and caltopo at an alarming rate. I like to pick an area and pick places that I want to explore that kind of represent that place (in my mind). In the past, we've gone to Margaret Lake and Hole in the Wall in Glacier and some high lake basins in the Sierra. I'm racking my brain with Yellowstone, though. Whoever designed this place did a terrible job. There is too much cool stuff and it is too far apart. My wish list includes backcountry thermal features, wildlife viewing, thermal swimming holes, waterfalls to play in, and wide open meadows. Views would be cool, too, but that isn't the focus. So, yeah, I don't ask for much. It would be 6 backcountry nights in mid September. Loop would be preferable. We could also split the trip doing some nights in one area, some nights in another. Off trail is OK, just not the whole trip. 8-12 miles a day, less if off trail. Can do up to 16 if necessary. Not looking to kill ourselves. Here is what I have so far (and my assumptions about it). I'd love if anyone has any preferences or recommendations for other trips or favorite places. Oh, and I did see the front country stuff several years ago.
1. Artist Point through Joseph's Coat to Wapiti Lake, then through Pelican Valley to Mist Creek Pass and back up through the Lamar Valley. Annoying shuttle issues on this one. Wouldn't get much use out of my hot pink speedo.
2. Soda Butte up Miller Creek to Hoodoo Basin. Day hike to eastern boundary. Make our way down to upper lamar patrol cabin and over to lamar valley. Coming down from Hoodoo Basin looks do-able from maps, but I'm not sure. Still no speedo action. Or a similar trip from
@scatman
report going up specimen ridge, over Lovely Pass and up Lamar.
3. Lone Star to Shoshone down Bechler Canyon, day trip to Dunanda Falls, over to Union Falls and out Grassy Lake. Speedo time! Less annoying shuttle. Or another
@scatman
trip making a loop out of Bechler and Pitchstone Plateau. But no wildlife (at least compared to Lamar Valley according to the interwebs).
Anyway, thanks for reading!