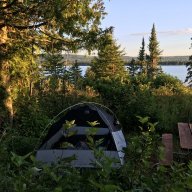 Joined

Mar 17, 2021
Messages

5
Hi there, first time poster - been digging through many of these forums as I plan my first backpacking trip in Yellowstone, you all have been so helpful! Special shoutout to
@scatman
and
@TheMountainRabbit
for the wealth of information provided in your posts, and the awesome trip report-backs with beautiful pictures.
My husband and I are heading to Yellowstone for the first time this summer - we love wildlife and are therefore very drawn to the Lamar Valley - Pelican Valley - Mirror Plateau area. We're in our late 20s/early 30s, in good shape, plenty of backpacking experience, but haven't gone off-trailing before.
Here are my questions:
Question 1: Folks here with off-trailing experience: Are we out of our minds?? Or do you think with some good training and practice, the Mirror Plateau area is doable for first-timers? I'm a cartographer so I am very comfortable with GIS and reading maps, and my husband has basic compass skills. We'd definitely plan on doing a bunch of shorter hikes in the coming months to prepare and strengthen our orientation, GPS, and compass reading skills.
Question 2: I read in a Yellowstone backpacking guide that there are old, abandoned trails on the Mirror Plateau (Mirror Lake Trail and Opal Creek) - they are not maintained, but bisons over the years have continue trucking through the area, so the guide points out that there is a semblance of a trail in some places. Is this true?
Question 3: I also read that camp site 3O1 is opened for a small window of time during the summer (July 1 - August 14), which would help break-up the off-trail section of our trip into shorter days. Is there a recommended time (July vs. August) to do this trek? We're particularly excited about seeing wildlife. I know mosquitos can be pretty bad in some parts of Yellowstone in the summer - I don't know if that would be a concern.
Here is the general itinerary we're thinking of (for now just indicating campsites). Any advice, thoughts on the general itinerary, recommended campsites, trail tips, viewpoints, etc welcome ! Thank you!!
Last edited: