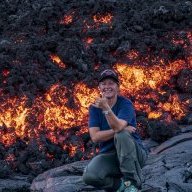 Joined

Jan 19, 2012
Messages

4,070
Part II: Madison
September 10
I broke camp around 7 am. Since I barely slept again I was happy to move and do something.
There were elk again on my campsite in the morning which was pretty funny, they really seemed to like the bushes next to the camp spots. Today would be a relaxing day with setting up camp at Madison and exploring all the several geyser basins. I guess at least one day of touristy stuff is needed to have a complete Yellowstone experience. We'll see how this will work out.
I headed south and made my first stop at Swan Lake. I like the lake in particular because it creates these awesome reflections of Electric Peak and Sepulcher Mountain. It did the same thing this morning.
Swan Lake reflection
It was still pretty chilly and around freezing and some light mist was rising from the warmer lake. I also saw a few Trumpeter Swan and managed to get a few shots before they saw me and took off as fast as they could.
My next stop was just a bit further down the road. There was a pullout to the left next to Rustic Falls. This little waterfall plunged down a bit more than 40 feet and was fed by Glen Creek. All the other days the pullout was packed but it was still early and I had it all on my own.
Rustic Falls
A bit past this spot the massive road construction began and I needed to wait for almost 40 minutes before traffic was let through. Luckily it was the last time on this trip I had to go through the construction area. My next stop was Norris Geyser Basin. It was still very early and almost the entire parking lot was empty. I started my walk around the Geyser Basin.
One disadvantage of being here so early was the massive amount of steam due to the temperature differences. I didn't mind and actually liked the moody spots a lot.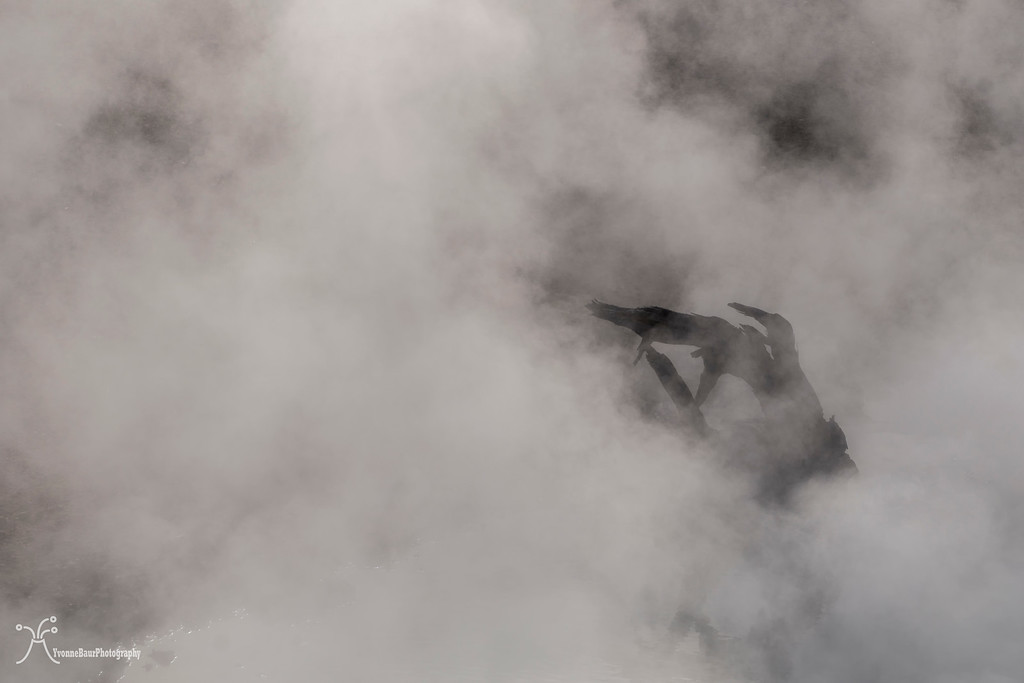 Norris was the hottest of all the geyser basins and activity picked up again this year when Steamboat Geyser started to erupt more frequently. Today it was in its steam phase, the last eruption was yesterday.
Steamboat Geyser in its steam phase
On my way back most of the steam had lifted and I took a few additional shots. And now it was pretty busy as well.
My next stop was Firehole Drive and the timing was just perfect because Great Fountain Geyser just started to go off. I guess I really lucked out. White Dome Geyser in the distance erupted at the same time.
Great Fountain Geyser and White Dome Geyser erupting
I enjoyed the show and continued on the one-way drive. Pink Cone Geyser had a good day and started to erupt as well. Cool, at least the geysers were not scared when I showed up, lol.
From here I went straight to Madison and checked into my campsite. Setting up camp, storing all the food and smelly items in the provided bear box took a bit of time but then I was ready to go again. I would meet my old neighbors in about an hour at Old Faithful where we wanted to hang together this afternoon.
Finding a parking spot at the Old Faithful visitor center was another story and took quite a while. No wonder why I hate touristy areas and try to avoid them as much as possible. It's always such a waste of precious time just to find a parking spot.
Finally, I found a spot and headed to the Old Faithful area were my neighbors and old friends were already waiting. A lot of aloha was shared this afternoon and we started to explore the Upper Geyser basin together.
All the colors of these extremophiles and thermophiles were awesome, the different hot springs and geysers amazing. It was still hard to believe that I was actually here. Despite the busy boardwalks and parking lots I enjoyed it a lot.
There was one story that was pretty funny. When I posted that I was on my way to Yellowstone, a lot of friends made jokes that I should be careful. Because wherever I go, either a volcano erupts or another natural disaster hits. Most of the time, I laughed about these jokes.
My friends and I took pictures at Ear Spring and joked about the fun that I somehow attract disasters and all the close call situations like the one with the storm a few days ago with nothing in the forecast. And as crazy as it sounds, Ear Spring erupted that night for the first time in 57 years and spewed out a lot of crazy stuff. So much about that.
Ear Spring hours before it erupted
While I was lucky with erupting geysers earlier this morning, I wasn't during the afternoon. We saw Old faithful go off from a distance, but nothing else. The weather also changed and it turned out to be a cloudy and windy afternoon. My friends went to their cottage for a nap because they arrived in Bozeman at 7 am this morning after a red-eye flight from Hawai'i and were exhausted. We would get together again tomorrow and I continued to explore other geothermal areas.
Black Sand Basin and Biscuit basin were both really nice and I finally ended up at Midway Geyser Basin. The view from here towards Grand Prismatic Spring was mediocre as it was at the same level as the spring. In the next few days, I would also visit the viewpoint where you can look down to it.
Sapphire Pool
Grand Prismatic Spring
I also stopped at Fountain Paint Pots area and walked around the geothermal area. I hoped for a nice sunset but it seemed to be just a little too cloudy.
On my way back to camp the sky started to lit up like crazy. I should have stayed at Fountain Paint Pots, now it was too late and there was no pullout in sight.
sunset
I finally made it back to the Madison River and literally next to the campground I found a pullout. I ran out of the car to the bridge and snapped a few pictures. Sunset seemed to last forever tonight. It was a great end of a touristy day.
Madison River sunset
Total miles: 7.8
September 11:
Another day where I got up super early. I heard the worst about parking at Fairy Falls trailhead, so I went there as early as possible and had my breakfast at the parking lot. I was there around 7am and a lot of spots were already full. After breakfast I started my hike to Fairy Falls. It was a crisp and clear morning and a lot of steam rose up from Midway Geyser Basin across on the other side of the river.
It was pretty cool and tourists were walking out of the steam.
The view from the backside of Midway was pretty cool as well and after a while, I turned onto the Fairy Falls trail. The trail was relatively flat and passed through a thicket of new growth Lodgepole Pines. Eventually, the growth gave way and I had the first glimpse of the waterfall plunging down the cliff.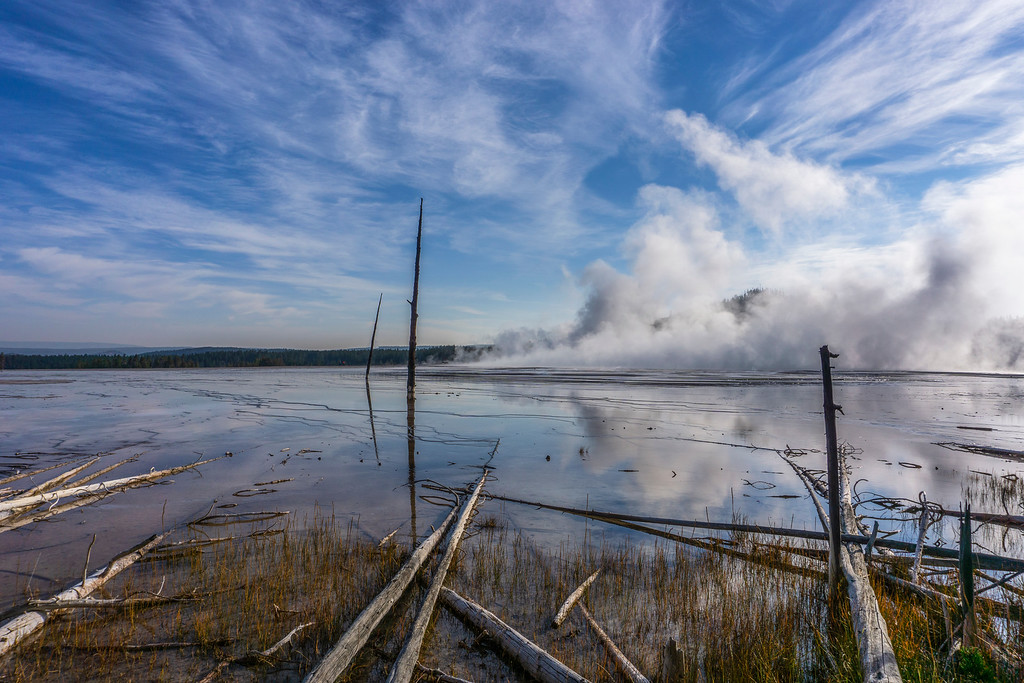 the backside of Midway Geyser Basin
Pretty cool! I went closer and to the base of the waterfall where I took a few pictures. I had it on my own again and saw no one.
Fairy Falls
After a while, I continued on the trail towards Imperial Geyser basin. I had no clue what to expect as I hadn't seen any images of it before my trip. I was pleasantly surprised the closer I got.
Rolling hills and a lot of wide-open space greeted me, along with some bison on a hill. There were steam and geothermal activity all over the place and when I finally reached the geyser basin with its emerald pool and erupting geyser.
bison on a hill
Imperial Geyser
A small spur trail went up the hill and I followed it. Up from above I had a great view down towards Imperial Geyser. There was also a small lake with water lilies up on top. Several bison grazed on tip of the hill and took a wide detour so I could keep the safe distance.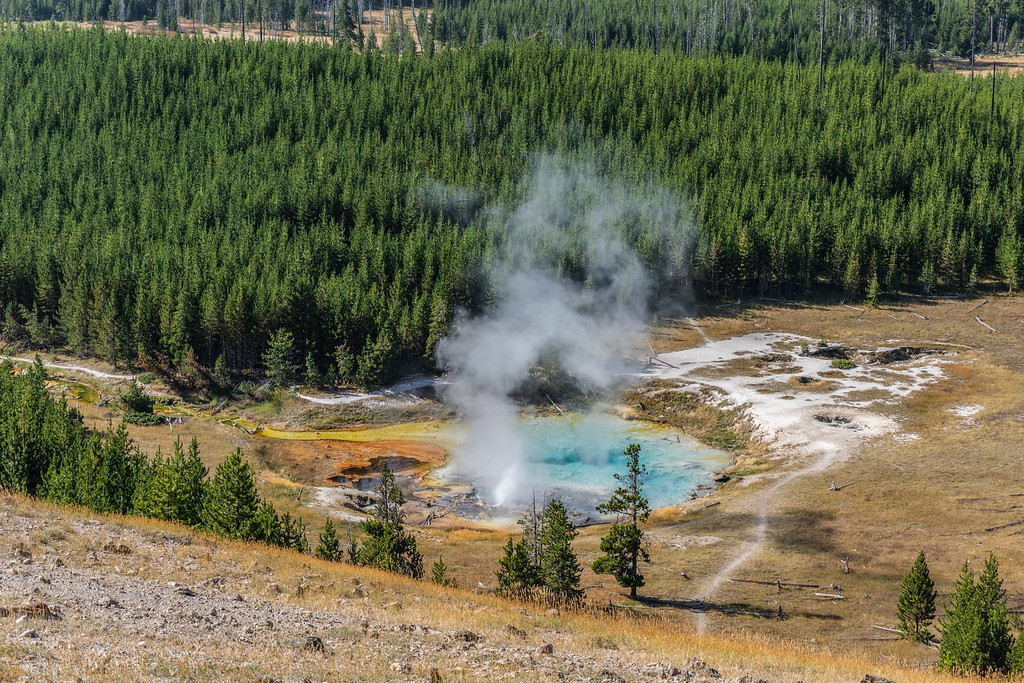 One bison came a bit closer and as soon as it saw me, it got big eyes and ran as fast as it could.
I climbed down the hill and continued to hike towards Sentinel Meadows. The area was really amazing. Flat, with a few marshy spots, wide open and a lot of expansive views. What an amazing area, I absolutely loved it.
Twin Buttes
At one point the trail passed through several geothermal areas and it was pretty cool to walk past them without any boardwalks and other visitors. I enjoyed the view to its fully extant and didn't expect anything like it at all.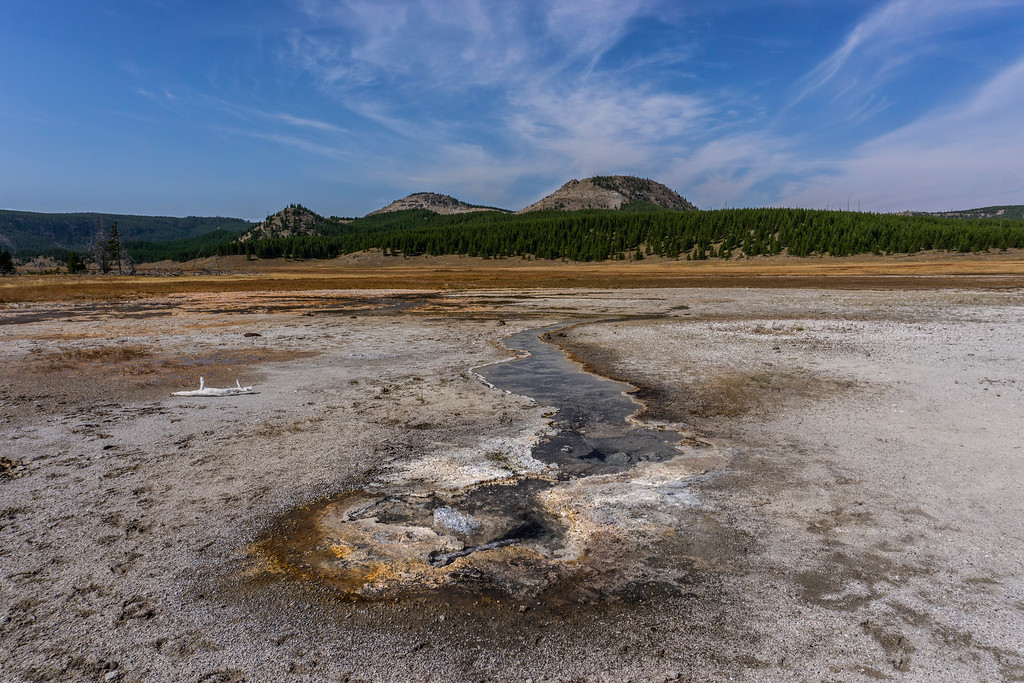 Another single bison was out in the field and I spooked it off the same way as I did with the other one. It was way too funny.
At one point I reached Goose lake and the dirt road again and headed back to the trailhead. On my way back I did the little detour to the viewing platform for Grand Prismatic Spring and the colors were just unreal up from here.
Wow, was the viewing point busy! I couldn't believe the number of visitors heading up here and was glad when I was on my way back to the car. The loop hike itself was absolutely wonderful and I was glad I started so early today.
Grand Prismatic Spring
From here I went back to Old faithful as wanted to try seeing a few more geysers erupt. I checked at the visitor center and heard about Ear Spring which made me chuckle. Daisy Geyser was about to erupt in about 25 minutes and I hurried to get to the spot.
I made it in time and enjoyed the geyser.
Daisy Geyser
Next one was Old Faithful. I needed to get at least one picture of it erupting while staying close by.
Old faithful
My wish was granted and then I headed towards Grand Geyser whose eruption window would open up in about 20 minutes. But before I went there I did the detour to Riverside geyser because it started to erupt right away.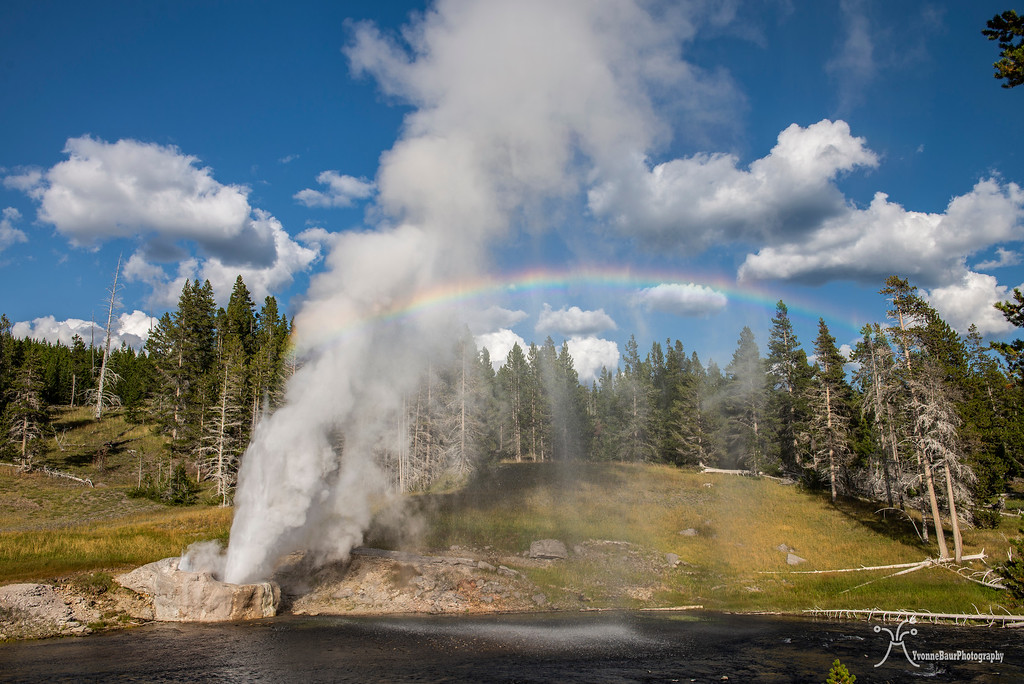 Riverside Geyser
Not a bad start at all. At Grand Geyser I waited for about 40 minutes and then it also erupted. It was quite the show and at the end of its eruption cycle a small geyser next to it erupted as well and they did erupt at the same time.
Grand Geyser
This afternoon had worked out pretty well into my favor, I couldn't complain. A bit later I met my old friends and neighbors and the Old Faithful Lodge and we had dinner together. They had an amazing day as well and would leave the park tomorrow. We sat together for quite a while and after sunset, I was able to get another Old Faithful eruption with the first stars out in the sky.
Total miles: 15.1
September 12:
I was up early again and headed to Biscuit Basin where I wanted to hike to Mystic Falls today. It was very cloudy and foggy this morning but I liked moody days like today a lot.
Biscuit Basin was pretty busy this morning and I soon left the boardwalk area and continued onto the hiking trail to Mystic Falls. I did the loop with the scenic Overlook and the trail started to climb up gradually. It was definitely worth the extra effort to get the view down into Biscuit Basin and beyond.
After I stopped at the overlook, I continued to the waterfall and back to the parking lot.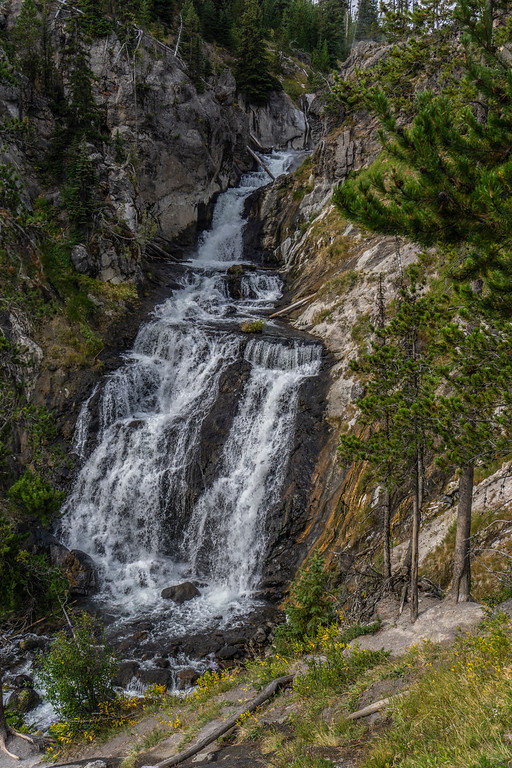 Mystic Falls
It was a nice and short little hike and I was up for more. So I decided to hike to Mallard Lake which was nearby and the trail started behind Old Faithful cabins. The trail itself wad some rolling hills, a lot of downfall and went mostly through a Lodgepole Pine forest. It was pretty short and after 3.4 miles I reached the lake.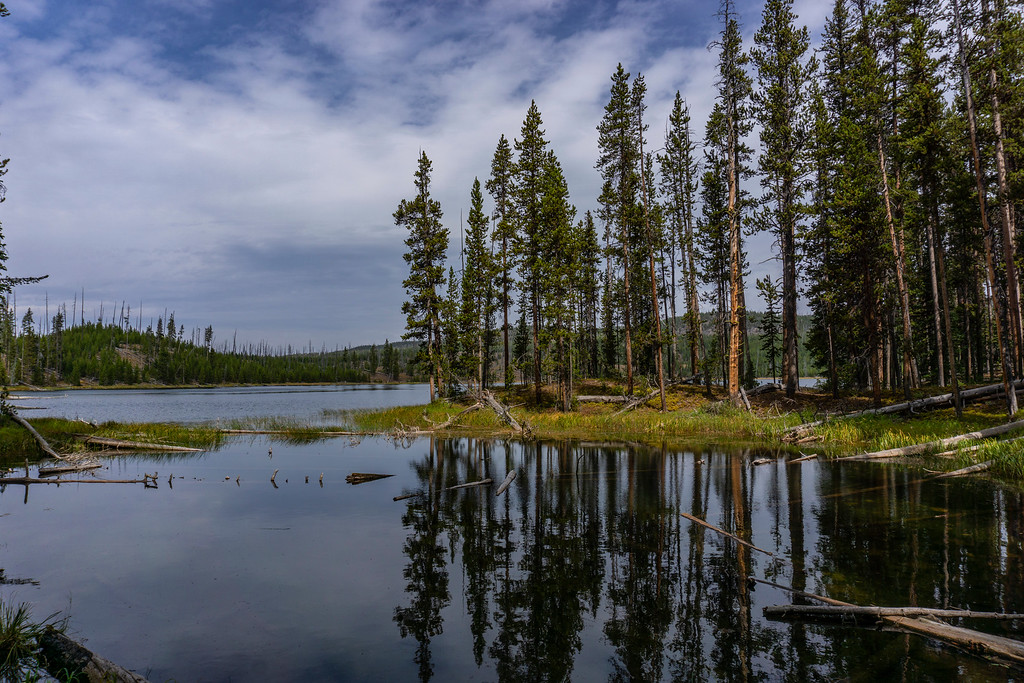 Mallard Lake
I had it again all to myself. It really amazed me how easy I could get away from everything and enjoy solitude. I still wasn't up for busy and crowded spots and felt most comfortable in places without any other human beings around. I wouldn't mind any animal company but they usually panicked and ran away when the saw me.
Back at the trailhead I still had a lot of the day left and was in the mood for another hike. First, a lunch stop at one of the diner at Old Faithful for chili cheese fries, after that I headed to the Kepler Cascade trailhead and started hiking out to Lone Star geyser. This was a flat and fast gravel trail parallel to the Firehole River. You could also ride a bike all the way to the geyser. It usually erupted about every three hours.
Firehole River
I was lucky and as soon as I got there it started to act up and spewing out hot water.
Shortly after that it finally erupted. Great timing again and enjoyed the show without a single soul out there.
Back at the trailhead, it was almost time for sunset and I decided to give Fountain Paint Pots another try. Glad I did because the sky was really nice tonight and erupting Clepsydra geyser was a nice object to include into the shot.
Back at camp I enjoyed the rest of the evening reading and relaxing. Tomorrow I would move on to my last campsite at Canyon campground.
Total miles: 15.9