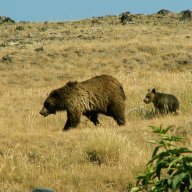 Joined

Jan 23, 2012
Messages

601
So, every year my buddies and I head to Yellowstone to do some camping, hiking and lounging around. We also try to explore new parts of the park and hit up new trails. This particular year we decided to stay in West Yellowstone because we didn't want to cook and clean up in the morning and evening. We stayed at the
Pony Express Motel
. I like this little dive motel because it's a block from the pub and it's nice on the inside.
Day 1: We left on a Wednesday Morning early so we could stop and see Mesa Falls on the way to West Yellowstone. It's just outside of Island Park on the Mesa Falls Scenic Byway Hwy 47.
After we arrived in West we got some food, checked in and headed into the park to just drive around and site see. Later in the day we saw this mother grizzly with cubs.
We decided to head back to town after this and get some food. Day 2: We got up late and headed towards the Lamar Valley. On the way there we stopped by these waterfalls.
Undine Falls
Wraith Falls
We decided that we were going to hike to Trout Lake a very short hike to stretch our legs. When we got almost to the lake we saw this tree and decided to do our Tree Hugger photo.
As we got to the lake the clouds started to look threatening and no sooner than we got to the other side, the fury was unleashed! The wind was so strong that it was snapping trees and actually knocked a large tree over and took the branches off the one side of the big tree we were just under ten minutes earlier. Sorry no pics just wanted to get to safety.
Day 3: This day we got up early and headed towards Canyon to hike to the top of Mt. Washburn. A fairly steep and very busy trail. Wild flowers were abundant!
Approaching our destination.
A selfie at the top.
Yeah i know huge pack. I did that on purpose to try and help my conditioning.
A sheep on the trail.
Brain Rock on the way down.
After this we headed over to the Upper Yellowstone Falls.
Then the Hayden Valley. "Mess with us and I'll gore your ASS!"
Then we went to Yellowstone Lake and drove to a view point of the lake.
Day 4: We headed to the south end of the park and hiked to Riddle Lake.
Our turn around point as this guy was right next to the trail and we didn't dare push our luck.
After we got back to the TH we goofed around and headed back to town in the late aftrenoon.
The next day we headed home to SLC.
Featured image for slideshow: