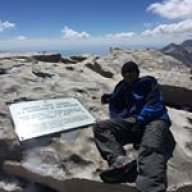 Joined

Jul 23, 2015
Messages

2
A grand hello from the Bay Area, CA to all you fellow hikers and backpackers. So I join this group of like minded individuals obsessed with having fun in our own ways outdoors (read: We are awesome & we know it!), searching for places to get lost and a motivational shove to go out and explore all that nature has to offer.


Ok. Let me not bore you further.
I am started hiking a year back, in April 2014 (in San Gabriel Mountains, Los Angeles, CA) and now am proudly addicted to it. On weekends If I am not hiking or backpacking, I will for sure be on my laptop researching online about places I should go to and peaks that I should bag.

With all humility I say I am pretty much an advanced hiker now, typically logging 25-30 miles with 5000-11000 ft gain in a weekend. Have a done stamp on Grand Canyon Rim-Rim-Rim (day hikes in both directions), Whitney day hike, Cactus to Clouds day day hike and I end up only asking for more.
My next target is Kilimanjaro on the peaks list, and John Muir Trail (in 2016) thru hike on trails list.

From this community, I hope to learn about places I should to go.