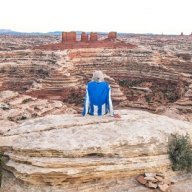 Joined

May 18, 2012
Messages

290
This is the last of my trip reports from my latest South-West vacation, and has probably my favourite ever set of photos taken in one day.
I said on Facebook recently that Coyote Buttes North may well be the most photogenic square mile of varied photo opportunities in the world. Ok, the first time I saw Bryce or the Grand Canyon I was awestruck, but they don't have the same variety of features and colours (unless maybe you're a diehard Grand Canyon rappeller).
The first time I ever went to CBN - inspired by an unnamed Page postcard of the Wave - I just saw The Wave, the Wave2 and hiked to the teepees. I thought afterwards maybe it would have been nice to explore around the slickrock and then I came to hear about other features. But with so many other South-West sites to see and the difficulty of getting a permit I'd never tried to go back.
That was until my companion last year said let's both apply. Not massively bothered if I was successful, when I heard I'd secured a permit it didn't sink in the odds I must have beaten for a Fall Saturday. But wow, how it was worth it. (These pics all look better a little darker, so tipping the screen back makes quite a big difference!)
We left the trailhead in darkness and had the Wave to ourselves as we waded through the cool pool and I got photos before it was hit by direct sunlight.
j
Then it was time for pool reflections before a climb up Top Rock to look through the arch.
When I first saw that postcard probably 20 years ago, it had no people in it, but for anyone who has never seen a picture of the Wave - pretty unlikely on backcountrypost - this shot would have given a good sense of scale with 6 of the day's other permit holders in it.
We headed back to the Wave and I took some sunlight shots where it was fun witnessing other first time visitors catching their first ever sight of it.
This visitor from Thailand was particularly excited. Shame I don't have his email address as I like this picture showing him in the scene with his bright red top.
Our lunch stop was the only time in 13 hours from dawn to dusk when we weren't on our feet.
Then it was time to try and track down some specific features while enjoying views on the way.
A favourite was the second burger rock. I think this one is more of a diner burger rather than the earlier McDonald's one.
This looks like the spinning top to me. Others may have named it before
Lots of people say they've never been with pools. They claim it's better. I've been twice and they were there both times.
An overall pano
This isn't the most striking of photos, but to me it just sums up the area - a mass of stripes and colours
looks like a candy shop
The stripes and colours were amazing - even seeing the same places at different times of the day.
Our last stop was the "Second Wave" which hike partner Des had told me to ignore until sunset. I admit on my previous visit I thought the Second Wave was nowhere near as impressive as the First. But at sunset, photography wise it was another matter.
On my PC this looks a big bright and it's been resized to a lower resolution, but on a big better quality Mac in high res it's darker and more colourful and is one of my favourite images I've ever taken.
I'll be interested to see which pic might be chosen for the homepage as the rise and fall in my estimation like music albums!
We hiked up Wire pass by headtorch before it was time for a well earned dinner and beer in Page....we thought... until i ate a starter salad that could have served three before being defeated by a huge pasta main.
Apologies for not editing this selection down more, (I did have a few hundred more!), but to me this is a record of one of my best days ever, and I probably won't try and go again as after being lucky enough to go twice I wouldn't want to deprive someone else of a chance. If by any chance I ever did return some day, accompanying someone who hasn't been, I'd probably just wander off the beaten track poking around bits I've never investigated around the perimeters and not return to any of these actual spots again.
While I'm in 2 minds about keeping numbers down - it would be hypocritical of me to not accept others going - I must admit between the first Wave and the Second Wave 20 years ago I remember a lot of the stripes having wafer-thin fragile fins along them, mainly less than half an inch high, but now they seem to have all been snapped off and gone. Nature may have smoothed it all off eventually anyway. On the whole I'd guess slickrock can't be damaged too much, unlike tramping over cryptobiotic soil.