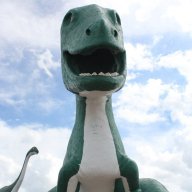 Joined

Oct 27, 2013
Messages

179
April 14, 2015
The piece of last year's 3-week roadtrip in which I finally arrive in Utah...part 1 of several
*****
After leaving Chaco Canyon (trip report
here
), I headed north toward Cedar Mesa. I had wanted to camp in Valley of the Gods that night, but a combination of the quickly fading twilight and my weariness from driving spurred me to grab one of the last spots at Sand Island Campground instead. I had planned on making a stop there the next day, anyway, to look at the petroglyph panel, so that worked out.
After spending a leisurely morning in camp, I had the petroglyphs all to myself as the campground was largely deserted by that time.
Then I drove west a few miles to Butler Wash for the hike to the Wolfman Panel. The drive provided a stunning view of Comb Ridge.
A spot of color amongst the sand
After a short, fairly easy hike, I arrived at my destination.
I wonder what it looked like before the piece of rock face came off.
Close up, unfortunately vandalized by gunshots.
Since it was still early in the day, I planned to explore more of the canyon. Unfortunately, it was rather overgrown. I wasn't up for bushwacking, so I retraced my steps back towards the trailhead.
One the way back, I spotted a granary on the opposite side of the canyon, so I backtracked and found where the social trail split off.
The granary
Sheep (?) nearby
After a stop in Bluff for lunch and a shower, I drove over to Valley of the Gods, coming in from the western entrance so the sun would be at my back. Again, great views of Comb Ridge on the drive.
Final one, I promise!
By then, a weather system was starting to move in. The wind was rising, kicking up dust and creating a haze.
Lady in the Bathtub
Lady in the Bathtub. It looks much more like its namesake from this angle.
After finishing the loop drive of the Valley, I circled back west to head up Cedar Mesa. Here's Monument Valley in the distance, barely visible through the blowing dust.
Partway up the Moki Dugway. It was a bit nervewracking with the wind shaking my vehicle.
I stopped at the Muley Point overlook, but couldn't see much with the haze. Monument valley very very faint in the distance, looking down into the San Juan. Good thing the wind was blowing me away from the edge- it was tough to even stand up.
I finally stopped on one of the side roads on top Cedar Mesa for the night, and was treated to this sunset through the clouds and haze.