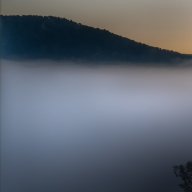 Joined

May 19, 2012
Messages

1,941
Sorry for the soap box here, but I am compelled to comment on this issue as it will be before the Colorado Parks and Wildlife commission soon. I would assume Utah has the same issues ahead.

Last night Nancy and I attended a presentation with question and answer period after, on the status of the wolf reintroduction, given by a wildlife biologist. She was clearly biased to reintroducing the wolf back into Colorado (as I am), but it was an interesting evening nonetheless. I wish I could remember her name (I am sure the meeting will be included in one of the local papers soon, I can get her name then), she gave a logical, unemotional case for reintroduction, which revolved around a very simple equation, but has very complicated implications for residents and people who make their living off the land.
Essentially the event turned into a shouting match, all one sided, aimed at the biologist by a handful of ranchers. One or two of them were respectful, but the majority of them were not, not letting others speak, interrupting and so on. I understand that there are always two sides to an argument, but I usually will side with the fact based positions versus ones that use misinformation, emotional bias and accusations of dishonesty.
Wolves are vital to making our natural environment whole again. Their presence affects erosion, plant and animal diversity. Their absence allows other animals to exploit the gap left in our food chain that the wolf once held.
The ranchers all ended up with the same statement, in different ways: What about humans? Well, I am human (mostly), and I would relish hearing a wolf howl near my neighborhood, or out in the backcountry, knowing that our environment is working like it should.
A rancher (now retired), got up and stated that she ran a large sheep ranch just north of Yellowstone, and she did not have a big problem. She was reimbursed when she lost an animal, she implemented the grazing and fencing practices, and it worked. Our ranchers, however, were having none of it. Even though none of them had ever experienced a wolf on their property, they continued to claim that what the biologist said was bullshit, even though she was basing her info on real life observation, and what 20 or so years of scientific observation has shown us.
When an Alpha male or female wolf is either shot or trapped, the hierarchy in the pack goes into turmoil, as the Alphas keep all of the juveniles in check, what to eat and what not to eat. Anarchy ensues, and they start going after animals they shouldn't. Wolves basically like elk (smaller animal too, but to a large extent big game), which is why we have too many elk, who over eat plants near our streams and cause erosion and water and soil degradation. The environment starts to reach a balance.
Cows. I hate cows, but I believe local ranchers should have the ability to graze their animals on OUR land for a fee. But I don't see why (given the fact they would be reimbursed for their loss) they would be upset about wolves. As far as the cow goes, their fate is sealed anyway in some slaughterhouse I would guess. A very un-dignified death! Imagine the privilege (and honor) of being eaten by a wolf!
Humans are part of that balance, and I believe we can all live together. I believe ranchers can still make their living, and preserve their way of life coexisting with wolves. But they need to understand a basic fact, that times change, and if they want to stay and keep doing what they are doing, then they will have to adapt. Because the wolves are coming, eventually. Maybe not in my lifetime, but soon.
Last edited: