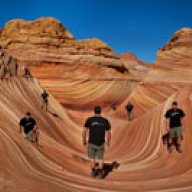 Joined

Oct 26, 2017
Messages

21
One of the longest continuous slot canyons in the world, Buckskin Gulch passes through 16 miles of unique formations and sandstone walls. You can do a day hike or hike the entire length. If you are planning on camping in the canyon a permit is needed. Because of time I did the short hike down the Wire Pass Trail. The Wire Pass Trail is a short drainage that joins the much longer Buckskin Gulch slot canyon.
As you enter the slot canyon the surrounding cliffs become gradually higher and closer together, and the last half mile includes two short but deep stretches of narrows.
There is an 8 foot obstruction in the canyon that you can climb down or it can be bypassed using an overland route just before entering the canyon.
The further down you go the deeper and narrower it gets. Some places you have to turn sideways to get through.
At the end of the Wire Pass Trail the ravine opens out suddenly at the confluence with Buckskin Gulch.
Following the slot canyon the walls open up to a huge intersection where you'll find a huge arch in the wall and petroglyphs on the south end.
From this point you are truly in the Buckskin Gulch. I did not have time to explore the Gulch so I had to turn around and head back up the Wire Pass Trail. I hope to return someday and experience the beauty of the Gulch.