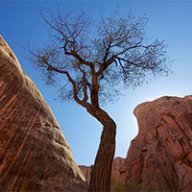 Joined

Aug 9, 2007
Messages

12,889
Almost a month now since I've been out. Premature spring fever has me dreaming of places other than my home, so what better time to catch up on trip reports.
@lostlandscapes
already posted
an excellent report from this
, but I'd feel like a jerk giving all the lurkers the stink eye if I didn't post all of my trips.
We stopped for a night on the way down. This is a tough campsite to get during the busier times of the year, but January is another story. The full moon helped out quite a bit.
Loaded and floating on our way north from Bullfrog.
Glass.
Heading up into Smith Fork to scout the access for the next day's hike.
After finding it would be a piece of cake the next day, we were off to Forgotten where a huge sandy beach covered in driftwood would be our home for the next two nights.
Tim on the knob next to camp. It was a bit of a scramble up the last section. Not bad, but I wasn't willing with my knee still quite wobbly on steep descents. Or maybe I should just blame Ezra?
The next day hiking up Smith Fork. The lower canyon was nothing like I'd imagined. A flowing stream and nice varnished walls. I would have loved to see this one pre-dam.
Approaching a rock fall/waterfall.
The foliage on the left here actually had fresh green leaves on it. In January!
A couple of miles in we hit the high water mark, and suddenly the river stops. Flowing one second then dry as a bone. If the reservoir were full, I think that entire river would be a memory. Wild. But on the bright side, these narrows would have been a no go in January with a river running through them. We were pleased to find them quite dry as we started in.
Sage hates posing.
Henry Mountain granite + sandstone = one of my favorite things on earth.
This was my first time leaving the boat totally unattended for so long. No problems though thanks to the calm weather and lack of boats moving through. Another night back in Forgotten and then it was back to Bullfrog to drop off the boat. A very nice mid-winter trip. Can't wait to get back out there.