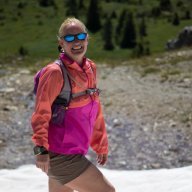 Joined

Dec 30, 2015
Messages

194
I headed out today for a day hike up The Crags. It's 6 miles round trip with about 1,000 feet of gain. We had snow earlier in the week, and being as this trail is above 10,000ft it hadn't melted at all. I had brought my little dog, thinking the trail would be mostly clear. My mistake. Having driven over an hour to get here I made the decision to wrap my dog up in my down jacket and put him in my pack. The snow varied from packed to 8 inches of powder. It was pretty windy at the top but we did take some pictures and have a snack. The views from the top were amazing. I now know why this is such a popular summer hike.
The trail starts crossing this small creek.
heading up into the forest
about 1.5 miles in the trail splits. To the left our destination. To the right heads up the backside of Pikes Peak.
halfway to our destination
lucky for me several groups hd broke trail ahead of me.
cool rock outcropping on the way
then the trail breaks out into a meadow
back into the forest as we approach the summit
passed a couple snowshoeing and my little one poked his head out so we got a pic
reaching the summit the views are amazing. 3 frozen lakes in the distance
I'm not sure what peak that is on the distance. A 14er I'm sure. EDIT: It's Buffalo Peaks 13,326
more views form the top
The Crags for which this hike is named.
The backside of Pikes Peak
My little guy in my pack. The easy way to the top!
Having a little snack at the top. You see who has the down jacket and the cliff bar!!
Heading back down
Back through the meadow on our way out.
Last edited: