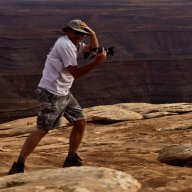 Joined

Sep 6, 2012
Messages

300
A short hike, January 31 2015
Almost half way up Mt Olympus without stepping on snow, while wearing shorts, in January, seems so unlikely. But I'm not complaining, not one bit. I haven't been snowboarding as of late so my expectations about our mild winter are decidedly skewed in favor. It was time to start thinking about that April backpacking trip looming on the horizon by reversing the "letting my self go" trend that began in October. Soda off the menu for several weeks, some hours adding up on the bicycle trainer, but there is a need to get the hoofing it muscles re-awakened. Sunshine and warm dry south facing slopes provided no discouragements, non whatsoever. Get out there, go, do it, fine I will! Take the camera? Yeah I better...I've only shot those scenes a hundred times, but not in January, not this palette of color... loaded it in the Flash 18 with some random little other stuff the camera easily outweighed. A light jacket, shorts, tiny backpack, one foot in front of the other, heavy breathing, forgotten muscles, typical but earlier than normal thoughts; "Did this mountain get steeper since last time?"
Plenty of yellows and golds and earthy tones, below unusual kinds of winter blues.
Well now I should have left early and done the unlikely for January hike to the summit. Blister hill didn't have much snow. But I turned around shortly after crossing the creek, at the first of the rare white cold stuff, and headed back.
Took a detour out to a somewhat heart shaped Juniper on an old abandoned trail spur to extend my hike a bit on the way back down while a little touch of gray cloud and some hazy blues capped things off with a hint of the proper season.
Inevitably pointed back toward civilization, It was a very nice "winter" day up on the mountain.
https://onedrive.live.com/redir?resid=2C0414BF706BD62B!10330
Featured image for home page: