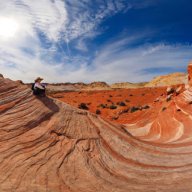 Joined

Aug 18, 2018
Messages

1,562
During our last road trip I asked you all for help with regards to your experience with "
quicksand
" and later "
hiking naked in Utah
". There was a third thing, I was uncertain about, but I never posted it.
It's about campfires in Utah and the Arizona strip.
Background: We went to
White Pocket
in mid December and car camped in 16F. We brought some firewood, that we purchased ahead of time in Kanab. But to our surprise, there was no fire ring with stones, raised metal pan or any indication what so ever, that anyone had a campfire there previously. We looked all around, including in the second area where
@Nick
and
@Cool Danish
camped previously many years ago. The main parking area is very wide, all sandy. The second area is a wide flat slick rock area. It was windstill that night. There was zero campfire information/warning on the big info board. Long story short, we did NOT make a winter campfire,
UNCERTAIN ABOUT BLM REGULATIONS
and generally worried about accidentally starting a wildfire. We enjoyed the Milky Way and the meteors tremendously- great night, even though it was 16F and let's say pretty

1) What's the general BLM rule with regards to camp fires in southern Utah and the Arizona strip? Does it depend on the time of the year and local rules? (We saw many campfires in "Valley of the Gods" BLM land close to Bluff, Utah, so I wrongly assumed White Pocket would have several stone rings or like. We did have a campfire in the ring on Deer Creek campground off Burr trail rd.
@Nick
also mentioned "bring fire wood" for the next BCP meet-up in spring !)
2) For primitive winter car camping in areas such as White Pocket and like - do any of you use propane heaters in the winter to stay warm outside in the evening? Which kind do you like? Any other ideas (except for layering up and pacing back and forth at 2am looking at meteors in 16F). I thought to remember
@IntrepidXJ
saying: "we are staying warm with ...." one winter afternoon when we passed their camp. What did you use?