Joined

Jul 23, 2013
Messages

1,655
Back in January, I discovered that Utah Lake State Park was known to be a winter home for a few bald eagles. After experiencing the thrill of seeing one out in the wild on a recent trip to Florida, I was eager to see if there really were some only minutes away from my home.

Winter at Utah Lake State Park
Friday - January 27, 2017

I made the decision to drive down to Utah Lake State Park on the other side of town after work on a Friday afternoon. My son was the only one who wanted to join me for this little trip. We pulled into the park and began to drive around occasionally glancing up into the high trees throughout the park hoping to find an eagle. There was nothing to be seen right away so we continued to drive around looking at what all the park had to offer. I'd never been closer than the gate to the park, so it was my first time being within the park. We found our way out to the end of both of the dikes that reached out into the mostly frozen Utah Lake.
It wasn't until on our way out of the park that we looked up to find what appeared to be an eagle perched up in a tree. Because of the backlighting due to the sun's position in the sky, it was hard to make out any detail, but it did not appear to be a bald eagle because the head was white. It wasn't until I got home later and found that it likely a juvenile bald eagle. Only fully mature adults will have the characteristic "bald" white head that gives them their name.
We returned home and made plans to bring out the rest of the family the following day to see the unique winter sights the park offered and of course to try our luck again with finding more bald eagles, preferably an adult.
Saturday - January 28, 2017
With free time in the early evening, we returned once more to the park, this time with the whole family in tow. I retraced our driving track to show off the view points.
This time, more eagles were sighted. At first, there was a juvenile out perched on some ice buildup.
Then we saw some other big birds out flying over the ice in the vicinity. They soon landed and after zooming in on them out in the distance, it was evident that they were indeed adults. Bald eagles will pair off and mate for life, so I assumed this was a pair and the juvenile nearby may well have been theirs, making them all a family.
As we circled back out of the park, we were able to spot yet another eagle high up in a tree. This one would be the closest one and in the best light yet.
After spending several minutes observing the majestic eagle, we turned back to watch the sunset.
After the sunset it was time to return back home for the evening.
While we had been out that day, one photographer who had come out to do some bird sighting himself told me that he also found mornings, just after sunrise to be another great time to often see eagles throughout the park. So, I made plans to make a 3rd and final drive back out the next morning.

Sunday - January 29, 2017
Sunday morning came and back out to the park I went. There weren't a multitude of eagles up and about, but there was one perched a tree I was able to drive right up next to. This would be the closest yet and probably closest I may ever get to a bald eagle out in the wild.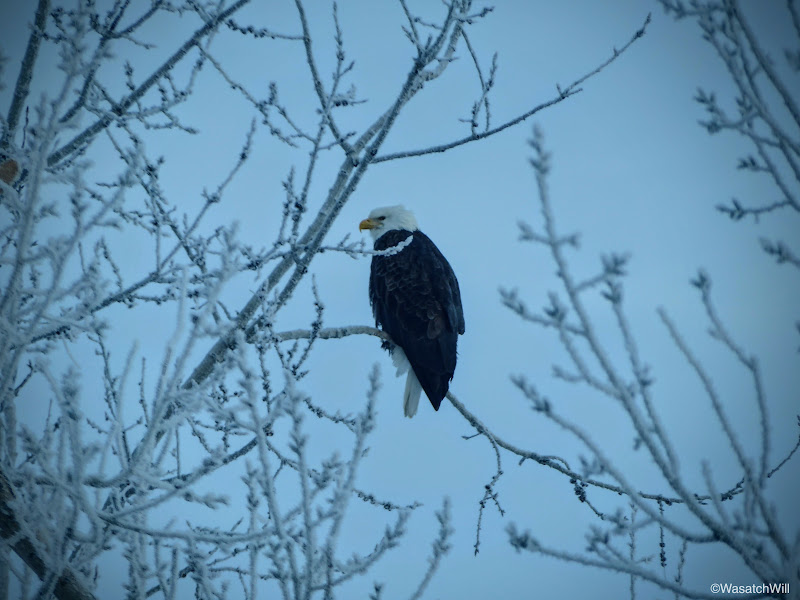 The night had brought on a big frost, so much so that even the feathers of the eagle had been hit by it.
After several minutes, the eagle moved on and so I took the opportunity to take a few other various photos within the park trying to capture some of the beauty the frost gave to the surrounding landscape.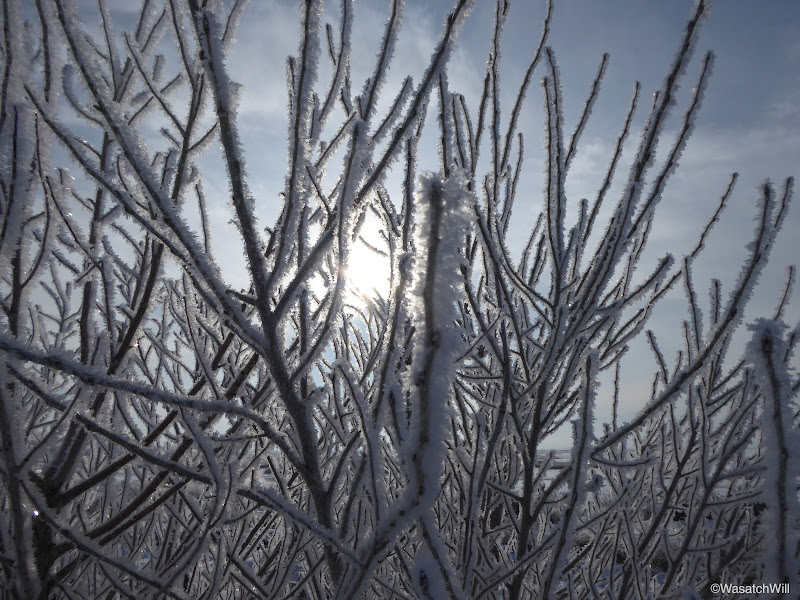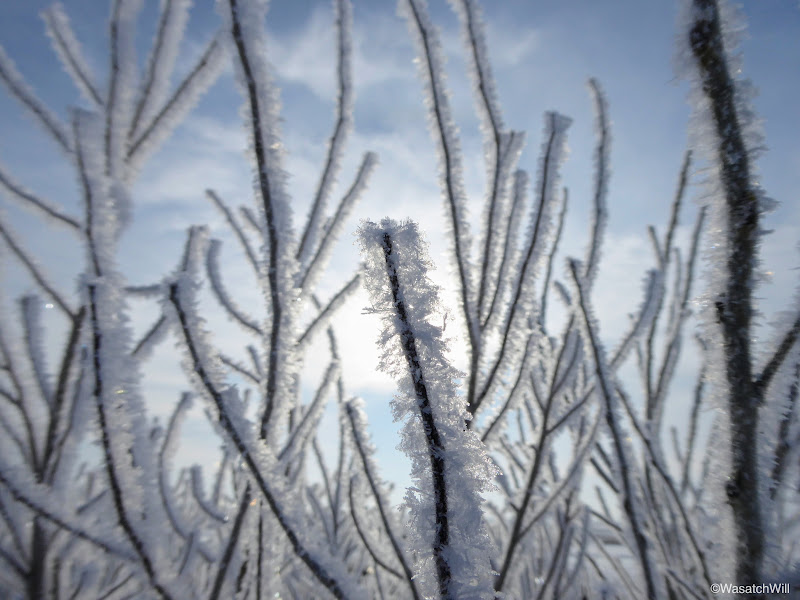 Living in Provo for 4 years now and along the Wasatch Front for well over 20 years now, I never knew bald eagles wintered in Utah with many of those places like Utah Lake State Park being so accessible. It was exciting to learn that at least through the winter, some even call Provo home and can be observed by making only a 10 minute drive away from my home.