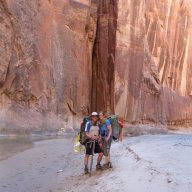 Joined

Dec 5, 2017
Messages

973
I'm exploring possibilities for a future summer backpacking trip in the Winds and am eager to learn about the Bears Ears trail. After thoroughly enjoying this summer's trip in the Titcomb/Indian Basin area, I'm intrigued by areas further south near the Cirque but want to bypass some of the crowds at Big Sandy.

Questions:

1) What's the road like to get to Dickinson Park and the Bears Ears trailhead? I know a permit is needed but don't have a sense of how manageable the road is and what kind of vehicle is necessary.

2) Is water reliably available in Sand Creek? Are there any other water sources before Valentine Lake (if you're heading west along Bears Ears) or before the unnamed lake next to Bear Lake (if you're heading south along Lizard Head Plateau)?

3) In mid-summer (late July - August) how difficult is it to ford South Fork Little Wind River? I realize this will be different in different years, but I'd like to learn what it's generally like.

4) Do you like this trail and recommend using it to make a lollipop perhaps with Washakie, Hailey, South Fork, Grave Lake and/or the Cirque area?

Thanks so much for any info and ideas!