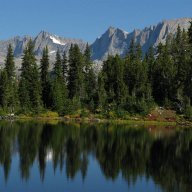 Joined

Aug 18, 2015
Messages

327
Finally got around to writing up last year's Wind's trip. Bob already posted the
Lee L loop
so this will have just a few pics from that part.
Trip started badly. Delayed flight into MSP caused me to miss a connection. I purposely booked the flight to have a 2 hr layover, but the airline couldn't even make that. Best option was first flight the next day and the airline was not helpful in finding a motel. They claimed it was "due to weather" even though the pilot stated it was equipment issues. After about an hour of checking, I didn't feel like paying $150 + Uber fees to have a room for 7 hours.
My nephew arrived in Jackson on time and the rental car was in my name. Told him his options were to book a motel for $300+ or rent a car and drive towards Curtis Canyon CG where he can boondock after crossing the forest boundary. He smartly chose the latter. I knew rental cars were in tight supply so attempted to call the desk in Jackson to let them know I was late but to keep the reservation for the "usual" 24 hours to prevent a "no-show". Couldn't reach them in 4 attempts in an hour so called the main number and told them the same thing. After that, I joined others in finding a soft bench to "sleep" on.
Arrived the next day on time.
Took the shuttle to pick up the SUV and was told my $950 rental contract had been canceled. I now owe $3300! They said if I had called them instead of the main number there wouldn't have been an issue. Then explained they didn't answer the phone because the day had been so busy. Or, if I'd booked directly instead of with a third party... At this point, there wasn't much to be gained by arguing further. I had no recording of my conversation with the agent the prior day. Talked them down to $2300 and got going.
Had intended to swing by Pinedale to pick up some cached bear spray, but with the delays decided to head to Dubois Longhorn CG to start acclimation. Great facility, but getting a little pricey. It's an RV "destination" so we shared our campsite with some interesting neighbors.
Headed to Lander the next day. Walked around Sinks Canyon park for a bit and got ready for a 4 day trip. Something new for the nephew – favorite fishing spot of mine. Not too crowded and easy hiking for the Winds so can start it when not fully acclimated. Won't use any names on this one though I'm sure many of you are familiar with it. It was a smoky day.
Made camp about 11 miles in, last 2 easy off-trail (well, I got a little off route so there was some bushwhacking involved). There's an established site near a good brook trout lake that I use. Did see some bear scat but wasn't too concerned.
Headed to a lake in the cirque the next day. Fished with no luck. Wind was up but was blowing towards the shore I was fishing so thought that might move the fish towards me. Nothing for a few hours so we hiked back to camp. Have heard of many doing quite well in this lake but been skunked every time.
Next day we headed to a higher lake on a ridge about 500' higher, taking care on a final ascent up a boulder field. Wasn't sure I'd make this one as the day before was feeling pretty tapped. But a good night's rest and promise of large goldens cheered me on.
Got to the lake just before noon. It was less windy than the day before and mostly clear. Saw a few nice fish jumping out not too far offshore. My nephew took off to explore a knoll for the views. Fished a Jakes for awhile with no luck then switched to a scud off a Lazy Ike and finally hooked my first golden. Didn't last long – but it was a fun 30 seconds. Was tying on a replacement when I noticed the clouds were getting thicker and darker. Wind was starting to pick up. Forecast had called for rain for the next day, but couldn't ignore the conditions. Packed up and headed back.
Ran into 3 guys setting up camp and chatted with them a bit. They were headed to the same lake so we talked fishing a bit and adventures in the big wind/snow storm of 2020. They gave us an updated weather report calling for an overnight storm letting up about 9:30 tomorrow. We all agreed to keep the specifics of the lake quiet.
Barely had time for a quick snack at camp before it started storming. Dove in the tents when the hail came. Wind whipped tents around pretty good and hoped I'd adequately checked the trees in the area. Lots of thunder. In a while it changed to heavy bouts of rain on/off all night. Checked to make sure my bag wasn't touching the end of the tent (Skyscape Trekker has a single wall at foot) but got some decent sleep.
Next morning my nephew said he had never been so petrified as that night. He's no wimp either – Tough Mudder and certified CrossFit trainer. First good thunderstorm in the Winds is an experience, for sure. Still thought it was a great time – having survived it, that is. Dodged more rain showers until around 9:30 when it all ended. Shook water off tents, packed up and had a pleasant walk out.
Drove to Pinedale, dried out gear, resupplied and got ready for our Lee Lake trip with Bob. Originally were planning 4 nights out, but needed the recovery day so we settled on a loop through Middle Fork and Bonneville. Just after the 2020 storm I'd led a few members of my hiking group to Rainbow pass from a base at Dream L. Wasn't enough time for the loop that year so wanted to explore it. Bob's already summarized the trip so I'll just add some random photos.
It was a great time. Nephew thought it was the best scenery he's seen so far (already been to Titcomb). Golden Lakes valley on Middle Fk of Bull L Ck and the meadows below Timico are special as his first Winds adventure. Headed to Colter Bay CG and got ready for his return. Surprisingly, he didn't feel like a big day hike so we just strolled over to String and Swan Lakes.
Got up at 4 the next morning, took him to the airport and then returned to Dubois to fish the East Fork. After a lot of work (this area gets hit pretty hard) hooked a few nice cutts but only landed one. Terrible pic but wanted some proof I can catch fish.
Swung back over to Pinedale as I wanted fish the Upper Green and to check out the Deep Lakes area. Thought I'd have some good brook trout fishing and only had a few days left for backcountry adventure.
Trailhead was busy and I was happy to leave most of the folks behind as I veered south after Big Sandy L. Reached Clear L and set up camp on an established site. Windy and ground was too soft in my first attempt – pulled the stakes out after a big gust. Managed to squeeze in nearby and built a small wind wall to limit the dirt blowing under the fly. Not a single fish in over an hour of trying. But enjoyed a good sunset, then heard a group up the hill over a ridge near my camp. Turned out to be some goat packers. Luckily, not too loud and I didn't feel like moving camp at that point.
Started out the next day to Temple Lakes, hoping fishing would improve. It didn't but scenery was great. Did run into a few folks along the way. One large group of youngsters coming over Temple Pass and one guy from Boston on his first Winds trip. He'd been out for 8 days and was winding up his trip. Passed him again the next day. He was having a great time. Saw a couple of other fisherman at Temple Lakes but didn't see them haul anything out of the water either. Heap of cairns all along the way. Had to include a few of those since I know how much Bob likes cairns.
Headed back to camp and had a quiet last evening to myself now that the goat crowd had gone. Watched a pair of moose use the trail instead of people. Next day was an uneventful walk out under gathering haze. Nice end to a trip that started off rather poorly!
Last edited: