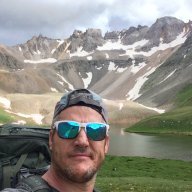 Joined

Mar 1, 2016
Messages

401
Wednesday morning we woke up and only had two miles to go before seeing the ever so popular yet beautiful Island Lake for ourselves. Island Lake is 11.7 miles away from the elkhart park trailhead. It was awesome to see this lake in person after looking at pictures of it and dreaming of it for what seemed like so long. I had three objectives on this trip. One was to camp at Island Lake so I could gaze at the beautiful Titcomb basin from camp and admire the mighty Fremont and Jackson peaks. Two was to explore the Titcomb Basin. Three was to climb Fremont Peak.
Here is the view I had been waiting for beautiful Island Lake. What a beautiful sight!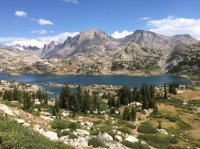 The lake definitely sees its fair share of people but is big enough to handle the crowds. Love that view of Titcomb basin on the left and Fremont and Jackson Peaks towering over that beautiful lake.
Upon arriving at Island Lake we searched for a good spot, set up camp, and then set off to explore The beautiful Titcomb Basin. My original plans were to camp in Titcomb basin but with my early summer back tweak I decide it would be best to do more day hiking and exploring and less backpacking.
Entering Titcomb Basin. Love those Peaks!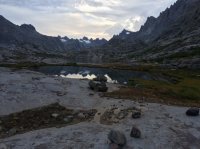 Look at that beautiful blue water next to those gorgeous peaks!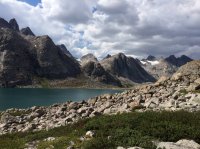 Couldn't get enough of this basin. Upper and lower Titcomb Lakes are simply beautiful surrounded by awesome glacier carved peaks.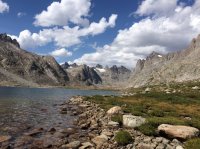 Waterfall below upper titcomb lake.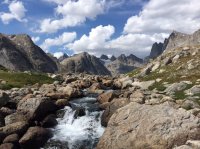 This is Mistake Lake. I had high hopes of catching a fish here. Apparently Mistake Lake gets its name from the fact that golden trout were accidentally planted here when they thought they were planting them in Upper and Lower Titcomb lakes. No luck with the fishing but did not matter as the views were simply incredible.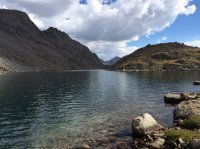 View looking back the way I came of Upper Titcomb Lake.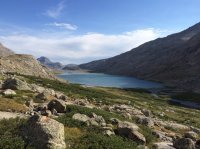 The trail ends at the end of Upper Golden Lake approximately 5 miles from Island Lake. I wanted to walk far enough so I could see Bonney Pass. There she is is in the upper right. I can only imagine how exciting it would be to go over Bonney Pass on my way to Wyoming's tallest peak Gannet Peak. Alas not the case today. Maybe someday.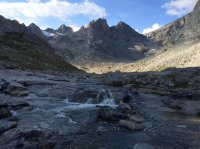 I figure I walked approximately 6 miles from Island lake for a 14 mile day total for today. What a beautiful place to explore. On the way back to camp the sun was starting to set. Here is a view of a lovely tarn sunset above Island Lake.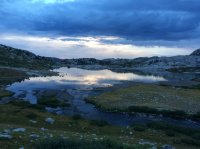 We got back to camp just as the sun was setting. What a great day. Went to bed looking forward to a walk through Indian Basin and to climb the mighty Fremont Peak.