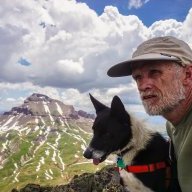 Joined

Mar 6, 2014
Messages

577
September is arguably the best month for backpacking the western US mountains.
Finally this year we managed to get a week off that handily coinciding with a stellar forecast for the Winds.
From near Dubois we did a loop circling Downs Mountain (northernmost thirteener on the CD?), crossing the divide twice and lake hopping in Bear Basin. The 50ish mile route also included some intimate contact with the rapidly melting Dinwoody complex of ice fields north of Gannet, including the Connie, Sourdough and Continental glaciers.
The off trail portions were rather strenuous, ranging from the vegetation dense traverse of the two Ross lakes to labyrinthine plodding around the many barren and precipitous lake shores of the very remote Bear Basin.
The mellow, but longish Glacier Trail exit finished the trip with scenic and pleasant miles.
We followed almost exactly the route
@Bob
and co. pioneered
here
.
We encountered 3 other parties during the entire trip, all of them on the trail portions. As far as wildlife the most exciting were a weasel and five immature Harlequin ducks playing in a rapid. There were recent signs of bighorn, moose and elk here and there. Nothing of bears, tho.
Our camps were at Mile Long; unnamed lake below Kevin; tiny tarn in Gannett creek canyon; and Philips lake.
All images with iPhone 7Plus
Between two bushwhacks along the shores of the Ross lakes
Coming up the last part of the gully above Mile Long lake to Ram Flat and the divide. Continental glacier and Downs Mountain behind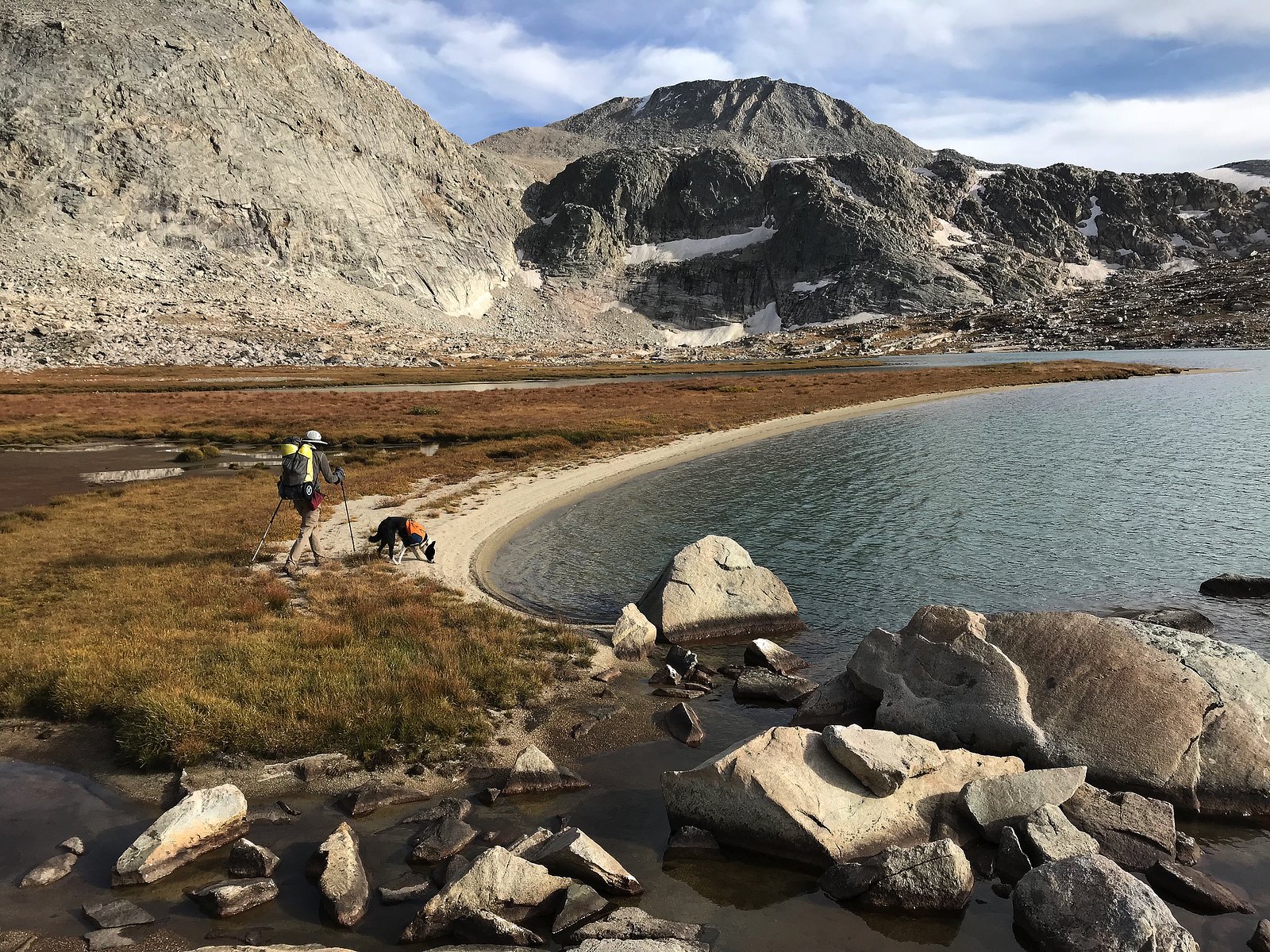 Unnamed lake in Bear Basin
Above Bear Lake, the lowest of the many remote lakes in Bear Basin
Connie Glacier
Connie again, from the divide
Iceberg lake, Sourdough glacier and Klondike peak. It was constantly windy for all five days, and really cold on the divide.
Getting on the northern reach of the Dinwoody Glacier complex. Titcomb Basin headwall from the backside on the left
Descending off the divide after many miles above 12K
Partly frozen lake with the glacier spilling in. Recent large slush avy on the left below Pedestal pk
Where to get a sip of of water?
Bastion Peak and the steep, receding remains of a glacier. Crossing below this on loose, unstable moraine debris in a narrow valley was the crux of all five days.
Baker lake separated by a moraine from the silty Iceberg lake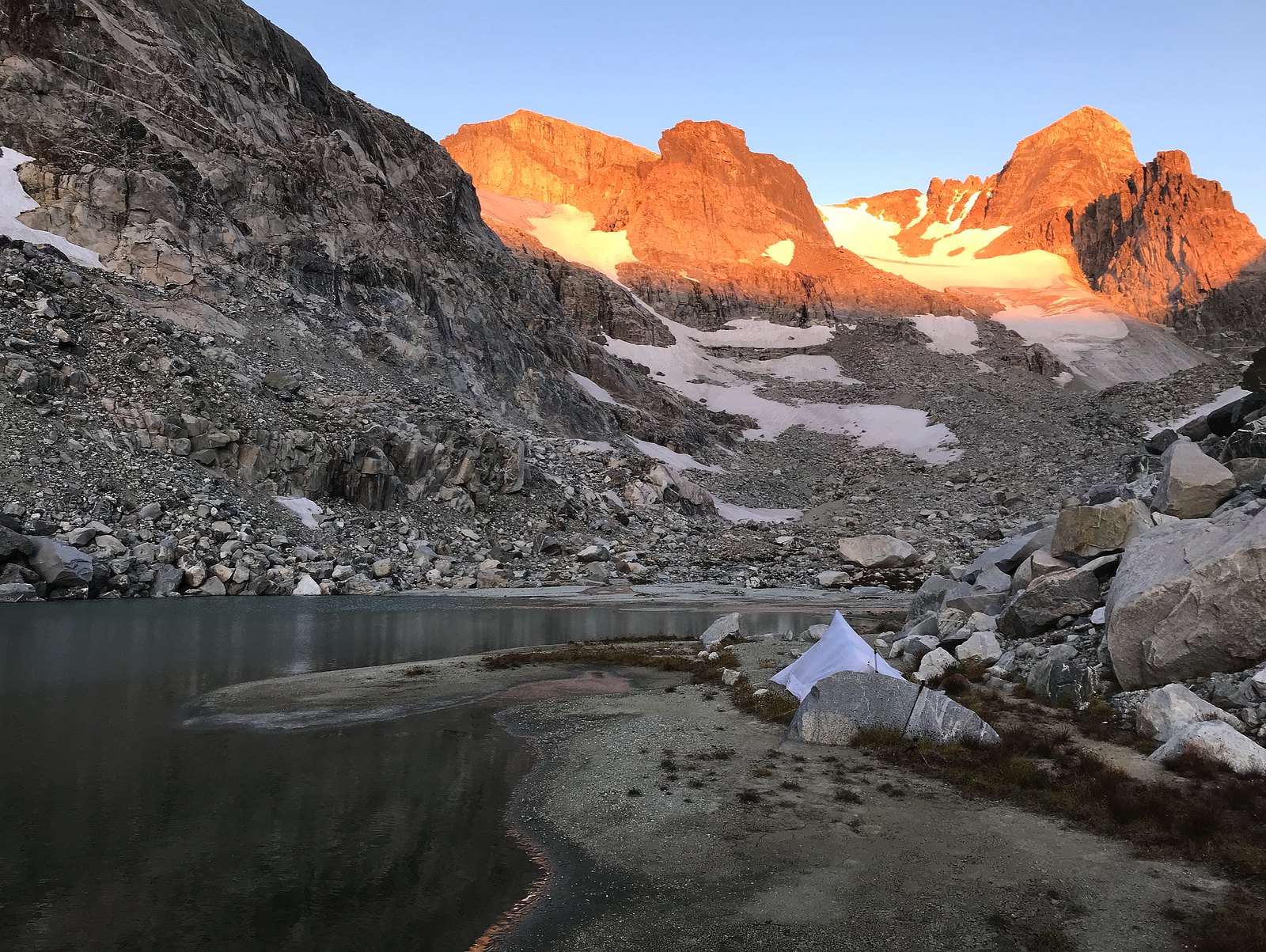 Sunrise in the talus
Looking back up where we came from. The steep gash directly below Gannett contained our 3rd camp
Descending back into the rain shadow area above Dubois
Last edited: