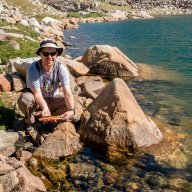 Joined

Jan 19, 2012
Messages

1,199
For our yearly Wind River trip @
Antlerking
, Travis and I decided to go into Big Sandy. This would be my 3rd time into this area, previous times being
2008
and
2009
. I usually don't like going back to the same location as there are too many places to see, but this year we had planned to hike up onto the continental divide of Black Joes and the up to Little el Capitan just north of Wind River Peak. Also, there were a few lakes (Temple, Miller) in the Big Sandy area that I hadn't been to that I planned on visiting. Unfortunately the daily thunderstorms prevented us from trying for Little el Capitan, but I did get to see some new country and I had an absolute blast so it was worth it. I didn't want to leave and I was ready to go back the next day when I got home. It usually takes about a week for that to happen! Maybe I can get one more trip in to the Winds this year, though it looks doubtful...
Anyway, since I already reported on this area twice I'll just share some pics from this trip!
Big Sandy Lake with Haystack Mtn in the background
Not much wild flowers this year. These were the only ones worth photographing.
Night shot looking up Deep Canyon. You can see Clear Lake below in the trees.
Looking north from Deep Creek into the Cirque
This is my favorite hike in all of the Wind Rivers!
Deep Lake with East Temple and Steeple Spire
Deep Lake looking toward the Cirque
Travis fishing Deep Lake
@Antlerking with the only fish we caught out of Deep Lake. The fishing this year was the worst I've ever experienced in the Winds.
View from above Deep Lake looking into the Cirque
Lunch time!
Temple Lake
Water fall above Miller Lake
Miller Lake
@Antlerking and Travis fishing Miller Lake. You can see the waterfall just barely.
Clear Lake
Clear Lake and East Temple Peak
And the scenic drive home! (just out side of Farson, WY) You'd never think something so ugly was right next to such a beautiful place as the Winds!
Featured image for home page: