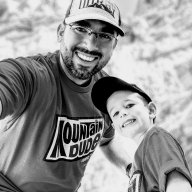 Life Elevated - Rising Higher
Joined

Feb 25, 2013
Messages

600
What?! We have to go home? Honestly, the only thing I was looking forward to was seeing my wife and 5 month old son. If it wasn't for them, I would have prefered not to leave.
Rather be doing more of this!
But leave we must. After relaxing day at Island Lake, we hit the trail again. We made it to Hobbs Lake before dark settled in. When we arrived I saw the fish jumping like crazy! I quickly got out my Tenkara rod, and attempted my hand at fishing one last time. To my excitement, the fish were biting hard and fast! To my disappointment, the fish were only 4 inches long. (haha) I spent $70 for wyoming fishing licences for the trip, at least I wasn't skunked. The 4 in fishies were still fun to catch.
Hobbs lake was quite a bit busier than I expected. We had to actually share a campsite with a group, because all of the other places were taken. Though, unexpected and a bit busy, the campers that let us share a site with them were really friendly and fun to talk to.
Good Bye.
Sunset over Hobbs Lake.
Morning steam on the lake.
I should really learn how to get up earlier so I can get the full effect!
Morning sun lighting up the landscape
Our last campsite.
Back at Photographers Point. Golly, I miss those mountains.
Adam and I. Took this just before we started hiking back.