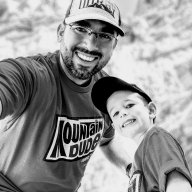 Life Elevated - Rising Higher
Joined

Feb 25, 2013
Messages

600
After a nice romp though Indian creek, we eventually made it back to Island Lake.
Popular? yup. Most beautiful lake in the Winds? I have no idea, but it sure was pretty!
Camp for the night felt like I was in a campground. It was a weird feeling, seeing that we were 12 miles away from the TH. Usually distance like that keeps the people away. Not for this place. There were"lots" of people in the area. So... yeah. Camping here felt more social than my typical back country adventures, but the place is huge, so some forms of solitude can still be found.
With all that having been said, this was still one of my favorite camping nights. We landed a prime tent site! We had great views, close access to the water, and access our own "private" island.
It was nice to be able to revisit Island lake and spend some quality time walking its alpine shores. We spent the majority of the morning, and afternoon, walking around Island Lake. Each and every angle was unique, and beautiful. As we meandered, we found pretty waterfalls and vistas; cliffs and creeks. As we hiked on top of some of the cliffs, we were greeted by the majestic Fremont Peak again and again. Titcomb basin was always a delight to behold.
Here are some of the pictures from our trip around the lake (and from our hike down from Indian Basin).
Here are a bunch of our hike back through Indian Basin.
Base of Fremont Peak. The day before, this was where we ditched out packs for the hike up to the summit.
This was one of my favorite areas in Indian Basin. The water. THE WATER! It is so beautiful! It was a beautiful alpine lake with the rugged Harrower towering in the horizon.
Sneaking back into Island Lake. Fremont on the right.
Basin just above Island Lake.
Some of what we saw as we were hiking around Island Lake. This is up on top looking back toward Titcomb Basin.
View from our campsite. Could have stayed here all week and been happy.
Adam scoping our our private island on Island Lake.
Our private island while looking from camp.
Gettin' ready for the sunset.
Does it get any better? possibly? but still! missing that camp!
Final look as we head out on Day 6. Sure do miss this place.