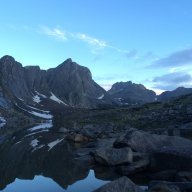 Joined

Sep 3, 2017
Messages

22
First post here. I've read the site off and on for a few years planning trips, and it's been really helpful. I've dug especially deep into the information on this site on the wind rivers, which has been awesome.

I leave for my trip next Thursday September 7th, and we'll start at Elkhart Park TH mid morning on September 8th and have seven days to hike.

I'm running into a semi serious problem. There are just too many areas I want to see! I know, I'll have to return to see more of the winds. As of now, we plan to hike in via the Pole Creek trail and spend our first night somewhere around Upper or Lower Jean Lakes. Then by peak lake, over Knapsack Col, through Titcomb Basin, into Indian Basin, the off trail route by Wall Lake. Then past Cook Lakes and through Spider Lakes Basin and over the off trail pass and over to the Golden Lakes. Back over the Divide via Hay Pass, off trail just west of the divide past long lake, to halls lake and then Middle Fork Lake. I'd like to see Bewmark Lake and the. Hike past Lee and Donna Lakes. Then through Bonneville Basin and over to the East Fork. Then catch the Fremont or Highline Trail for the way back to Elkhart Park TH.

I recognize this is a reasonably ambitious route for 7 nearly full days on trail. We plan on not crossing the divide if weather turns bad.

Our priorities are scenery, solitude and fishing. We can cover around 15 miles on trail in a day with up to 3000 feet of gain. Off trail probably closer to 10 miles. We know fishing time will be somewhat limited.

I've heard great things about the scenery in the golden lakes area, but I've read mixed reviews on the fishing. We're not super picky with what species we catch. I'm open to some changes in the route if it sounds like it would be a better fit.

With that in mind, what would you cut out or change? Is the route way too aggressive? Are we missing anything near any area we're planning on being?

Thanks so much for the help!