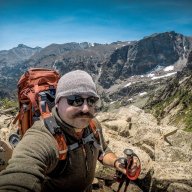 Joined

Feb 24, 2019
Messages

3
I am looking for a bit of weather report for the Wind River Range for the end of September.

I have a extended trip planned for fly fishing and backing packing across Wyoming that will culminate in the Wind River Range. I have schedule to do a 3 day backpacking trip in the last week of September of this year to cap off a trip of 4 ranges. I am looking for any advice on what the potential snow conditions may be.

I am planning on heading into the range from the Trails End campsite and heading to Island Lake, and then Titcomb Basin. I am not a novice to high altitude backpacking, but will be taking my Father who is.

I am anticipating that night time temps will be in the 20s, and days to get into the 60s. I have all of the necessary gear to deal with these temp swings, but I do not have deep snow gear. Should I look into obtaining snow shoes or other deep snow gear. Any advice from those that know the area at that time of year is much appreciated.

Thank you.