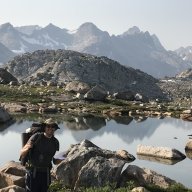 Joined

Mar 1, 2015
Messages

466
I am planning a trip in the Wind River range at the beginning of September (from 9/2 - 9/6). I keep hearing people say that this time of year can be the best for the Winds as long as you are prepared for the weather. My question is, what exactly do I need to do to be "prepared for the weather"? I have backpacked a fair amount, but never in the snow (although I have day-hiked in the snow many times). I will try to have a flexible enough route that we can be delayed a day for weather and still make it back out on time, but other than that, I don't really know what special precautions I should be taking. As such, I have the following questions:
1. Does anyone have any recommended tips for checking the weather in the Winds? Any best websites or locations to enter? Any tips for how far in advance the forecast there is reliable? I will probably be in the Titcomb basin area, but maybe I'll hit the Cirque area instead. In general, should I plan for minimum temps of 25 degrees or so?
2. I will be hiking with my brother and we will have the two shelters shown in the attached photo. The tarp is a Bearpaw Lair (similar to the zpacks hexamid). Will these shelters be adequate? I have no idea what would happen if it snows a bunch on these.
3. I'm assuming I don't need to bring microspikes, gaiters, or anything else specifically to deal with snow?
4. This is not actually a weather-related question, but if you've read this far, you must know the Winds, so... Do I need bear spray?
Thanks in advance for any feedback!
(photo of my shelters attached—if it would be foolish to bring either of these to the Winds in September, please let me know!)