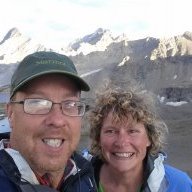 Joined

Jan 23, 2014
Messages

167
Doug and Anita Tour 2014
Wind River Range
Wyoming
Part 1
The drive out was fun. The anticipation always adds to that. We rented a car to avoid the wear of 3000 miles on ours. We had a Ford Focus and it got 37 mpg. Sweet!
Stopped at Wall Drug we did our part to keep them in business. Anita got nail polish remover and we got ice cream. Then hit the road again. Not big on the touristy stuff.
We drove through the Bighorn's early evening. What a beautiful area that was as well. But as we got higher it was rainy and foggy. So we were glad to drive out of it.
Made it to the sleepy town of Worland WY. just in time to grab some beer and wine and our favorite
Subway!
We had drove over 900 miles that day but it flew by.
Off early the next day, heading toward Pinedale and I must say Wyoming is beautiful, right from the start. So much different terrain. A very enjoyable ride.
We were getting our first looks at the Winds. Super excited!
We got to Pinedale early afternoon. What a beautiful small town. It has this Hiker culture slash cowboy vibe going on. ...very cool.
And we stayed at the Log Cabin Inn early afternoon. Nice place to stay, great history. If we had a extra $1.5 million lying around, might consider buying it because it is for sale. Visited with the owner for a bit. He had recently done a horse pack trip into the Winds.
We were right in town so we were able to walk to anywhere. So we headed over to the Great Outdoors Shop. Laura and Josh had been a big help throughout the planning process. It was nice to meet them finally. We heard from them then, the reports of 6 inches of snow and 60 mph winds in the Titcomb Basin. Flocks of hikers coming out early. And we later talked to the guy in the next cabin. He had been on a 10 day solo out of Big Sandy area and said he was literally running down the trail seeking some shelter. Needless to say we were a little spooked by these stories.
But the forecast looked ok so our plans where still a GO!
So we left our itinerary with the GOS picked up the hot trout lure.
And went right next door to the Wind River Brewery and shared a great salad and big burger along with a few of their tasty brews.
We kinda let our normally healthy diet slip a little on this trip, but hey we are on vacation, and besides we're gonna burn it off. Right.
We took a nice evening drive up to Elkhart Park. Just to see.
Once again, the weather forecast wasn't bad. With the best rain chances early in the trip.
Up early next day. It's GO time!
We both have a few butterflies as we head to the trailhead. We hope we are ready.
It's cool out, but pretty nice. We make the last minute call to bring our fleeces despite the added weight. Turned out to be a good decision. So I crawled under the car clipped the keys to hidden spot above coil spring.
And we were off.
You do see quite a few people coming and going from the Elkhart Park TH, but once the trails start to branch off, everyone scatters off in all directions.
We have a nice hike out to Hobbs Lake but didn't get any decent pics at Photographers Point, the high peaks were wrapped with clouds. But calling our name nonetheless.
By talking to some guy's along the trail, they told us of a nice campsite on the north end of Hobbs so we headed for that. It turned out to be a beauty. We could have gone further but almost everyone was headed to Seneca Lake. We were alone at Hobbs...cool!
You catch glimpses of the high country as work your way in, just adding to the excitement!
After dinner, time to fish. Not much for surfacing trout at that time. Tried a few spots with no luck.
Had a relaxing time that eve, taking it all in. And on cue the fish started to surface. So I slid down to the lake for a last attempt. Made a few casts and then the raindrops started and shut the action off before it got started.
No worries, had a great start to trip.
Up early to clear skies.
The mornings were always cool. Upper 30's. But the sun quickly warmed things up and in no time your stripping off layers.
Headed toward Island Lake today.
Laura at GOS had told us of some nice off trail campsites above the falls. So here was our first experience ever off trail. After a bushwack through the willows and a steep climb up from the falls the views really opened up. Incredible sights in all directions. We were giddy!
We found some nice spots on the now open tundra just below Indian Pass trail but it was early, So we decided to push on into Titcomb Basin. It was a beautiful day and we knew how hostel an environment it could be on a stormy day. So this was our chance and It was well worth it. We were treated to a gorgeous day in Titcomb. What an amazing place towering peaks in all directions.
We set up camp on a ledge above the trail and above lower Titcomb Lake. Being in the Basin has such a surreal feel to it. All the time and planning involved to get here,and now here we are sitting in the sun in this ominous place. Unbelievable!
We had a nice falls down below camp so time to wet a line again. Worked the area's I could with no luck again. What was I doing wrong? Day 2....0 fish.
We had hopes of trying climbing up to Dinwoody Pass or Knapsack Col, but the fresh snow above us prevented us from that. We weren't prepared equipment wise and had only a little experience crossing snowfields. So today we just hiked up the Basin towards those obstacles. We met up again with a group of 10 that we had met the previous day. Today they were heading over Knapsack Col.
We wished them well and we enjoyed watching their progress through binoculars as they made their way up into that snowy environment, as we had a little lunch on the edge of a snowfield below Dinwoody Pass.
The peeks of blue skies had turned to overcast now so we started back toward camp. No need for a trail, it was a blast working our way back over the open slabs of granite and small boulder fields, winding thru all the small streams running down from everywhere now. We could see Mistake Lake hanging above our camp behind a small ridge. We were headed for the small draw below it.
As we worked our way back towards camp there was some light showers.
Once we were back, it was raining enough for us to slide into tent for a bit.
An hour later it was over and we decided to move camp. This became our pattern. Dayhike then move camp in the eve. As we packed up the skies where still gray and threatening. But the showers were done.
We hiked back over and set up camp on the benchland below Fremont Peak and the Indian Basin trail.
The sun came out again for a beautiful evening setting, sitting in shadow of these towering peaks!
Also had a small rapid below camp and first cast in the swirling waters.
Bingo... fish on!
That was it..missed a few strikes and have renewed hope
Yay.. 1 fish today.
Another wonderful day in the Winds!
Featured image for home page: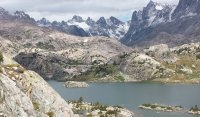 Last edited: