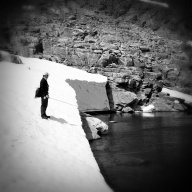 Joined

Nov 28, 2012
Messages

95
As far as a good TR, @
HomerJ
posted a good one from our trip (
http://backcountrypost.com/forum/threads/wind-rivers-big-sandy.2437/
). I will add more photos from our trip.
Due to the weather that was going to hit the Wind Rivers we decided on the Big Sandy area just to be safe, if we had to bail due to inclement weather. We had it all on this trip, rain, sleet, wind and snow. It rained every night on us, but the days seemed to hold out till late afternoon before the storms let loose. It was a great trip for the three days we planned on. Travis flew up from Arizona and meet Wade and I in Logan, and we were off. The hike in was great all the way to Big Sandy lake, 100 yards from the lake it started to pour, it turned into a major downpour. 20 minutes later, it cleared up and we were on our way.
We fish every lake in the area, and caught fish in every lake. The Big Sandy area is full of Brookies, and I might add, Climbers. There was only one day we didn't bump into groups of climbers/hikers. We had one day to ourselves until 10 PM that night. A few collage kids from Lander missed their turn off in the dark and came through our camp. Good thing we were camped where we did, they would have been good and lost. They spent the night next to us and were off to climb Haystack at first light. Even though it was crowed for late August, we had a great time chatting it up with Climbers from all over the world!
Here are a few of my pics:
Evening Panoramoa
Camp
Heading out fishing
@
HomerJ
with a fish on
Trav fishing
Panorama of the upper lakes
Glass water in the Winds - Unheard of!!!
Climbers on Haystack
Cirque of the Towers
Deep Lake
22 degree halo
Another shot of the 22 degree halo
Temple Peak - Temple Lake
The Boys
s
Miller Lake
e
Trav fishing Miller Lake - Fish on
@homer Fishing Miller Lake
Clear Lake - Looking at Haystack Mountain
As @
Nick
said, "pay it forward and post a trip report today!"
Featured image for home page: