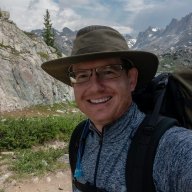 Joined

Apr 8, 2015
Messages

1,031
Got bored last night and checked what trip reports I have posted here and found that none are more recent than 2015, though I've been backpacking since 2007. So, I figured it would be neat to start a "from the vault" series of my past backpacking trips. Most of these have been posted long ago on the old backpacker.com forums, but I don't think those trip reports exist any more. So, why not post them up here for the enjoyment of others?
This series will start with my first ever backpacking trip, during mid July of 2007. I had done a 7 day canoeing trip in Quetico in Canada the year before, but that doesn't really count as backpacking. I also did not own a digital camera for that trip, so have no pictures online from it (they were the old fashioned film kind). This trip was 7 days of hiking and was a loop from Elkhart Park. There were 3 of us in total. We went down to Fremont Lake the first night, then up to Trapper Lake, around to Cutthroat Lake, past Elbow Lake, to Island Lake/Titcomb Basin, then back down the well beaten path to Elkhart Park. It must have been a good trip, because I have scarcely missed a year of doing a mountain backpacking trip.
As we drove up to Elkhart Park, we passed a burn area where a fire had blackened a lot of sage (and burned a lot of fence posts, which were being replaced as we drove past).
The first day's hike was fairly short, we just went down a lot and lost all that elevation you gain on the drive up to Elkhart Park.
Long Lake
Sunrise the next morning near camp at the upper end of Fremont Lake
The next day would prove the toughest of the trip, and one that I'll never forget. It wasn't going to be a long hike mileage-wise, as we only were hiking to Trapper Lake. However, the elevation gain getting up out of the canyon was killer, and on an "unmaintained" trail.
Here's your sign.
I had no understanding of what shape I needed to be in for high elevation backpacking, and the climb really kicked my tail. My pack wasn't overly heavy--around 35lbs, but this one did me in pretty good. Had it not involved going back across the canyon, I might have turned around and went home after that climb. Being trapped on the other side, though, as it were, I continued on.
This pic is from around Crow's Nest
When we got to Trapper Lake, we set up camp and I laid out on my sleeping pad on a rock in the sun and half napped half writhed in pain. Looking back it wasn't the best of situations, as altitude and the physical exertion really had me feeling terrible. It's good I was a lot younger at the time, and I felt pretty well the next day all things considered.
Camp at Trapper Lake
We stopped at Dean Lake for lunch, catching a panful of "fish stick" sized brookies. We ate lots of trout back then, probably because we ate the cheapest food we could get.
After Dean Lake, we had a short section of off-trail to shortcut some unnecessary trail meandering. We found the next trail easily enough, but of course ended up taking it the wrong way to Palmer Lake.
In those days we did not carry GPS at all, just map and compass, so it did take us a few minutes to figure out where we actually were, but it was not too difficult. I think the detour ended up adding maybe 2ish miles of pretty easy hiking. We turned around and headed for Cutthroat Lake.
There's a pretty good climb on the way to Cutthroat, and again it kicked my butt because of my lack of good conditioning.
Reaching the top of that climb was the beginning of my love of near-or-above treeline hiking.
Cutthroat Lake was an excellent spot, though the mosquitoes were quite numerous and aggressive.
The next day we would head for Elbow Lake to make camp.
I wasn't very good at holding the camera level sometimes. This is Upper No Name Lake in wonderful morning light.
Don't recall for sure, but we may have stopped for lunch at Summit Lake. We stopped to fish, for sure. A really great spot, I'd like to get there again someday.
Storms threatened as we approached Elbow Lake. The country was spectacular as we broke above treeline and entered the Elbow basin. Tremendously dramatic.
We hurried to find a spot and quickly set up the tent and waited out as the thundershowers passed. Afterward, we explored the area a bit, including a bit of easy rock climbing.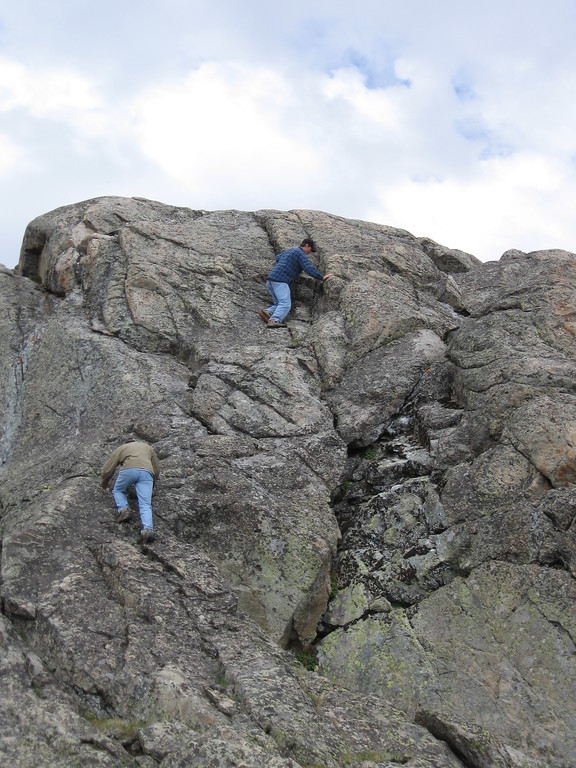 View back toward camp from the top of our rock
If the Cutthroat Lake area was the beginning of my love of alpine country, Elbow Lake fully cemented that love as a part of me forever. The basin was so wild, rough, and beautiful. A very cool place, and back then, we pretty much had the place to ourselves.
Sunrise the next morning
The next day we would head for Island Lake.
At the pass between the Elbow basin and Jean Lakes basin, two of us headed up the ridge that leads to Elbow Peak. We did not go all the way to Elbow Peak, but got some seriously amazing views of the Elbow Lake basin.
We fished both Jean Lakes, and at one of them a marmot nearly got into my pack. I went back to change lures and found him about 5 feet from my pack. My two friends were a bit alarmed when I began yelling and throwing rocks for no reason they could see!
We took a bit of an off-trail shortcut after crossing Fremont Creek, there was a use trail even back in 2007 there. Not a tough hike at all. We ended up finding a very nice campsite along Island Lake. Interestingly, this summer, 11 years later, we camped at Island Lake just a few yards from this very spot. It took me a while to recognize it, but once I stood where we had our tent everything clicked.
The next day we would dayhike up into the Titcomb Basin then hike toward the trailhead, making it to Barbara Lake.
It was a quite exhilerating hike. This was the first time in days I had hiked without a full pack on, too, which made it really nice. The weather was spectacular for us that morning.
We actually made it farther up into the basin than I've been since. Was hoping to make it back to at least this spot this summer, but it wasn't to be. Someday in the future I really want to go either in or out of the basin via Kanpsack Col or Bonney Pass.
We caught small goldbows at the connecting stream between the two big Titcomb Lakes. Almost everything I wore while backpacking back then was cotton. Proof that you can survive doing that, but it doesn't take much investment to get a good synthetic shirt, pants, and jacket if you're not going for top of the line name brand stuff, and it's so much more comfortable. Plus cotton is heavy!
Camp at Island Lake
Big Seneca Lake, on the hike that kind of became a slog back to the trailhead. We put in a pretty long day on this one, with the dayhike so far up into the Titcomb Basin, then trying to make it as far back toward the trailhead as we could.
We found a fair camp on a small bench above Barbara Lake. Not the best camp but I slept very well there nonetheless.
My first look from Photographer's Point was on the last day of this hike. This was also kind of the start of a last day tradition of getting up crazy early and booking it to the trailhead fast as possible on a last day of a trip.
And that's a wrap. 7 days and a very good introduction both to the Winds and to the sport of backpacking. Thanks for looking.