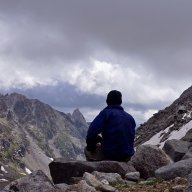 Joined

Jun 14, 2016
Messages

290
Day 1: After waiting a bit for the snow cover to thin and firm and a bit more while my job put me on standby, I finally had a fishing buddy drop me off at Green River Lakes at about 4:00. I'd packed ten days of food and fuel as well as my ice axe and crampons. The anticipated route was Tourist - Klondike - Blaurock - Indian. With the late afternoon launch I hiked only a short distance to a favored site near the upper lake along the Green. As dusk came on the skeeters came on heavy, head net time. The bugs would be strong more often than not throughout this trip, both high and low. Thankfully they don't irritate me so much. Getting bit some is ok and when they get thick I just cover up or head inside.
Day 2: It was nice and cool in the morning. Cool enough to keep the bugs in bed longer than me. I was loaded and hiking a little before 8:00. It takes me some effort to get going earlier, but 8:00 is relaxed. The walk up the Green was very pleasant, not much gain, some good shade and nice views. I took lunch at Beaver Park and then on to Three Forks. After scouting a crossing, deep but doable, I snacked in the grass looking across at Tourist Creek. I've been through there a few times so I knew exactly what was coming, ~4000 really rugged feet up to the Divide. Nah, not feeling it. There are lots of nice options around there so I decided to continue on the trail and make it up as I went along. Made the climb to Trail Creek Park and set for the night near there.
Day 3: Starting south on the Highline I shortly turned off towards Peak Lake. I like breaks and took a nice long one below Cube Rock while watching the clouds close in. The usual snow chutes were still hard even though it was mid morning. I don't feel great edging on firm snow in sneakers much so I mounted spikes. Some light rain caught me at the crest but it only lasted long enough to put on rain gear. While lunching out of the breeze where many camp I had to actively protect my gear from a pair of salt addled marmots looking to chew. I moved up the valley to camp on a serviceable flat spot below the snow.
Day 4: I started up Knapsack just after 7:30. Most of the way was on firm snow but not so steep. I dawdled at the top and then started down. The other side was much steeper. In retrospect, what I should have done was walk over towards the center and just slide off. It was the ten foot near vertical drop at the top that held me back. So, instead, I picked my way down the rocks on the northern side, crossed some snow to more rocks and then slid down the rest. I got tangled in the big rocks right off, found myself precariously perched and forced to drop my ~35 lb pack down to the next level. The pack jammed hard in a crevice. As I was finishing the traverse over to the next rocks to get a clear slide I had both steps in the steep softening snow slip out. That's what the self belay is for. The axe was well planted and I just swung my second hand over quickly and dropped barely a foot before I held and got my feet back in. After getting out of that I enjoyed the glissade. The walk from there on down was all easy snow, much nicer than rubble. That night I camped where the grass started.
Day 5: I woke in the shadow of Mt Helen and it was chilly. Skipped the morning tea, ate my nuts, started walking right away and warmed quickly. I decided to route through Indian - Brown Cliffs - Golden. That would take me to one new challenging pass and some nice lakes along the way. The hike to my flat spot on a bench below the pass was uneventful. The two fairly deep creek crossings were not fast and gave me no difficulties. I did both wet shoe. After the second crossing I had a late lunch, salami and crackers, then relaxed on a nice sun warmed slab for a good long while.
Day 6: Made an early start on my second serious pass of the trip. Plenty of snow to smooth the way. On the way down I took the old Indian route and passed all of the moraine on snow. I camped in the trees down below.
Day 7: The next pass required extra caution. It pinned and killed a fellow some years back. It has also been named in extremely poor taste by a guide book author. When climbing difficult rock or snow I usually remove my camera from my chest in case I need to self arrest or some such, so I generally lack photos of the sketchier places. The most dangerous sections that day had an excellent snow cover. I rounded the death lake without incident fully on snow. The terrain let up only a little for the next section. I'd hoped to get down to the trees, but I was fatigued and took advantage of a semi sheltered grassy spot for my camp.
Day 8: I took an easy day only traveling a handful of easy trail-less miles. It was a bit of work once I got into the timber. I camped after wading the outlet of a well treed unnamed lake.
Day 9: Shortly after leaving camp, I located the old sheep herder route. Too bad the bridges have collapsed. The first crossing was a tricky one. I think I remember using that bridge in 2003, but never more. My intention was to camp at the crest of Camp/Golden. There was a lot of wind and threatening skies as I got closer. I'd switched shelters for this and future hikes to a much sturdier and better constructed mid so that I could choose sites with more impunity. Still, I decided to stop short of the top.
Day 10: I dropped down to the Golden Lakes and then turned up towards Fall Creek and on to Timico. I sheltered up in the trees near the Fremont. When I started the trip I'd brought a ten day load, but I hadn't kept up. On day 7 I'd rerationed my food to go two bonus nights.
Day 11: Instead of hiking out I went to Pole Creek on the Fremont and then followed it up past Wall Lake. Through the late afternoon I had the only real rain of the hike. I spent the time cozy in my shelter.
Day 12: Another beautiful day greeted me. My final pass was over to Island Lake and the popular zone. There was, once again, a nice snow cover on the rocky section of the climb. A strong wind on the way down swept the bugs away. I got well past Seneca Lake and out to the edge where I could get a great view back to the high country for the last night.
Day 13: A reluctant exit to Elkhart Park.
Last edited: